This article from São Paulo's Guaianases favela is the eighth in a series about the impact of the coronavirus pandemic on daily life in the favelas. The series is made possible through a partnership with the Behner Stiefel Center for Brazilian Studies at San Diego State University. 
I live in Guaianases, a neighborhood that is 30km away from the city center, in the far east side of São Paulo. Though I'm in the same city, part of what is often referred to as the economic center of Latin America, the wealth doesn't reach us out here. According to the 2010 census, 268,000 people live in Guianases. A significant portion of this population is comprised of migrants from Brazil's Northeast. In recent years, Bolivians, Nigerians, Angolans, and Haitians have also joined the mix of residents of this region.
In my neighborhood, there's no theater, cinema, or other varieties of cultural activities. The State doesn't seem to be aware of the place I call home. In fact, this is generally the case for other peripheries, such as Capão Redondo, Grajaú, and Jova Rural, which are other favelas on the outskirts of the city that I write about for Agência Mural.
I learned of the first death from coronavirus at my front door, when a friend of my mom's commented on "that disease that was a flu." Without mentioning it by name, she said that "the disease" had reached the country but that, according to her, it wouldn't reach Guaianases. "We live so far away that the disease won't make it all the way here." In early March, still in the midst of mixed messaging and disinformation, I also heard it said a few times that if Covid-19 had reached our neighborhood, that would mean that the entire world had already been infected. This is because Guaianases, as my neighbors think of it, is far away from everything.
The days went by and a few measures, such as social distancing, were announced. While normally I'm always busy on the streets, in the downtown area, I began staying home. Events and meetings at Agência Mural were canceled. Finally, when the notice came to work from home, I realized that the situation was much more serious than I had imagined.
There are houses in Guaianases with no basic sanitation. There are people living in front of open sewers and there are unpaved streets. The disease that started far away from here and seemed would never reach us was already affecting people's routines around mid-March, but it did not bring the city to a halt.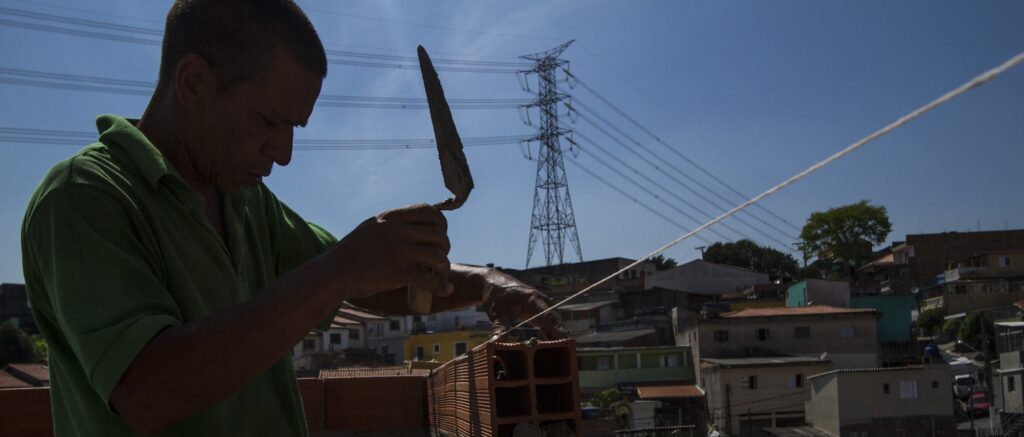 The news outlets were reporting an increase in the number of deaths and a spread of cases in the periphery of São Paulo, but here there are lots of women who work as domestic employees. They don't have the option to stay at home to take care of their own children. Regardless of the medical guidelines, I have neighbors who have run out of food. Hand sanitizer, water, and soap are luxury items for them.
As I watched the city grinding to a halt and the government beginning to send out alerts regarding the threat, but meanwhile nothing changing here, I started to worry. I almost fell for the theory that I lived far away enough that it would never reach us.
Migrants and Immigrants: A Shared Home and Inequalities
Madalena and Jonas are Haitian. They arrived here in 2014. With no visas and fearful of being deported to their homeland, they had Josi Marrie, their baby girl who ensured they would have the right to stay in Brazil. Like them, hundreds of others live in this same region.
This is also the case of Ronal, a Haitian, who came to Guaianases to try to restart his life after the earthquake that hit his country. With the news on TV, the papers, and WhatsApp groups, he started becoming afraid of the impact the pandemic would have on the neighborhood, his family, and his friends. In a conversation I had with him, he said that it was really worrying him, since they were very poor. With no money and with children to care for, Ronal mentioned that there was no way he could refrain from leaving the neighborhood every day, going against the social isolation measures requested by the authorities. 
Around here and as lost as ever, the Haitians of the neighborhood, the day laborers, and the informal workers I know are still trying to get the government's three-month monthly R$600 (US$108) emergency basic income payment.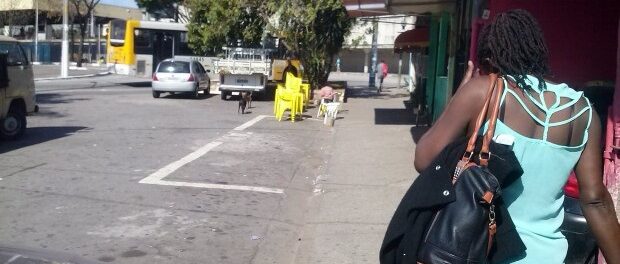 In early April, despite the normal activity and transit in the neighborhood, the reality of the situation hit me when a friend went looking for a health post after suspecting he'd been infected. "Coronavirus has arrived in the favela," he said, half nervous and half joking.
Up to the second week of April, there were a number of hawkers and street vendors offering foods, headphones, and other gadgets. On April 15, they were ordered away by City officials. The emergency basic income payment first started being paid out on April 14, and since then—despite the clearing out of street vendors on April 15—there has been crowding, since hundreds of independent workers and others have been going to the Caixa Econômica Federal Bank branches to try to withdraw the money promised by the government. Issues with the bank's smartphone app and the lack of money are the reasons behind the immense lines.
I finally understood that concern with the virus took a while to kick in here. This delay in recognizing the severity of Covid-19, more so than in the rest of the city, speaks volumes with regard to social inequality in São Paulo and the rest of the country. On the annual surveys that compare neighborhood structures, my area always shows the worst indices in comparison to the central neighborhoods. According to the 2019 Viver em São Paulo: Trabalho e Renda (Living in São Paulo: Work and Income) study, published by the Rede Nossa São Paulo civil society organization and the Ibope polling agency, around 20% of the residents of the East Zone have a commute of over two hours between work and home. In terms of culture, in 2018, 65% of East Zone residents have never been to a theater in São Paulo. It's the worst index of the whole city.
I live in a city that is considered the financial center of the country. Covid-19 has reached Guaianases. As of April 27, the City's most recent update reported a total of 28 confirmed and suspected cases in the neighborhood—and this is without counting cases that have gone unreported. The East Zone leads in number of Covid-19 deaths. There were 1,098 deaths from confirmed or suspected coronavirus as of April 24. 1,098 lives!
The pandemic has hit our streets. Neither Health Minister Nelson Teich, nor São Paulo Governor João Doria (PSDB), nor Mayor Bruno Covas has offered action plans for Guaianases. Without public policies targeting the most vulnerable, how are we—who live in minuscule houses, with no basic sanitation, and barely able to buy hand sanitizer or take any other protective measures—going to protect ourselves from death by Covid-19, when we're such an easy target? 
Lucas Veloso holds a Bachelor's Degree in Journalism and is a co-founder of Agência Mural, an initiative with the mission of closing information gaps and contributing to the deconstruction of stereotypes of the peripheries of Greater São Paulo. After spending some time working at the Alma Preta news agency, Lucas is currently a reporter at Agência Mural and writes for the Papo de Homem website.
---
Support our efforts to provide strategic assistance to Rio's favelas during the Covid-19 pandemic, including RioOnWatch's tireless, critical and cutting-edge hyperlocal journalism, online community organizing meetings, and direct support to favelas by clicking here.