This is our latest article on the new coronavirus as it impacts Rio de Janeiro's favelas. 
On May 28, Rio de Janeiro's branch of Brazil's national health institute, Fiocruz, through their new platform Cidades em Movimento: Construindo Territórios Saudáveis (Cities in Motion: Building Healthy Territories), hosted a live YouTube discussion on the topic of "Police Operations During the Pandemic." The event's three speakers expounded on current trends. Just as the coronavirus pandemic sweeps across Rio's favelas, a coinciding rise in police violence unmasks the political structure that ensures that favela residents, primarily low-income and black, are systematically excluded and eliminated by the government.
Fábio Araújo, sociologist and researcher with Fiocruz's Social Cooperation branch, moderated the event, which featured speakers Cecília Olliveira, editor of The Intercept Brasil and creator of the Fogo Cruzado (Crossfire) shootings monitoring platform; Irene Maestro Guimarães, a lawyer and activist with the Luta Popular (Popular Struggle) housing rights group in São Paulo; and Raull Santiago, co-founder of Coletivo Papo Reto (Straight Talk Collective), a human rights and information-exchange network in the favelas of Complexo de Alemão and Penha in Rio de Janeiro's North Zone.
The discussion centered on how State-sponsored violence has exacerbated favelas' Covid-19 reality, ranging from discussions on the violence of state-level police operations (69 people were killed in Rio de Janeiro police operations between March 15 and May 19) and its effects on access to healthcare, to national-level politics and their effects on security policies. Participants also highlighted the critical role of communication in favelas.
Coronavirus in the Favelas
Commenting on the pandemic's effects on the favelas, Cecília Olliveira led the talk, noting that the crisis "hits the same people as always, just much harder. People from a certain social class, people of a certain race, who live in certain places, who are always far from the city center, in peripheral neighborhoods or favelas. We are always talking about the deaths of the same people."
Irene Maestro agreed that ultimately coronavirus has not brought anything new to the favelas, a portion of the population that has always faced violence and the deprivation of basic rights. She pointed out the government's failure to take responsibility and provide adequate health coverage in such vulnerable areas, calling this a genocide. In response to the public health recommendation that staying home is the best way to combat the spread of the virus, Maestro argued that this idea presents favela residents with a fatal dilemma. "People are forced to leave their homes in order to not die of hunger," she said. "It's die of hunger at home or die of coronavirus outside. The truth is it isn't a choice. It's pushing people toward death."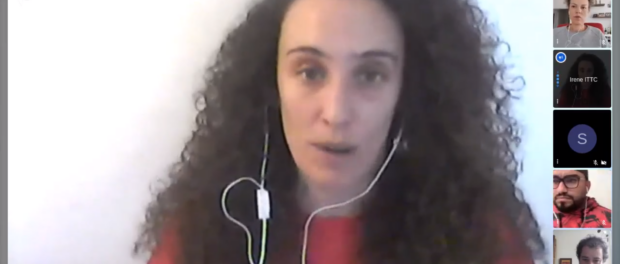 Atop these health challenges, violent police operations in the favelas have continued. For Raull Santiago, this amounts to an exclusionary form of public safety. "It's a privileged safety, a white safety, which in practice shows that there is nothing public about it." Regarding the historical lack of State support in favelas, made even more apparent during the pandemic, the activist added, "When [the State] is present, its presence is extremely violent."
A New Police State
Maestro spoke of two recent particularly violent police operations in São Paulo, both of which lacked evidence against the supposed criminals, and added that the pandemic had changed certain public procedures that could worsen human rights violations. "Here in São Paulo, they have begun to allow the burial of bodies without death certificates," said Maestro. "This is a relaxation [of the procedure] that they have created in order to perpetuate genocide without further complications."
For Olliveira, a key factor is that, with the press busy covering the pandemic, the government and the police have been given more leeway. Expressing concern over the fact that the 2018 elections saw a drastic increase in the number of military personnel elected to public office, Olliveira noted that a number of challenges favelas face right now are the result of the strong military presence in government. "There isn't even time to blink," she lamented.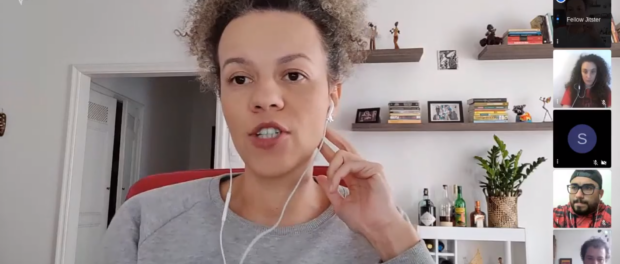 Covid-19: A Democratic Virus?
When Fábio Araújo questioned the supposed "democratic" nature of Covid-19, Santiago responded by pointing to fundamental inequalities in Brazilian society. He explained how guidance promoted by the WHO, like hand-washing, cannot always be followed in favelas, where access to running water and other basic services is often unreliable. "We are in the same sea, but we aren't in the same boat," said the activist. 
Santiago explained the challenges that the health system is facing, including stigmatization and a lack of State support. "With or without the pandemic, we were already sick," he noted. "Minimum health coverage isn't a guarantee." This situation is exacerbated by police violence preventing people from accessing health care.
Olliveira addressed some of the major shortcomings in the government's response to the pandemic, examining the underreporting of cases and the refusal to publish statistics based on race. Still, she said, the virus' disproportionate effect on black favela residents can be easily verified. Drawing on the link between race and formal education levels in Brazil, Olliveira pointed to a recent study conducted by Rio de Janeiro's Pontifical Catholic University (PUC-Rio), showing that black and brown Brazilians without schooling are nearly four times more likely to die of Covid-19 than whites with a college education. Public data, however, obscures this phenomenon. "As long as they can make it more complicated, they will," explained Olliveira.
Importance of Communication Networks
Santiago, who works in communication and community journalism through Coletivo Papo Reto, raised the importance of these tools. Referencing the high levels of inequality that exist throughout Brazil and the donations his organization has received from around the country, Santiago concluded that "We need to incentivize decentralized solidarity." He also emphasized the need for care in communication: "Our words need to have empathy, they need to be careful, they need to be precise, and they need to be well-thought-out."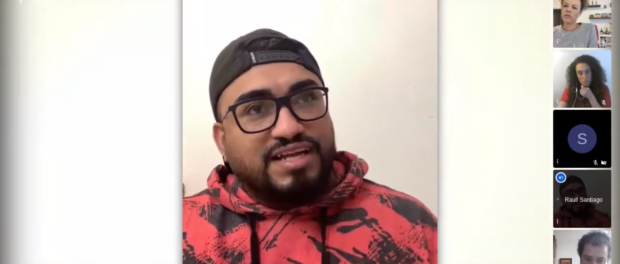 Olliveira agreed, underscoring the importance of accurate and responsible reporting for such important topics, citing RioOnWatch's article "7 Mistakes Made by Journalists Covering Coronavirus in Favelas" to demonstrate common flaws in mainstream media's portrayal of favelas amid the pandemic. The sum of the mistakes cited in the article, said Olliveira, "reaffirms that local communication is extremely important."
Maestro added to this point by noting that the government's statements about the virus demonstrate a lack of understanding of the realities in favelas. From what she has seen in São Paulo, the residents always end up providing the services that should be government's responsibility.
In his closing remarks, Santiago put forth a call to action: "If you are able, if you have food, if you want to try to help someone, look around you. For sure, there is a group, there is a project, there are people doing incredible work that sometimes isn't very well known in that area."
Watch the Live here:
---
Support our efforts to provide strategic assistance to Rio's favelas during the Covid-19 pandemic, including RioOnWatch's tireless, critical and cutting-edge hyperlocal journalism, online community organizing meetings, and direct support to favelas by clicking here.