This is our latest article about Covid-19 and its impacts on the favelas.
'Help Me Recreate My Life'
These were the last words Ilma Rocha would hear from a young teen whose life would end tragically due to violence in Quitanda, Costa Barros in 2006. However, his words of courage would help spark a movement to help end violence and bring life to her community through social projects dedicated to empowering youth and families in the region. Costa Barros is a neighborhood formed mainly by a group of favelas in Rio de Janeiro's North Zone. This area has historically been depicted by the press as crime-ravaged and often described by its second to last ranking in the Human Development Index in the early 2000s. But there is much more to this community, like a strong will for progress, and many dreams to be fulfilled.
Today Rocha or, as the young people she serves call her, Tia Ilma (Auntie Ilma), recounts this transformative memory from 2006, which inspired the name and vision of the now established social project known as Recreating Roots. This life-changing moment served as a catalyst to leave her old life behind as a hairdresser and dedicate her life to saving others. Recreating Roots is a tribute to the young man she did not know how to help years ago, but whose memory would serve as a reminder of her commitment to her community and her will to do everything possible to prevent the loss of another young life.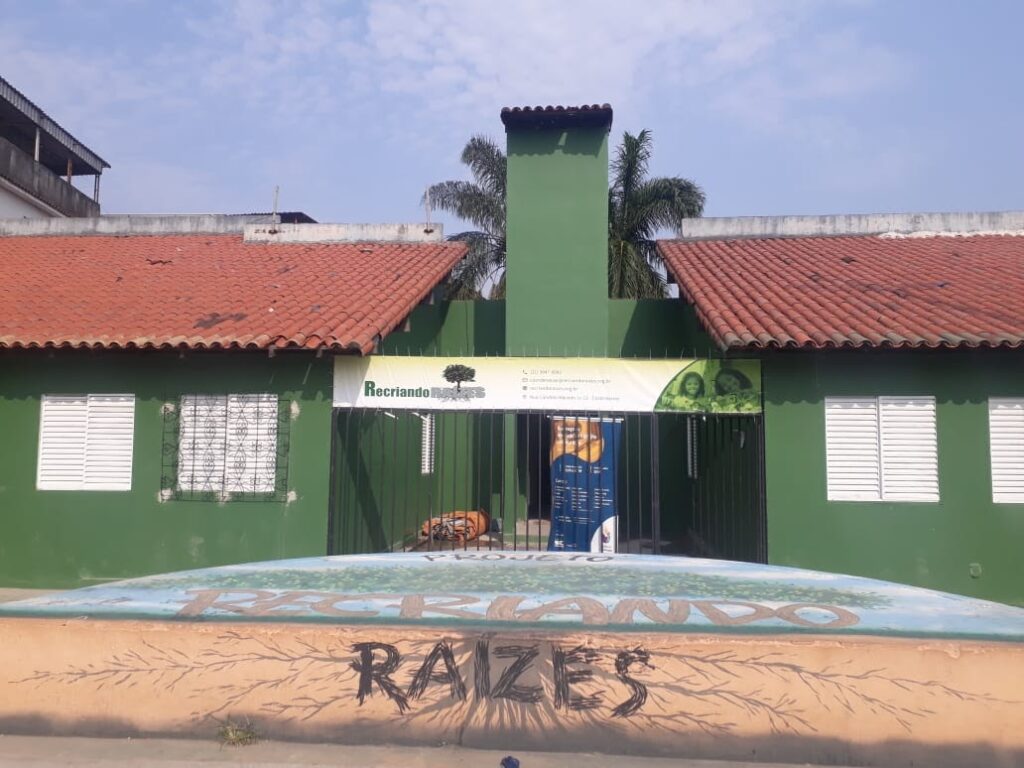 With the support of co-founder and friend Alba Almeida, she decided they would do something about the crisis in their community and began by offering free hair braiding to youth out of their hair salon. Seeing the positive impact and growing interest, they decided to find a space to show movies and provide a safe haven for local youth. A community member offered a small place to host 60 kids in Quitanda, which would mark the first event of Recreating Roots, which validated the need for a safe space and programming for local youth. And so, the search began for a place to rent for children and youth.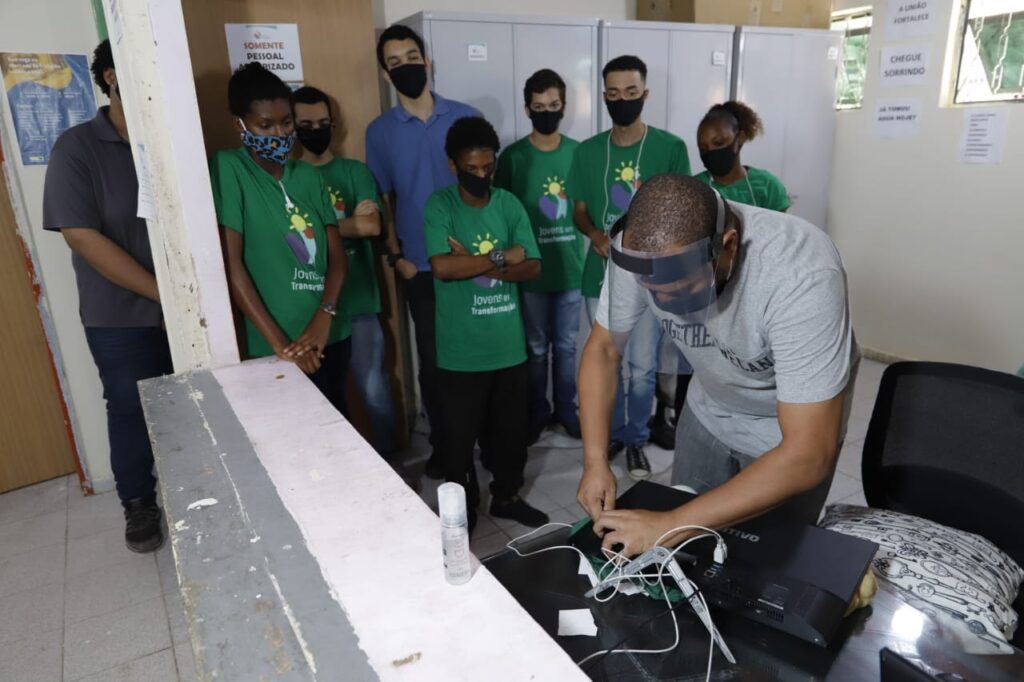 The community came together and found a place to rent, but conditions were less than adequate. Rain, rats, and a falling roof consumed the space. This was not what they had imagined and with personal funds exhausted, Rocha thought of closing the project's doors. However, one day, the kids came together and fundraised to keep them open. After witnessing the solidarity and unity of the youth, she knew that Recreating Roots would never close its doors again, as long as there were children and the community members' support. Today, Recreating Roots has received support not only from community members but also from sponsors and organizations that believe in the mission and vision of the local social project.
'The Community Itself is United'
During the coronavirus outbreak and due to the harsher effects of the pandemic on the favelas, favela residents have been disproportionately affected by the lack of data, support services from the state, and infrastructure to maintain safe and sanitary conditions for all residents. There are families going hungry due to unemployment, some families needing sanitary supplies, and some, even those with members suffering from Covid-19, with only limited access to health care. However, there is a special unity and solidarity in favelas, particularly visible in the face of adversity. Rocha believes this is the true magic and strength of her favela community. She elaborates further explaining how the community itself is united and even more so when challenges arise. For example, Recreating Roots helped organize the distribution of foodstuffs and supplies to community members in need through an initiative called Fome Nunca Mais (Hunger Never Again). Community members received care packages and, in an act of selflessness, many would then redistribute their own to a family who they believed needed it more than they. 
Rocha recounts this demonstration of solidarity, which helps Recreating Roots continue to fight for the lives of children lost to crime, violence and self harm. Along with essential packages, Recreating Roots runs their Jovens em Transformação (Youth in Transformation) initiative. The project empowers and emancipates local youth by teaching them new skills and encouraging them to become entrepreneurs, with over 16 courses over an 8-month period. There are courses ranging from hairdressing and barbering to computing and telemarketing.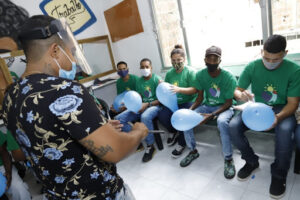 Recreating Roots recently expanded and renovated a space in Lagartixa, a community within the Costa Barros favela complex, and is now offering courses to over 1,800 youth through Youth in Transformation. Rocha explains how important it is for young people to learn skills and generate income that offer them an alternative to a life of setbacks, allowing them to take pride in being able to work and support their families. This is especially true during a pandemic, when unemployment is high and there are few job opportunities.
Rocha fears this pandemic has already set back past progress made, but hoped that the launch of new courses in Quitanda and Lagartixa in September 2020 would help keep youth busy and away from the dangers of the streets. She says, "we need to act fast, because gangs are fast. So we need to get to [youth] before gangs do." Rocha firmly believes that all young people need is an alternative and someone to believe in them. Once they find that, they will begin to dream again. She recounts a story of how she had a conversation with a young man involved in crime and asked him his name, age and why he was living the life he was living. She asked, "Do you study?" and the young man replied, "No. I stopped in 5th grade." She continued, "Do you want to go back to school?" He replied, "Who's going to take me?" "Me. I'll take you," answered Rocha. About two weeks later, the young man came to visit Rocha and asked to be placed in school. He is now a model student and one of many examples of youth that have turned their lives around due to Rocha and Recreating Roots.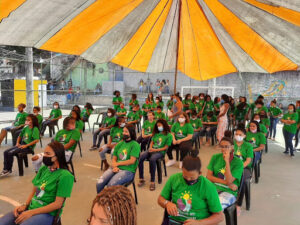 Recreating Roots and the vision Rocha has for the social project continues to grow and evolve. She took a group of children to visit the Copacabana Fort, and many had never seen or touched the ocean. As they were returning to the bus, one child asked if the water was actually salty, as he had never touched ocean water. She explained that many are born, grow and die in the favelas without seeing Rio de Janeiro's world-famous landmarks and natural beauties, like Christ the Redeemer and its beaches. She says that an outsider and tourist sees more of Rio de Janeiro than the kids in the favelas. "This is our culture! And we don't have a right to it!" Rocha hopes she can organize many more trips like this one, but she faces many logistical and bureaucratic challenges when renting transportation and organizing visits to tourist locations for the youth. She hopes not only to take children, but their families as well. She has observed that many of these children's parents were denied these trips as youth, and thinks family trips would provide a special opportunity for bonding. "If the family is good, the children are good."
Recreating Roots hopes to expand support services to families, not only by creating trip opportunities, but also by supporting the women in each household with opportunities for generating income and creating support groups with the aid of trained psychologists. In addition to family support services, Rocha knows a key to engaging youth is through music and sports, and hopes to renovate two indoor soccer courts and expand music courses to include rap and more contemporary musical lessons. Residents of other areas are asking for Recreating Roots to come to their neighborhoods. "Come save lives here," is the common theme she hears from people living in nearby neighborhoods within Costa Barros. Recreating Roots is hoping to expand soon to Pedreira, Final Feliz, and Obrigado Meu Deus, which are some of the most neglected favelas in the Costa Barros favela complex. The current headquarters are in Quitanda, but she hopes to set up locations in other Costa Barros neighborhoods, such as Tom Jobim, Terra Nova, Favelinha, Fim do Mundo, and Mangueirinha. 
'S.O.S. Costa Barros!'
Rocha says she has tons of other ideas to support young people. Recreating Roots counts on widespread community support and an excellent team of staff and volunteers. She is actively looking for support to provide a stipend to volunteer teachers, as they are essential to the courses taught at Recreating Roots, and to renovate the sports areas, as they are seriously damaged and require major repairs. She also hopes to make the Internet widely available in the future since, especially during the Covid-19 pandemic, its importance to resident lives became even clearer. Despite so much progress, Rocha declares it is still not enough and that the pandemic is only making things worse. She says there are still many children suffering and continues to advocate and seek support for the various initiatives to help youth and families in Costa Barros recreate their lives.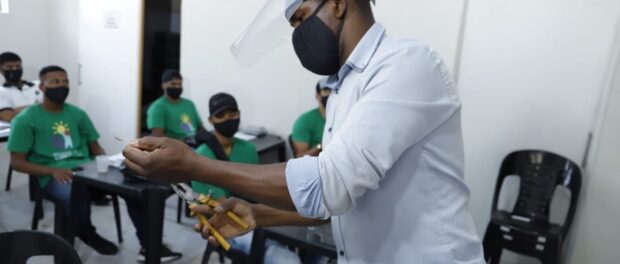 Currently, Rocha and all of Recreating Roots' members are celebrating, as Tia Ilma will be guest star on Brazil's wildly popular program Caldeirão do Huck, on Saturday February 6.
---
Support RioOnWatch's tireless, critical and cutting-edge hyperlocal journalism, online community organizing meetings, and direct support to favelas by clicking here.