This video report (with English subtitles) is part of a series on energy justice and efficiency in Rio's favelas. It is also part of a series created in partnership with the Behner Stiefel Center for Brazilian Studies at at San Diego State University, to produce articles for the Digital Brazil Project on human rights and socio-environmental justice in the favelas for RioOnWatch.
When Luis Cassiano Silva began his research to start what would become Teto Verde Favela (Green Roof Favela), in 2012, the high temperatures in his house during summer motivated him to seek alternatives to solve a recurring problem in favelas: urban heat islands (UHI)s. Green Roof Favela's objective is simple: to transform urban heat islands through the creation of a refreshing green roof, making the area more thermically comfortable.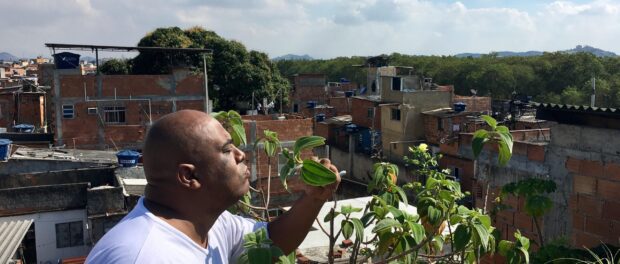 Models implemented in European countries such as Germany are widely recognized and served as a guide for Luis. With technical support from Bruno Rezende, whose thesis examined the production of green roofs in Brazil, the two created their own model in the Parque Arará favela, in Rio de Janeiro's North Zone, using heat-resistant plants adapted to the Brazilian climate. The research and development phase was important: Luis and Bruno experimented with a variety of techniques to achieve the best effects possible.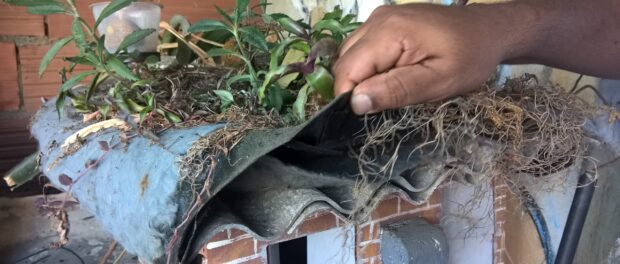 As we know, energy justice is not only badly met in favelas but also complex. At the same time, the absence of vegetation, architectural limitations and other factors make it seem like the only solution to tame Rio's summer heat is the use of air conditioning. Besides the social and economic benefits of green roofs, the gains for the local climate are many: in Parque Arará, Green Roof Favela has reached a record 15-degree-Celsius reduction in room temperature compared to the neighbor's house, which does not have a green roof. The Green Roof Favela project offers a solution to reduce temperatures in our homes that is sustainable and without electrical consumption. Furthermore, it improves air quality and reduces energy costs both for the residents of individual houses and for their surroundings.

Watch the video report by Luis Cassiano Silva above or here.
About the author/producer: Luis Cassiano Silva is a resident of the Parque Arará favela, creator of the "Green Roof Favela" and "Hip Hop Sanduba" projects, a cultural producer, actor, video maker, environmentalist and member of the Manguinhos em Cena Theater Group.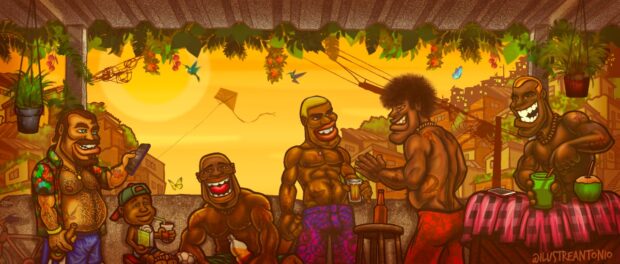 About the artist: Born in Rio, Antonio Vieira is an illustrator of typical "Rioisms." A lover of the samba school carnival and of the bate-bola parades of Rio's peripheries, he holds an MFA from the Rio de Janeiro State University's Graduate Program in Fine Arts and is interested in researching all of the city's black and peripheral movements.  
This article is part of a series on energy justice and efficiency in Rio's favelas.
---
Support RioOnWatch's tireless, critical and cutting-edge hyperlocal journalism, online community organizing meetings, and direct support to favelas by clicking here.