This article is the latest contribution to our year-long reporting project, "Rooting Anti-Racism in the Favelas: Deconstructing Social Narratives About Racism in Rio de Janeiro." Follow our Rooting Anti-Racism in the Favelas series here.
As the main name of today's carioca funk scene, it is impossible to remember DJ Rennan da Penha without immediately thinking of the Baile da Gaiola (Cage Ball funk party), which used to take place in the favelas of Complexo da Penha, in Rio's North Zone. The DJ gained fame and recognition as the party—the main promoting stage for 150BPM, a beat born in the Nova Holanda favela at the hands of DJ Polyvox—also stole the spotlight and became the city's main pulse. Despite not happening in the same astronomical proportion as before, the ball did make a few attempts at a comeback, even in the midst of the pandemic. Compared to past editions, however, they happened less often and with smaller audiences. At its peak, on normal party days, 10,000 people attended the ball in Complexo da Penha. During special celebrations or events, almost 25,000 people danced through the streets of Penha, like in 2018, for DJ Rennan's birthday.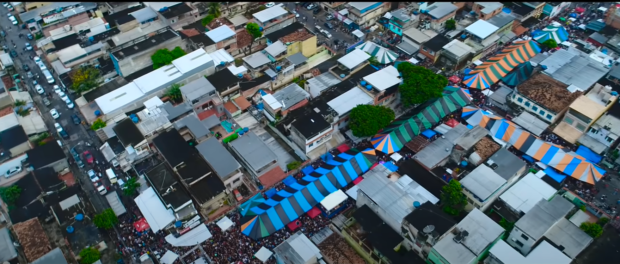 In 2018, at the height of its success, the Baile da Gaiola brought thousands of people together in the streets and alleys of Penha, though it began to occupy new physical spaces, as both an idea and as a force. The songs that packed the balls were hits in Rio and other Brazilian states. DJ Rennan's podcasts were also widely listened to, and are still available on his SoundCloud channel. But it was in his own city that his sounds conquered increasingly diverse audiences: DJ Rennan performed in concert venues and nightclubs across Rio, transforming them into the Baile da Gaiola itself, taking a bit of Penha to the whole city. Rennan broke the hierarchy of the stage as the place of power, conquering a space that DJs had only ever reached in the electronic music scene: the center of the stage, the center of the scene.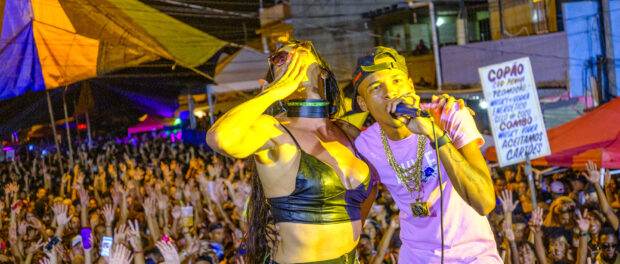 A favela resident, he was the main DJ of one of the biggest funk balls the city has ever seen. After all, there is no record of any other party bringing 25,000 people a night to the favela. Not only did Rennan play at concert venues in the most varied areas of Rio, but also in other states, such as Amazonas, Minas Gerais, Espírito Santo and São Paulo. But this boldness in breaking the boundaries between the favela and the spaces outside them has always bothered many people. This discomfort reached its peak notably after Baile da Gaiola's first LGBT+ Parade, the first gay pride parade in the neighborhood of Penha, held on January 26, 2019.
After the LGBT+ Parade, the ball would never be the same. On February 2, 2019, in the week following the ball's special edition, a police operation in the afternoon prevented the event from taking place. Sara de Souza, a resident of Complexo da Penha, confirms that the ball did not take place again until that year's carnival. Marcela Menezes, a local resident and manicurist, recalls another police operation that took place a few days later. She heard shots from her salon and remembers that there was no party that night. Marcela also mentions she suffered a financial loss due to this same operation: a glass pane in her salon was shot and she had to change it in a hurry. 
OPERATION IN COMPLEXO DA PENHA
RESULTS IN 4 INNOCENT PEOPLE SHOT! 

A police operation carried out in the communities… 

Published by Vila Cruzeiro – RJ on Sunday, February 17, 2019 
Both Sara and Marcela stated that the ball returned with the traditional carnival pre-parties. At Rua do Cajá, the ball continued normally during carnival weekend, as well as during the following one, when the special group samba schools parade their champions at the Marquês de Sapucaí Sambadrome. But the day right after carnival's "Champions' Saturday," the party was interrupted by gunshots, stopping the Poesia Acústica show, the evening's closing number. Even in the midst of the confusion, of the running, and the shooting, you could hear the screams of desperate people at the site of the Military's Police armored truck entering the ball with no explanation. This hostile episode silenced the Baile da Gaiola for good. It hasn't happened since.
Having the Military Police interrupt a funk ball by firing shots from inside its armored vehicle—the caveirão—is to experience, with one's own body, how the State's politics of death effectively shapes these bodies. This politics that is all over newspapers and news outlets everyday: assaulting, invading and killing black and favela bodies. To interrupt a ball like the Gaiola is to limit the possibilities of discourse, of entertainment and of artistic power of these bodies. 
After the events of March 22, 2019, DJ Rennan da Penha was arrested by a second instance court ruling. The DJ's arrest was decreed upon the revokement of a previous first instance decision from 2016 that had acquitted him due to lack of evidence in the charge of association with the Complexo da Penha drug trade. It is important to note, however, that this was the second time the DJ was arrested on the same claim. On January 20, 2016, Rennan had already been provisionally arrested for six months on the same charge. The second instance decision stated that Rennan acted as a "scout for the drug traffic" and that he "organized clandestine balls." Furthermore, the decision mentions Rennan's role in an alternative communication network among Penha residents—in fact, a common practice in favelas, so that residents are made aware of general risks, such as police operations, water shortages, heavy rains, and other important community issues. 
There are several flaws in this sentence—as pointed out by Luís Guilherme Vieira, member of OAB-RJ's (Brazilian Bar Association, Rio de Janeiro Chapter) Committee for the Defense of the Democratic State of Law, on the weekly national TV show Fantástico aired on March 31, 2019—which induce to the criminalization of popular culture, of black culture, such as the funk ball. Rennan was expected to renounce his identity, to renounce the narratives of favela everyday life and to, then, be the "good negro"—neither encouraging a discourse of body liberation, nor claiming protagonism for himself. Furthermore, when political philosopher and militant Frantz Fanon speaks of the "good negro," he speaks of the reproduction of a stereotype imposed by whiteness. Which means constantly imposing stable unemployment on blacks, a routine regulated within set social restrictions imposed by elites that have subordinated these black bodies for years. And, above all, it means denying black people the right to art, and to be legitimized as artists.
On April 24, 2019, a month after his arrest was ordered, and his petition for habeas corpus denied, Rennan surrendered to the police. He was only issued his freedom on November 21, 2019, through a writ of habeas corpus granted by Brazil's Supreme Court. Rennan spent seven months away from the dance scene, locked up simply for being an artist, and for making music that allowed a momentary escape from an oppressive routine. Arrested for capturing poetry from bodies that live trapped by borders established by the State, but which also find in the "crazy rhythm"—as Rennan says in his podcast—a space to be what they want.  
In the meantime, Rennan was a recurring theme—being quoted by many and as the focus of OAB's statements of repudiation on numerous news outlets positioning itself against his arrest. He even won the MultiShow Brazilian Music Award in 2019 with "Hoje Eu Vou Parar na Gaiola" (Today I'm Gonna End Up at the Cage), showing how the ball became a force even outside Penha. The final scene of the music video is recorded at the ball itself, besides Rennan having brought a São Paulo DJ, MC Livinho, to sing one of his productions. The award, given by Anitta and Paulo Gustavo in November 2019, was received by Lorena Vieira, his ex-girlfriend, who gave a speech asking for his freedom.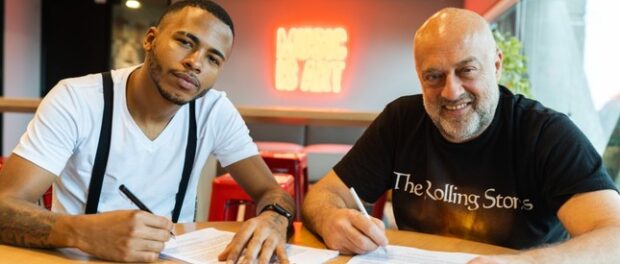 After regaining his freedom, Rennan signed with Sony Music as an exclusive artist. In January 2020, he recorded an audiovisual project entitled "Segue o Baile" (The Ball Goes On). The project's track list includes several new songs with established artists such as Pocah, Luísa Sonza and 3030, Mc Rebecca, Thiaguinho MT, and JS o Mão de Ouro. Additionally, he incorporates his hits from the ball in medley form, structuring the songs in three blocks: Me Solta / Brota na Penha / Eu Vou Passar; Ai Nego Drama / Sabota Elas / Roda a Penha Malandra; Finalidade Era Ficar Em Casa / Olha Quem Brotou no Juramento / Desce Com o Copão, along with the successful "Today I'm Gonna End Up at the Cage." Unfortunately, the project's publicity campaign was affected for an obvious reason, the pandemic, which stunted the entire performance schedule. Despite this, the project yielded good results: "Talarica" became a hit, and was even made into a video. More recently, Rennan worked again with Luísa Sonza, in his new partnership with Pabllo Vittar and Anitta. 
In the wave of live shows during the pandemic, Rennan held five in total: three at Konteiner, a concert venue in Complexo da Penha, and two in his new home, in Recreio dos Bandeirantes—his secluded post-freedom refuge, where he is distancing himself from his "born and raised in Penha" image. One of these live shows was to collect donations for the NGO Todxs, showing the artist's continued commitment to the LGBTQ+ community, which was first evidenced with the 2019 Baile da Gaiola Parade. 
With Rennan da Penha being arrested for being a black, favela artist, questions arise. How do we talk about art in the favela? How do we make society at large better understand that funk is an art form? How can we make it clear that creating works of art through black bodies, often made invisible by upper class white art, is not a crime but freedom of expression? When will society understand that describing the experiences that these oppressed bodies have with each other and with their territory, is a liberating political act? 
We need to reflect on art and its role in contemporary society. To understand that contemporary art does not come out of the blue, but from a process building off past events. Graffiti has been on the walls of various cultures for millennia, as shown by archaeological finds from numerous historical periods, from cave paintings in Brazil to the walls of Ancient Rome.
Funk is experienced through the ears, but it also goes back to popular Galician-Portuguese songs where folks sang about the body, about desire, eroticism and sexuality causing sensations in the body. Weaving through the paths of history, this sensuality has been present since medieval festivals and disembarks today in the form of the paredões (the iconic walls of stacked speakers) of favela balls. We need to establish a dialogue that finds the key to unlocking these paths, to showing that there is historical heritage even in the most popular cultures. We need to build knowledge collectively, reflecting on suffering and pain, transforming them into art. 
At first, it may seem impossible to establish this dialogue. But it is crucial to see how the funk ball is the key that unlocks this cage: that it is a release from open-air prisons, from the daily confinement experienced by these individuals. The way out is none other than art! The art present in favela daily life allows millions to resist—to pulse freely to life's rhythm, dancing, singing, and reflecting on their life paths through compelling words and movements. Only by experiencing art can they perceive themselves as questioning subjects, conscious of their place in the world, within the structures of power, and willing not only to question themselves but to organize as a community, and to recover their individual stories so as to promote a place-based collective memory. From there on, they can envision new directions for a future where the favela and its art are not judged but, rather, appreciated.
Collectively, we must constantly break the boundaries of stigma. Funk is most notably condemned for its ever-present theme of sex, for inciting movement, dance and the freedom of bodies; for imagining a place of pleasure in a society that kills and imprisons, in everyday prisons, these bodies that, on the weekend, used to crowd the streets of Penha and of hundreds of other favelas across Rio. It is extremely liberating to be recognized and to see yourself represented in musical productions that chronicle favela daily life. Some say that funk is sexist, male-dominated, but it is important to be clear: it is not just funk, society is sexist. It is not just funk that talks about the body. Art in general has always talked about the body. Funk draws attention to black bodies at the same time that it shows that they are not objects for labor, exploitation, or death targets. Black bodies pulse with life, pleasure, and feeling. And they are aware of that!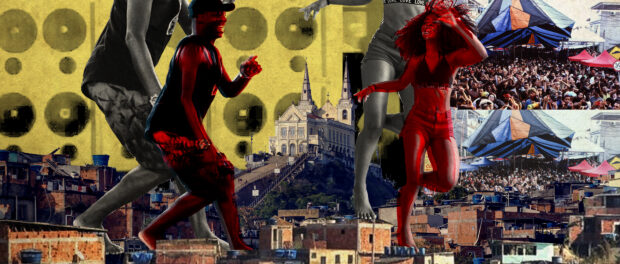 ---
About the author: Artur Vinicius Amaro, also known by his drag name, Vanubia Close, has had a history and a narrative built and influenced by the streets and alleys of Penha. As a communicating body, he is currently a last-year Literature student at the Federal University of Rio de Janeiro (UFRJ), where he researches carioca funk, specifically in its most contemporary form, 150BPM and 170BPM. 
About the artist: Born and raised in Complexo do Alemão, David Amen is co-founder and communication producer of Instituto Raízes em Movimento, a journalist, a graffiti artist, and an illustrator.
This article is the latest contribution to our year-long reporting project, "Rooting Anti-Racism in the Favelas: Deconstructing Social Narratives About Racism in Rio de Janeiro." Follow our Rooting Anti-Racism in the Favelas series here.
---
Support RioOnWatch's tireless, critical and cutting-edge hyperlocal journalism, online community organizing meetings, and direct support to favelas by clicking here.