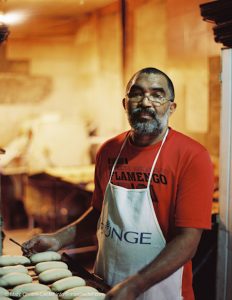 In 1986, the newlywed José Arimateia moved to Vila Autódromo to buy his first home and to start a family. He moved from his parents' house in a neighboring community, Vila Sapê, though he was born in Paraíba. He and his wife, Maria das Dores Catanduba de Andrade, were the first of their families to move to Vila Autódromo, a small favela in Rio's West Zone, which they chose for its safety and peacefulness. Now, 27 years later, their success and happiness have drawn a dozen family members to move to their beloved community.
When José first moved to Vila Autódromo, he began baking bread out of his home as a form of income. The bakery began small and informally, but he explains that as the years passed it "began growing, growing, growing…it was growing in a way that scared me." Today, he serves upwards of 700 customers daily and has six paid employees. His business draws people from beyond Vila Autódromo, from nearby neighborhoods and work sites. With earnings from his in-home business, José bought a 4-bedroom, 3-bathroom home on the adjacent street for himself and his family. While José, Maria and their three children live in one home, Maria's sister, her husband and their two sons occupy another home at the same address, and Maria's mother lives in a third house on the same land. José's sister now lives above the bakery with her family. Needless to say, between 1986 and today, the Catanduba de Andrade-Arimateia family has planted deep roots in the community of Vila Autódromo.
But José doesn't cite his home's square footage or the car he was able to buy after years of saving as markers of his success. When asked what he considers to be the markers of his success, he boasts with a smile, "Now I can pay two college tuitions." His 22-year-old daughter Danielli studies Physical Education at the Universidade Estácio de Sá while his 24-year-old son Pablo Diogo is set to graduate from the Pharmacology program at UNISUAM in June. José's smile alone and the fact he mentioned his children's studies numerous times in our hour-long conversation shows the immense pride he has in putting his hard-earned income towards his children's education. He only hopes he will be able to do the same when it comes time for his three-year-old son, Danilo, to think about college. But his youngest son may be growing up in a very different time.
With Vila Autódromo once again at risk of complete removal by the City government, José is fearful that everything he has worked for will soon be demolished under the pretense of preparing the City for the 2016 Olympic Games. Yet he refuses to imagine his future in the Parque Carioca resettlement housing where the City plans to move residents. José explains, "It's something that doesn't even pass through my mind because it leaves me feeling fallen." The public housing resettlement contract prohibits residents from running in-home businesses. This means that, if removed, José would not only lose his home and loyal customers, but also his livelihood. He laments, "If my work is finished, my life is finished! I don't have another source of income, my source of income is here [in Vila Autódromo]. I'm 49 years old and in the working world, there aren't many people who will give a job to a person of that age."
However, the worst consequence of removal for José would not be the loss of the bakery, but rather the fact that he could no longer pay for his children's college education. José explains, "Now I pay two college tuitions. If I leave here, how will I…pay my children's tuitions with one who is finishing up and another just starting now? It's difficult, isn't it? They benefit [from my success and from the community] because they study. If I leave here, how will I pay?"
But rather than falling into despair, José instead joins the community's resistance against removals. Through the Vila Autódromo Residents' Association, José helps ensure that residents don't get tricked into moving away without knowing all the consequences. He explains, "We fight so we don't get duped because we see that there are things the [City government] does to deceive residents. Truthfully, there is nothing of substance in what they say. They make an agreement on paper, then implement something else."
Though José refuses to think about or discuss what would happen if the community were removed, he remains hopeful that his family will be able to stay and that he will be able to continue to invest in his children's education. He concludes, "There is not enough money in the world to buy someone's life story. There is no money that can pay for the…years that a person has lived here."
This is the first story in the series Lives Cannot be Replaced in Public Housing.