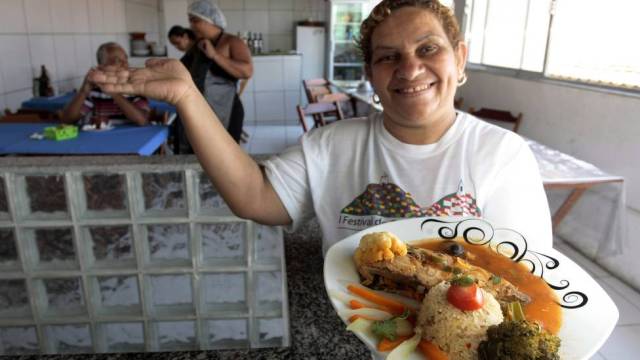 The Pensão Sabor de Ana's restaurant is near the bottom of Providência hill. But even if it were located at the top no doubt these flavors would be drawing people from all over the city for the great food and better price. For R$10, a customer gets access to an all-you-can eat buffet, with two selections of a wide variety of churrasco meats. With the menu changing every day, customers just seem to keep coming back. Chicken à milanesa with rice and beans–-a pretty standard Brazilian dish–-was all I needed to see how "flavor" worked its way into the restaurant's name.
What is even more impressive than the food, though, is Ana Maria dos Santos' formidable business acumen. Holding many jobs in her life, Ana Maria started her career in food service by making take out meals for people on the go. The customers quickly caught on, and she was soon practically forced to open as a sit-down restaurant. Now, Ana Maria explains that only about five percent of her clientele live in the community. For a typical favela restaurant, that is unheard of. The reason? Cable car construction workers, building the station around the corner caught on and spread the word.
Not long after opening, Ms. dos Santos signed a contract with Hécio Gomes Engineering to supply six hundred meals a day. This was made possible by legalizing her business (i.e. registering with the government). However, the city cancelled the construction contract with Hécio Gomes, which cancelled the catering contract as well, only to replace Ana Maria with outside suppliers. What at first seems like a low blow gets worse. Just before her contract was cancelled, Ana Maria took out a R$60,000 loan to buy the upstairs area of her restaurant's building for a spacious dining room with a beautiful view of Rio's North Zone, something Hécio Gomes encouraged her to do so their workers would have a place to eat.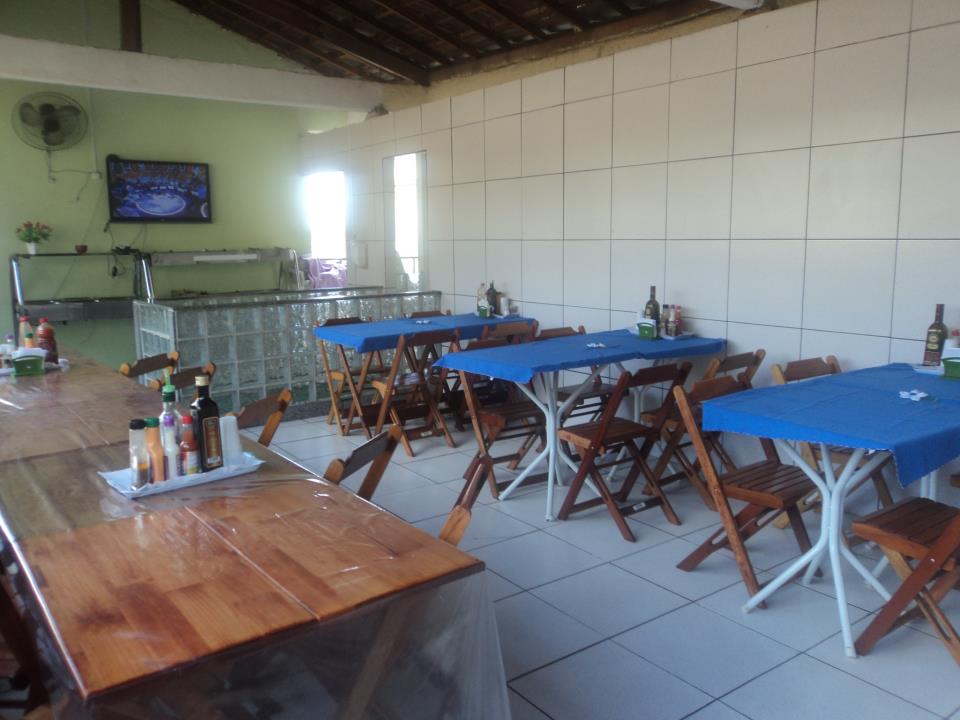 The loan made complete sense. Supplying six hundred meals a day would mean a quick return on her investment. This was the perfect moment for expansion, and the municipal government, the entity supposedly most encouraging economic development, left her out to dry.
Now, Ana Maria, who has already shown herself as a sharp businesswoman, is in danger of closing her restaurant. "It is just so hard to make money when you have none to begin with," she explains. Freed from the debt, Ana Maria could begin some of her plans for improvement and expansion. At this point, she can barely cover interest and bills, hurting her even more financially. RioOnWatch originally covered Ana Maria's story last November, about four months after the contract fell through. Since then, little has changed besides bills piling up and the possibility of closing becoming more iminent.
Thankfully, there is hope yet. Ana Maria is in desperate need of a microloan, one based on solidarity lending. This concept, first introduced by Nobel Prize winner Muhammad Yunus, uses the power of social pressure and the responsibility of women to guarantee loan repayment. Instead of collateral and credit scores, women form lending groups. One member at a time takes out a loan. The first loan must be paid back in order for the next member to borrow. Therefore, it is the responsibility of the borrower to ensure others may borrow as well, and it is the responsibility of the group to support a struggling member. With a fair microloan, she could quickly and easily turn her business around in spite of having bad credit. She would use the money to pay bills and cover the debt of her cancerous loan. Once this is done, "I can start fresh. The business was doing great until all this happened to me… I paid off my first loan in three months." Ana Maria is currently in the process of organizing a solidarity group with other female business owners in the community. They, however, are still in need of funding.
Pensão Sabor de Ana's was planning to add a snack stand in the city's revitalized port area as well as improvements to her restaurant such as roof and bathroom repairs. Given the chance, the business could take serious advantage of the Decade of Sports and the growing tourism in Providência, but unfortunately as of right now, Ms. dos Santos may be unjustly forced to watch from the sideline.
Please show support for Ana Maria by simply liking her restaurant's Facebook page.