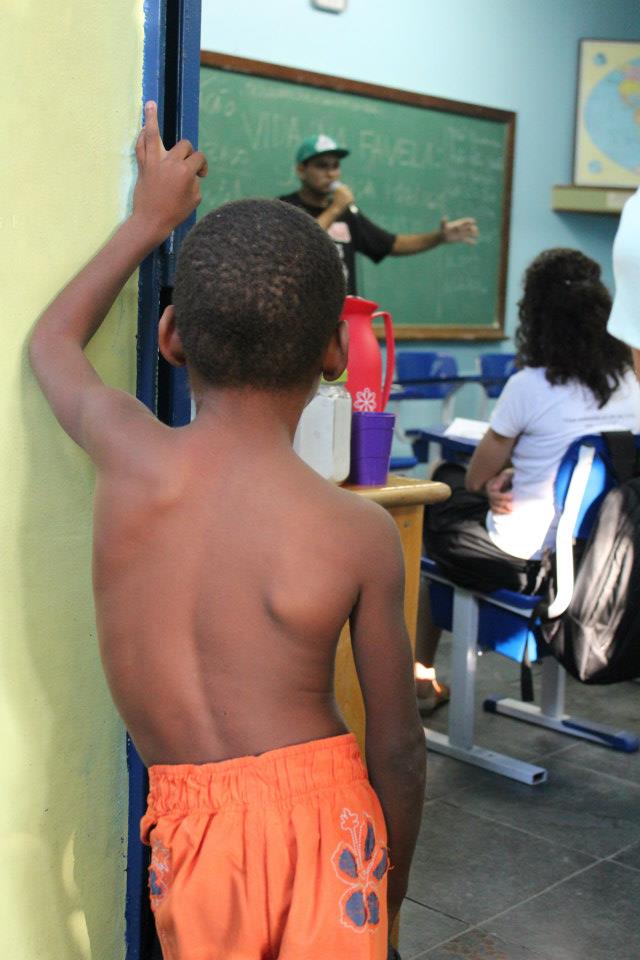 "What is this 'pacification' that is coming?" challenged favela residents last Saturday May 11th at a debate on public security in Maré. For weeks, the group of communities has been undergoing daily raids by the BOPE (Special Operations Police Battalion) in a government effort to prepare the area for the installation of the Police Pacifying Units (UPPs). The process includes illegal searches of homes without individual warrants and operations involving helicopters and armored tanks.
"The discourse from the state and from the commercial media [surrounding pacification] is a big lie," explained Gizele Martins, coordinator and journalist at Maré's 13-year-old community newspaper O Cidadão. Organized by the newspaper, the debate aimed to bring together favela residents from across the city to exchange experiences regarding the UPPs and to be "protagonists in their own realities." The discussion raised broader questions about the nature of citizenship and the process of gentrification in Rio de Janeiro.
The first of four speakers, Francisco Marcelo, a Maré resident with a Masters in Education, expressed firm opposition to the UPPs because, in his words, there cannot exist two different security policies in the city. In Leblon and Ipanema, it would be unthinkable for the police to arbitrarily enter private homes, destroy personal property, or use violence against residents in the name of "public safety." Gizele reiterated, "Why are they invading our homes, our spaces? And not in other parts of the city?"
Marcelo noted that during the UPP installation, the state hoists a flag to show "dominion over the territory," and disseminates that it has brought peace, security, and citizenship to the favela. "I don't understand this," he said. "The UPP comes to guarantee our right to the territory?… Our right to finally be a complete citizen?"
Repper Fiell, a hip-hop singer and community activist of Santa Marta, crossed off the word "pacification" on the chalkboard and replaced it with the word "militarization," arguing that the UPP security project is not one of peace and integration, but rather, one that perpetuates old systems of violence and domination while undermining possibilities for collective action.
Marcelo did acknowledge several benefits of the Pacifying Police Units, such as minimizing the ostentatious presence of weapons and drugs, and eventually decreasing the shootouts and deaths that regularly occur in Maré. "This is very good; I cannot be against this," he explained. However, Repper Fiell challenged that this alone should not be the standard for success after five years of UPP presence in Santa Marta. "Great! Things improved, my son can run in the streets without shootings," he said. "But this is his right as a citizen! This should not be a favor [from the government]."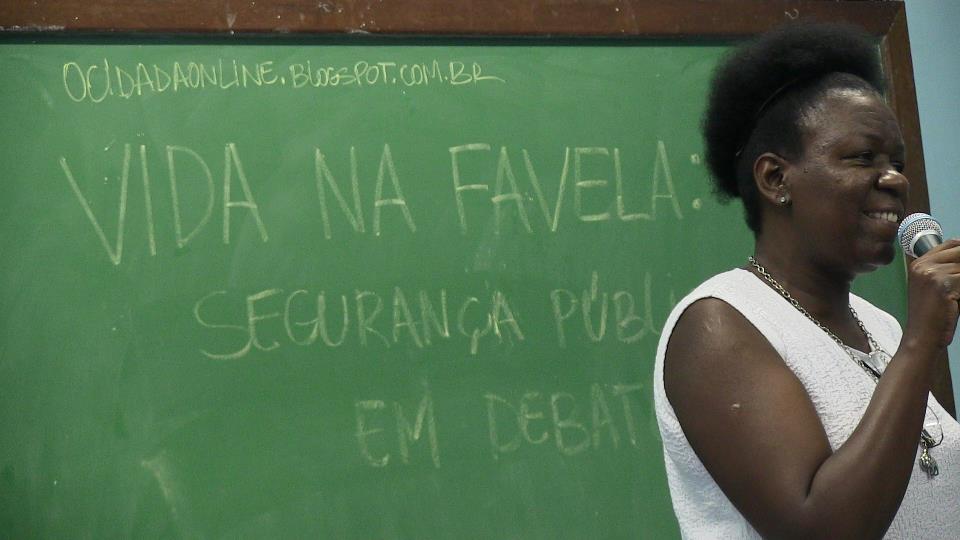 Several speakers argued that police pacification was not accompanied by the promised investments in social programs and infrastructure upgrades. Cilene Vieira, graduate in Social Work and resident of City of God, stated that the UPP Social program, intended to bring in the missing public services beyond security, "leaves much to be desired" both in terms of project implementation and with regard to resident participation. André Constantine, a resident of Babilônia and organizer of the Favela Não Se Cala movement, described favelas with huge rats and open sewage systems years after UPP arrival. Repper Fiell exclaimed that the billions of reais supposedly invested in pacification have only resulted in "lack of citizenship" and "social and cultural control." He cited Resolution 013, which prohibits parties and events in pacified communities.
The debate raised questions about quality of life measurements in the favelas; several speakers pointed to the absurdity of painting the fronts of houses while neglecting public health and education. Repper Fiell argued that quality of life has actually worsened in terms of higher living costs associated with UPP-controlled favelas, which do not align with residents' salaries (e.g. instead of fixed rate electricity bills, some residents stated they received bills as high as R$900 per month).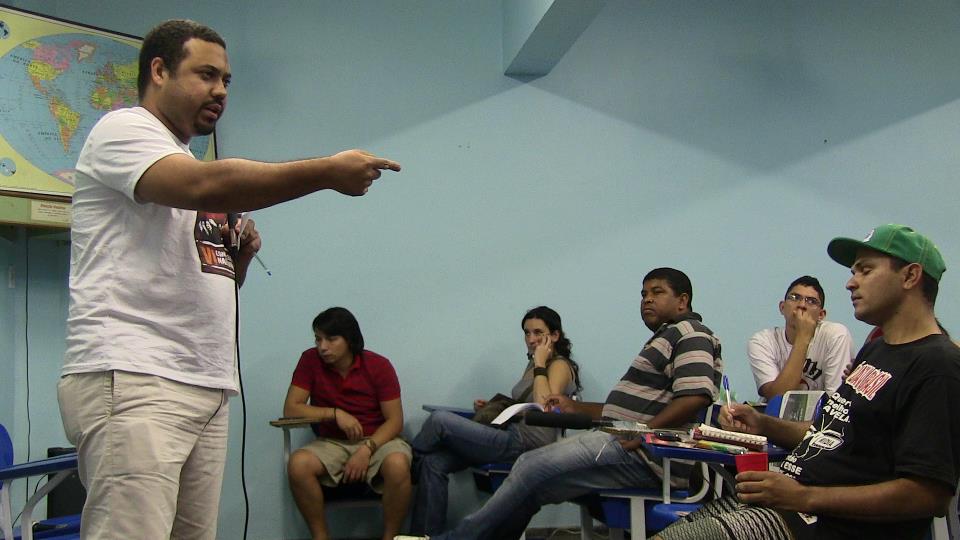 Speakers also stated that the UPPs are linked to a broader project which effectively "commodifies and eliticizes" the city of Rio de Janeiro. André argued that the security project seeks to "integrate" the urban poor through material consumption, or expel them through gentrification or forced evictions.
Repper Fiell argued that the authorities are engaged in a project of conflating "citizenship" with "consumption," and that it is easy for favela residents to confuse their "rights" to purchase goods for their human rights. In his and André's views, the UPP is a protagonist in this process of big business entering to "exploit the favela… [and make it] another space to profit." The UPP's role in raising property values both inside pacified communities and in the surrounding neighborhoods was also cited.
Beyond criticisms, the discussion covered possibilities for political action as well. Repper Fiell showed the pamphlets he and others distributed in Santa Marta to nearly 2,000 homes explaining to residents their rights and duties in relation to the police, a project which significantly reduced police violations. He playfully noted that if the police were really there to "pacify" and "create citizens," they would have helped facilitate the distribution of these pamphlets themselves. Instead, they arrested him.
Various participants applauded the event for creating a space explicitly for the voices of favela residents, given the absence of such perspectives in many discussions of pacification throughout the city. "We need to occupy more of these spaces," André said of universities, forums, and public hearings. He criticized the paradigm in which academic researchers come into the favela and use residents' stories–"I am like a rat in a laboratory"—but then residents never see the work that is produced and the benefits remain outside the community. He said: "Favela residents have to speak for favela residents, and must be the protagonists of these stories."
O Cidadão is planning to follow up this debate with further events in different locations in Maré on other important favela issues, where residents are encouraged to participate and debate the city and their community.