CDD Acontece (City of God Happenings) is a successful community media platform in the City of God favela in Rio de Janeiro's West Zone. It was created in August 2011 by resident Carla Siccos and has since grown rapidly, with the Facebook page reaching almost 40,000 likes, of which Siccos believes about 30,000 are residents.
"CDD Acontece came from an idea after a conversation with my mother. I saw a need for a channel that would bring useful information to all the community. The bad news circulates rapidly, but the good news doesn't and so the CDD Acontece page on Facebook was created. Initially, it was just a profile, but after a year I made the page and the idea was to provide NGOs, institutions and resistance movements in City of God a channel to promote these great things happening in the community," says Siccos.
Beyond the website and social media channels, there is a widely used WhatsApp group, which has 3,500 users and is used to communicate about events, positive stories, job opportunities, and any news regarding security and safety of residents. Siccos says this platform is not for conversation but only for passing on useful information.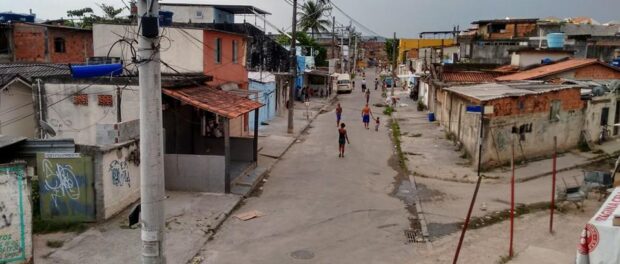 In March 2016, CDD Acontece launched a mobile application as another way to aid residents in finding useful information.  
"It is super simple, but it is very useful; we have 7,000 people using the application. People use the application when they are searching for something: a place or an announcement of something where we have information on the application. It has the telephone contact of important national institutions and of organizations within City of God. There is a lot in the application. It has turned into a reference much larger than I imagined it would be," said Siccos.
The goal of CDD Acontece is to make sure residents know about things that are happening in the community that they otherwise would not be aware of. Siccos explains: "There are a lot of good things in City of God that the community didn't know about [before CDD Acontece existed]. I mean to say, these things came and went without the knowledge of residents. We created this channel and we use it when the community has something to pass on and I send it out."
Siccos is currently studying community journalism at the Ibmec university in Barra da Tijuca with hopes of being able to better develop CDD Acontece into an organization that further supports City of God.  
"There is a lot of work because I work alone: I send out information, I go take photos, and I do interviews. When I'm not at home, I'm on the streets. I'm only at home to edit an article when I can't do it on my cell phone. I'm also dependent on the computer to manage the mobile application."  
Though Siccos manages the project on her own, the success depends on an extensive collaborative effort. She says: "It's a little strange to say that I work alone because the whole community is with me. Sometimes an idea comes up and people send it to me. They send information, photos, videos or other things and through this we make a little bit of noise."
Siccos also affirms the importance of maintaining CDD Acontece a virtual platform: "We received suggestions about becoming a printed newspaper or an NGO, but this isn't in my future plans. It is only virtual right now. Everyone is on their cell phones all the time, so we have to be on mobile platforms as well."
A critical dimension that CDD Acontece works to change is the stigma associated with City of God following the global success of Fernando Meirelles and Kátia Lund's 2002 film. The Oscar-nominated film focuses on drug gang violence and has greatly influenced the media portrayal and general perception of the community, and favelas in general.  
"The mainstream media only look to CDD Acontece when bad things happen here. We have many good things here. There are beautiful stories that people make happen. There are brilliant people here in the community who merit being featured. I don't want only CDD Acontece to show these things, you know? I want others to see these people and know about their work," explains Siccos.  
CDD Acontece is also eager to help change this stigma as the Olympics come to the city, with many events to take place just a few kilometers from City of God. Siccos hope to bring foreigners to visit City of God to show that the community is dynamic and vibrant.
"City of God was presented to the world as a really violent favela; the film only showed this. It did not show anything beyond the violence. We are seen negatively from the outside, but this is not everything.  Yes we have problems, but it is not just this, like the whole world imagines."
CDD Acontece works not only to change the stigma that exists from outside the community, but also the stigma that has been created within the community because of its negative portrayals in the media.  
"We see ourselves with 'bad eyes.' I always knew there were good things here. I felt I had an obligation to show the world we have positive things. This is the idea."
For more information, visit CDD Acontece's Facebook Page or follow them on Twitter.