On September 28 in Santa Teresa's Cine Santa movie theater, the short film Favela as a Sustainable Model by Catalytic Communities* (CatComm) was screened as part of the Santa Na Mesa festival celebrating sustainable development and sustainable living. The film screening was hosted by Mairarê Produtora and the Association of Friends and Entrepreneurs of Santa Teresa. After the movie, Cris dos Prazeres, from the environmental initiative ReciclAção in the Prazeres favela, and Fernanda Cubianco, representing Movimento Lixo Zero (Zero Waste Movement), participated in a short debate on addressing environmental challenges in Rio de Janeiro.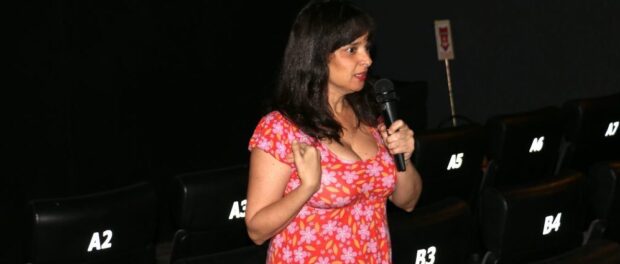 After the projection of the movie, CatComm's Institutional Director and one of the film's producers, Roseli Franco, explained the idea behind its production. The purpose, she said, was to take advantage of the Rio+20 UN environmental conference taking place in Rio in 2012 to give visibility to some of the challenges facing favelas that non-residents might be unaware of, while also documenting the innate sustainability of these communities and their local solutions: "We wanted to make a movie about the problems arising from government negligence and about the people who are already creating solutions to these problems."
Franco explained that the NGO put out a call for community projects to participate in the documentary and many responded, including the socio-environmental NGO Verdejar, from Complexo do Alemão, and Favela Orgânica, a Babilônia and Chápeu Mangueira-based project that uses food scraps in delicious cooking. The projects that applied addressed issues like sewage and waste, and the need for environmental education. The CatComm team selected projects from different areas of the city to show the wide range of favelas with active initiatives and to recognize their value.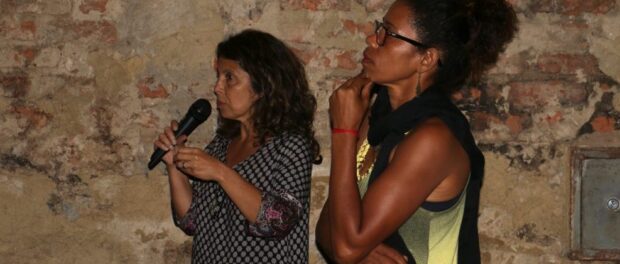 Next, the microphone was passed to Fernanda Cubiaco from Movimento Lixo Zero who addressed how important it is to show and give visibility to these examples of activism and resilience. Her own activism around the problem of trash in the city started when she observed a lack of care for the city's public spaces that were often filled with garbage. Cubiaco explained the objective of the zero waste project is to push people to rethink the way they look at garbage and to connect with the waste they produce in order to be more aware of its impact. She outlined how the movement is currently trying to find ways to reduce trash in the environment by working with sixty restaurants and several schools and hotels to help them reduce their waste production. The movement is also currently working to create zero waste neighborhoods, and the objective is to keep expanding to involve more businesses and be an example to other municipalities.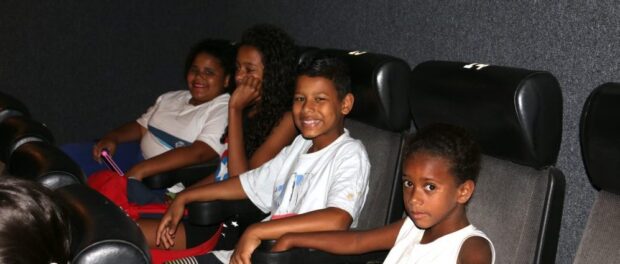 Following Cubiaco, Cris dos Prazeres also spoke to the value of this documentary giving visibility to a part of society and of the city that is left behind by government. She introduced herself as part of the Prevention Realized Through Organization and Love (Prevenção Realizada com Organização e Amor—PROA) group from Prazeres. The group works to address various sanitation problems that have emerged from government neglect over many decades. In Prazeres, Cris explained, they have a history of community resilience. She recalled how in 2010, after a freak avalanche of accumulated trash killed more than 30 people, they decided to take action on the big problem of trash in favelas. Cris said: "We started to sensitize ourselves to see the environment differently." From there, the group started connecting with different communities and doing research, and the ReciclAção (RecycleAction) project was born.
ReciclAção's goal is to "get away from the focus on comfort and consumerism… and start thinking about trash." Cris stressed the total lack of adequate trash collection in most favelas. Today ReciclAção is trying to change that, she says: there are now 40 eco-bags around Prazeres, various areas for composting, and different types of waste collection. The project's team organizes discussions in schools and churches to educate and raise residents' awareness about taking care of the environment. At Thursday's discussion, Cris emphasized that ReciclAção is challenging the misconception that it is not possible to develop effective recycling and trash collection in favelas.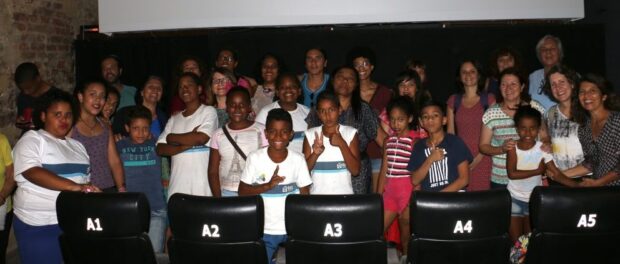 As for the audience, a group of young schoolmates from Prazeres joined the discussion with a ten-year-old saying he knows his trash is collected and reused in Prazeres. Other audience members acknowledged the importance of talking about consumption: people have to become conscious of the constant pressure to consume and start to reassess and reduce their needs. Another audience member argued we have to stop seeing the problem of trash and consumption as external, and realize the problem and the solution both start with each of us.
*Catalytic Communities is the favela advocacy organization responsible for RioOnWatch.
The full 26-minute documentary is available with English subtitles on YouTube: