The Complexo da Maré favelas mourn the death of 14-year-old Marcos Vinicius da Silva this week, as a violent police operation Wednesday morning sent residents, including teachers and students, ducking for cover. The seventh grader was running late on his way to school on June 20 when a Civil Police helicopter, multiple armored vehicles, and over one hundred police and military agents invaded the complex. As firefights began, despite the school uniform, he was shot in the stomach. He and at least six others in Maré lost their lives in the police operation.
The second helicopter-backed operation in ten days, the Civil Police later justified its actions as undertaken to "fulfill arrest warrants." The operation allegedly sought to investigate and arrest suspects for the murder of Civil Police Chief Ellery de Ramos Lemos, killed June 12 during an operation in the favela of Acari.
On Wednesday, however, no arrests were made.
Community media collective Maré Vive accused the police of undertaking a revenge operation, writing: "What people are saying is that this operation has to do with revenge for the death of a Civil Police officer who was killed in a shootout in the Acari favela. They came to spill blood!"

Following Lemos' death, Felipe Curi, the Civil Police delegate responsible for coordinating Wednesday's operation had criticized human rights groups and NGOs for not speaking out on the killing of the Civil Police chief in Acari. He had vowed retaliation, writing: "We will find those responsible for this barbarous act ourselves. This will not go unpunished!"
Further inflaming local suspicions, Civil Police delegate Marcus Amim had appeared on national television on June 15, stating: "All involved in Acari today are enemies of the Civil Police of Rio de Janeiro. We will hunt you wherever you are. It won't help to post on Facebook that a child was shot… Lies. It won't help. You won't be able to get us out of there."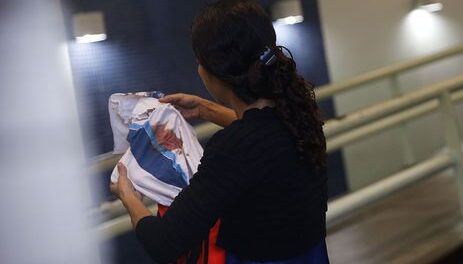 Amim's comments resurfaced on June 20 just as images began circulating of Bruna Silva holding her son's blood-stained school uniform. Emotions erupted and Maré took to the streets. Protesters surged onto the Avenida Brasil and Linha Amarela highways around midnight, blocking traffic and clashing with Military Police.
From the nearby Alemão favela complex, community media collective Coletivo Papo Reto's Thainã de Medeiros condemned the delegate's comments, writing: "'It won't help to post on Facebook that a child was shot' That was what Delegate Marcus Amim said on [TV]. Every child killed in the favela at the hands of the State is also on this delegate's bill."

The following morning, Marcos da Silva's classmates gathered with teachers outside the Vicente Mariano Education Center in an act of solidarity. Students wore school uniforms splattered with red paint, carrying posters that said "I am a student. Don't stain my shirt with blood," and "Police, I am a child. Don't kill me."
Complexo da Maré is no stranger to police operations and military action. According to the NGO Redes da Maré, the area saw 41 police operations in 2017 alone, resulting in 35 days of missed school. Between 2014 and 2015, the Armed Forces occupied Maré in a fourteen-month operation that Armed Forces commander General Eduardo Villas Bôas later called a waste. "We spent R$400 million [around US$110 million] and I must say that it was money absolutely squandered," he told Piauí magazine in March 2018.
The Armed Forces have mounted or supported significant operations in favelas across Rio since President Michel Temer's declaration of a federal military intervention in February. According to the Intervention Observatory, a monitoring body hosted by the Center for Citizenship and Security Studies (CESeC), security forces conducted 203 operations in the first 120 days of intervention.
The recent use of armored helicopters for air-to-ground fire in Maré, City of God, Manguinhos, and Jacarezinho, though, has shocked NGOs and specialists alike. Luke Dowdney, founder and director of the Maré NGO Fight for Peace called such tactics "unacceptable and repugnant" and Redes da Maré issued a condemnatory note. Daniel Lozoya from the Public Defenders' Office filed an injunction, urging the prohibition of police helicopters in densely populated communities and demanding the State comply with its obligation to present a risk prevention plan to avoid violating human rights in favelas.
The Civil Police issued its own note, writing: "Rio's Civil Police reiterates that the use of helicopters in operations, as occurred on Wednesday, serves to guarantee the safety of the whole population, among them the residents of the community involved and the police undertaking their activities."