On the evening of Wednesday, August 8, the nonprofit organization Fight for Peace held a seminar entitled "The Favela Shouts: Black Women Constructing Narratives." The seminar attracted a crowd so large that audience members spilled out of the doors of the martial arts gym where the event was held in Complexo da Maré, in Rio's North Zone. "The Favela Shouts" was the continuation of a seminar on representation and resistance (held by Fight for Peace two weeks prior) and similarly discussed fortitude in the context of black female identity and reflected on Marielle's legacy. The objective behind the event can be best summarized by a question asked by audience member Rafael, a resident of Maré: "People tend to focus on the number of people that have been killed when they talk about the black community. What are you trying to do to tell our history in a positive way?"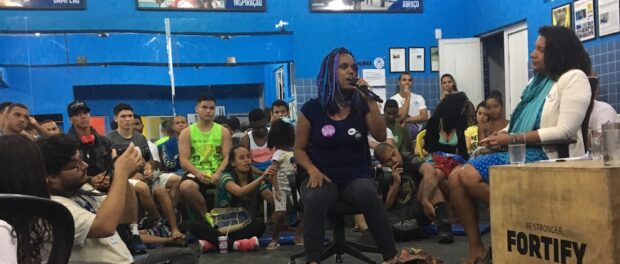 Renata Souza—who grew up in Maré and is a running for state representative—talked about the development of alternative transportation systems in favelas following cuts to municipal bus routes. She said: "We used to have many bus routes, allowing for circulation within a range of places. We no longer have this. We have a few bus stops in specific places, but today, transportation is terrible for those of us who live in the favela." Indeed, in recent years—particularly following the 2015 decision by the Municipal Transport Secretariat (SMTR) to cut 35% of its fleet in advance of the Olympic Games—residents of Rio's North Zone have suffered from decreased public transportation services. However, this obstacle did not halt movement in and out of affected favelas such as Maré. Favela residents responded with the proliferation of moto-taxis and then further expansion of informal transport services, with Souza even saying that moto-taxis are the most important form of transportation within favelas. She urged the crowd to "take a look at the legalization of moto-taxis" and to "financially support" informal businesses that play essential roles in favela culture.
In addition to supporting favela-based businesses, other panelists at the event emphasized the need to support authors from favelas. Viviane Santos—social worker and coordinator of the Social Support program at Fight for Peace—began her response to Rafael's question by holding up two books for the audience to see: Heroinas Negras Brasileiras em 15 Cordéis ("Black Brazilian Heroines in 15 Booklets") by Jarid Arraes and Olhos de Azeviche ("Jet Black Eyes"), a compilation of poems and stories written by black female authors. Santos said: "Unfortunately, we do not know the story of the black woman… When we talk about how we need to tell these stories in a different way, it's this: we need to occupy academic spaces, literature, universities, and politics in order to allow other narratives to be told." Santos and other panelists criticized the relative absence of Afro-Brazilian history in public education curricula—despite federal legislation mandating its instruction. She encouraged the audience both to read—to learn more about the history of Afro-Brazilians—and to write so that their history continues to be documented and told.
The seminar ended with several fiery speeches about the many forms of discrimination that black women have suffered throughout Brazil's history. The panelists emphasized that the solution to reconciling this history of injustice is not to shy away but instead to embrace it. Mônica Francisco—who is from the favela of Borel and is also running for state representative—embodied this sentiment in her concluding statement, telling the audience not to be afraid to challenge discriminatory policies. These policies are "not badly made; they are made to be bad," she stated.
The answer to the question 'Why must the favela shout?' is simple: when the favela does not shout, its voice is not heard.