On Tuesday, October, 9, around 150 people gathered at the entrance of Morro dos Prazeres favela in Central Rio to protest the wrongful detention of Willian Preciliano Bezerra da Silva. Two months ago, upon applying for a driver's license, Willian was taken into custody and charged for involvement in a crime carried out by drug traffickers in Prazeres in November 2017. Community members, activists, and allies united to show support for his family, affirm his innocence, and demand his immediate release. Willian's family members shared their concerns with the crowd and read two letters written by Willian in which he thanks his friends and family and expresses his hopes of being released soon.
Community in Shock
Residents of Prazeres were shocked at the charges against Willian. This sentiment was noticeable in the turnout on Tuesday night. "He is a really good guy, he likes to help his mother, he likes to help his father. He doesn't really go out much. He will go out to play soccer, go to school, and help his sister with her work because she owns a business. He works as a waiter. Willian studied at night, and every weekend we would go out to have fun… We were never involved with anything [criminal]," stated Roberto da Silva Rodrigues, Willian's close friend. "I was really very shocked. He was going to get his driver's license when he was arrested; it was his dream [to get a license]. Everyone was really shocked," Roberto recounted.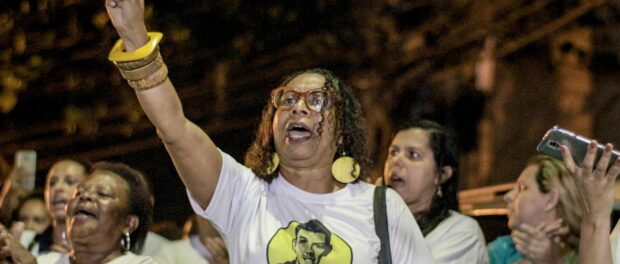 During the protest, various community members emphasized that Willian is an upstanding citizen who would never have been involved in drug trafficking. Perhaps most impactful were the words of Marcia Campos, Willian's former Portuguese teacher at Monteiro de Carvalho High School: "He was in my class for two years. He is a very responsible boy—he had a nearly 100% attendance record. He has nothing to do with drug trafficking. If Willian were a boy with this type of behavior, he wouldn't have even gone to school because drug trafficking jobs don't allow you to study. It's full-time there [trafficking]. He was at school each and every night. With this profile, the story is over. If you take a look at students who flirt with drug trafficking, they aren't students anymore—the first thing they do is drop out of school. I think this alone is enough to disprove [the allegations]."
Willian's Case
Contrary to the allegations of the police officers who claim to have identified him as involved in drug trafficking and having participated in an attack on the Prazeres Pacifying Police Unit (UPP) base last year, community members from all walks of life are adamant about Willian's innocence. To understand how the charges do not add up, it is important to delve into the allegations.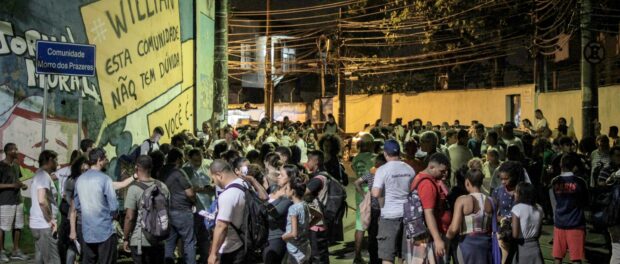 On November 20, 2017, several Rio police officers were held hostage following an attack on the UPP base in Morro dos Prazeres. According to police, approximately forty gang members participated, taking away the officers' weapons and holding them captive at a soccer field in the community. The officers say they were psychologically tortured for almost an hour. A local police chief eventually negotiated the release of the officers; none were physically harmed.
The police officers who were held hostage were granted medical leave for mental health reasons—which is still in effect, according to community members. However, four months after the occurrence, six of the involved officers identified Willian Preciliano as one of the over forty gang members present that night, basing their claim solely on their assessment that he looks similar to a photograph. A warrant was subsequently filed for his arrest. Willian is the only suspect being charged who does not have a prior criminal history; the suspect with the next smallest record has five prior run-ins with the police, according to defense lawyer Vinicius Saldanha.
It wasn't until early August that Willian was arrested. Following his high school graduation on July 13 and his 21st birthday on July 18, Willian went to get his driver's license—something he had been eager to do for awhile as he was planning on becoming an Uber driver to help with family expenses. That day, employees at the Rio de Janeiro State Transportation Department (DETRAN) asked him to return due to a system error. The following day, he was asked a long list of questions, told to wait while his case was processed, and eventually arrested. Neither Willian or his family had any knowledge of a warrant for his arrest.
Legal Irregularities
Willian's family quickly filed for habeas corpus against his detainment, which they call unlawful due to the irregularities in identifying him as a suspect. Why was the identification made several months after the incident took place? Which photos were used to make the identification? With over forty suspects cited in the case, how could this suspect identification be accurate? And most importantly: with several irregularities and a lack of incriminating evidence against him, why is Willian still detained?
His family believes that the police officers identified Willian as a suspect due to photos in which he appears "armed" with fake weaponry. In 2017, Willian was an actor in a film shoot in Prazeres for the production of the forthcoming independent film Pacified, by American director Paxton Winters. Community members believe that officers may have simply come across photos in which he appears to be "armed" and consequentially, identified him as guilty. They have explained this to the judge, to no avail.
"The police officers went to the precinct on the 23rd [of November, three days after the incident] and claimed they were not mentally fit to make any type of suspect identification. They are still on mental health leave, but months later, they went to identify him through photos. What photos? It seems like everything we have taken to them, nothing that we have argued from real facts is being counted," lamented community activist Janice Delfin.
Judge Paula Fernandes Machado denied the family's request for Willian's release and defended her decision to hold him in custody: "Contrary to what has been claimed by the defense, this is not simply a case of photo identification. There is also material and expert evidence, taking into account the out-of-court declaration of a Military Police officer (a victim) that narrates in rich detail the defendant's entire alleged involvement in the criminal undertaking."
#WeAreAllWillian
Willian's story is not unique, yet it has sent shockwaves throughout the community. Willian's Portuguese teacher recounted the atmosphere at the school in the weeks following the arrest, when students panicked—wondering if they, too, had warrants in their names without their knowledge. Community activist Janice Delfin elaborated: "We have young people here downloading an app on their cell phones, a police clearance app. They input their ID numbers to know if there is anything against them because Willian didn't know that they had this warrant." Delfin continued, "As a mother of a teenager, I'll confess to you that I'm dying of fear. Today, I am really scared. When my son goes out: 'Take a photo.' When he arrives at school: 'Take a photo—show me where you are.' I really need this reassurance."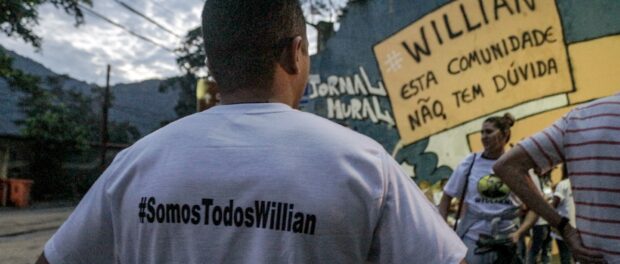 While Willian's case is horrifying and worrying, he is not alone. According to data from the National Prison Information Survey (INFOPEN), as of June 2016, approximately 292,000 individuals were in detention awaiting trial across Brazil. In Rio de Janeiro, remanded individuals comprise 40% of the state's prison population. Orlando Bernardo da Silva, president of the Morro dos Prazeres Residents' Association, had this to say: "Everyone is innocent until proven otherwise. In the case of Willian, he is guilty until proven otherwise. We have to prove that he is innocent, instead of the government proving he is guilty. Throughout Rio de Janeiro, there are many more Willians. This [officer] simply picked him to blame—and this happens all the time."
Perhaps the most worrying aspect of Willian's case is the degree to which police testimony is valued over any other evidence. In cases such as Willian's, police officers are often bestowed with the power of judge, jury, and executioner. In fact, the Rio de Janeiro Court of Justice abides by a doctrine of legal precedent (Súmula 70) that states: "The fact that oral evidence is restricted to the depositions of police officers and their agents does not de-authorize conviction." This controversial doctrine has been heavily criticized by public defenders and criminal justice activists, but the fact of the matter is that police officers' word is more highly valued than that of the defendant or community. Although Willian has yet to have his day in court, his case clearly demonstrates this reality: police eyewitness testimony is sufficient to keep Willian jailed for over two months pending trial, despite mounting evidence in his defense and hundreds of community members who attest to his character.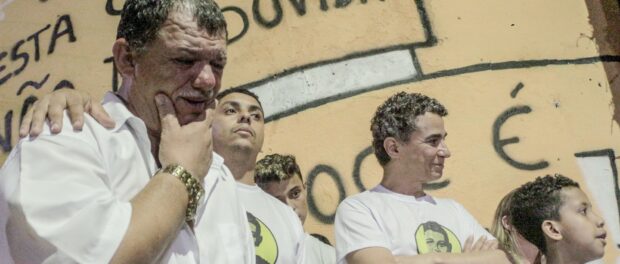 Critics claim that this legal doctrine is unconstitutional, strengthening institutional biases in the criminal justice system. And there are fears that the current political moment will only increase these biases. In Prazeres, Willian is the third innocent person to be wrongfully detained over the years. Silva said: "Here in Prazeres, it's the third time that an innocent person is accused of something they didn't do. This type of situation is something that has always happened in Rio de Janeiro… Our government isn't prepared to combat the violence that it itself creates."
Willian has not yet had his day in court. The community has hope: the other two innocent detained individuals from Prazeres were both ultimately released. And residents generally feel that Willian's incarceration is the product of a huge misunderstanding that can and will shortly be remedied. It is worrying, however, that this case seems to follow an all-too-familiar pattern in the Rio de Janeiro Court of Justice: an incident occurs and police assign blame to an innocent person, who is provisionally imprisoned, during which time verifiable evidence is ignored and requests for habeas corpus are denied, and that person's life is potentially irreparably upended.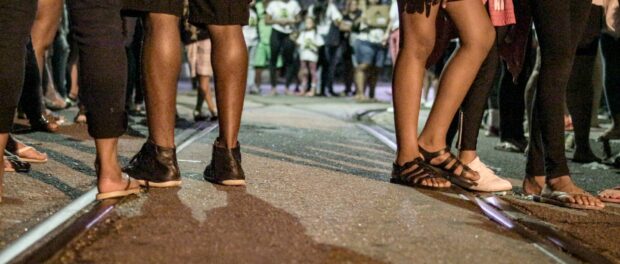 The hope is that during Willian's trial evidence from his lawyers and the community will be valued and taken into account. The community believes Willian will be set free; he has always been a good community member and lawful citizen. Now, they must wait, though organizing on his behalf won't stop. In fact, Silva recalled that he had never seen such a strong sense of community in all his years in Prazeres: "This tragedy lit up Prazeres with the spirit of community. Willian [finally] turned Prazeres into a community. Together, we truly are much stronger."
Ultimately, it was Willian's good friend Roberto who had last reflections for those watching the case from outside the community. When asked about what he hopes for the future, Roberto replied: "May those who live on the 'asphalt' open their eyes to those that live in the favela. For them, we're all criminals, we're all involved [in trafficking]." Hopefully, Judge Paula Fernandes Machado takes that message to heart. The life of a bright and beloved young man depends on it.