On May 30, the eighth session of the Parliamentary Commission of Inquiry (CPI) on Flooding took place at Rio's City Council. CPI president Tarcísio Motta (PSOL), rapporteur Renato Cinco (PSOL), committee members Rosa Fernandes (PMDB) and Tiãozinho do Jacaré (PRB), and alternates Teresa Bergher (PSDB) and Elitusalem Freitas (PSC) heard from four technicians representing the municipality's Civil Defense: Ivana Soares, Leandro Vianna, Eduardo Pierre, and Sergio Gomes Ribeiro.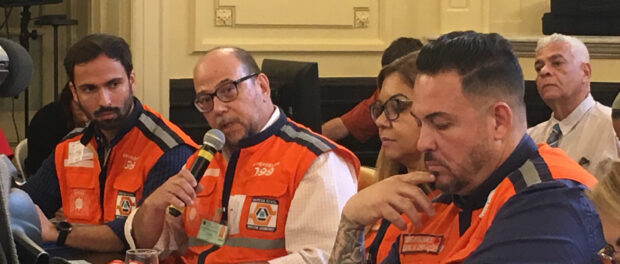 Sub-secretary of Rio's Civil Defense Edson Tavares da Silva, a retired firefighter lieutenant, was notably absent—stating that it was "impossible for him to attend" on that date but failing to specify why.
Rio de Janeiro's Civil Defense was created in 1976 by Municipal Decree 353 in response to a growing need for relief and prevention from increasing flood and landslide damage to the city. The organization currently employs 156 workers, including 56 public servants transferred from other municipal agencies, 24 architects and engineers, and eight firemen. Formerly subordinated to the Municipal Secretary of Health and to the Municipal Conservation Secretariat, the Civil Defense is currently under the jurisdiction of the Municipal Secretariat of Public Order. During the meeting, it was revealed that other officials in the secretariat were receiving bonuses intended for Civil Defense engineers.
In Silva's absence, the four representatives of Rio's Civil Defense present spoke to the committee about issues surrounding the Civil Defense's budget, training programs, and infrastructure. Freitas asked the group about the agency's R$15.7 million (US$4 million) budget for flood and landslide relief. Pierre and Ribeiro revealed that R$13 million (US$3.25 million) of the budget goes to personnel costs, while the remaining R$2.7 million (US$675,000), approximately 17% of the total budget, is reserved for logistics and infrastructure.
Other concerning details emerged involving training programs and infrastructure—or a lack thereof. For instance, the Civil Defense has only 14 vehicles at their disposal, eleven of which are rentals, and though the representatives reported that there had been much dialogue between the agency and community leaders, formal training and educational programs carried out by the agency have suffered from discontinuity.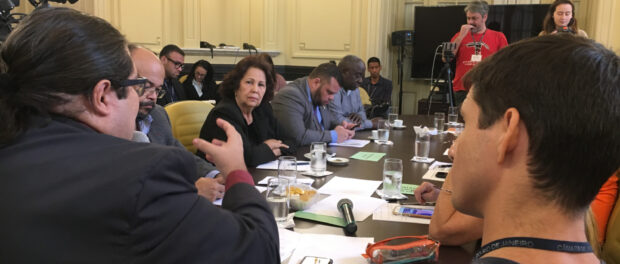 Additionally, while 194 evacuation points have been installed to provide temporary shelter for people residing in the 103 areas deemed highly susceptible to landslides, the risk map has not been updated since 2011. Only 27.2% (28 out of 103) of the city's areas of risk have functioning Civil Defense community resource centers.
The Civil Defense technicians stated that under "normal" circumstances, the agency's resources would be more than sufficient to respond to natural disasters across Rio. However, the number of calls for help has been on the rise for the past few months, especially following the landslides in February and April. During a typical year, the Civil Defense receives roughly 12,000-13,000 calls requesting disaster relief from landslides. This year, there had already been over 14,000 by the month of May. Due to a lack of resources, the Civil Defense has not been able respond to about 15% of these calls, the technicians reported.
The rise in demand for disaster relief that Rio de Janeiro has seen as of late can be attributed to the growing effects of global climate change. Without sufficient investment, personnel, infrastructure, and trained community agents, the city of Rio as a whole, its favelas, and surrounding areas will continue to face rising vulnerability to natural disasters.
In April, Rio de Janeiro recorded 300mm of rain over the course of 24 hours—more than twice the amount of precipitation anticipated for the entire month of April and the heaviest rainfall in 22 years. In areas of vulnerability, perpetuated by these changes in climate, shorter rainstorm durations with higher rainfall intensities can easily transform thunderstorms into fatal disasters that ultimately end up hurting vulnerable areas without easy access to relief, like the city's chronically underserviced favelas, the most. April's rains resulted in landslides that caused ten deaths.
Motta and Cinco have begun to draft a letter requesting clarification on the payment of bonuses intended for engineers to Secretariat of Public Order officials. Fernandes and Bergher also reiterated the need for formal training programs for favela community leaders and updated risk mapping given the physical changes in land use caused by a combination of human settlements and natural disasters.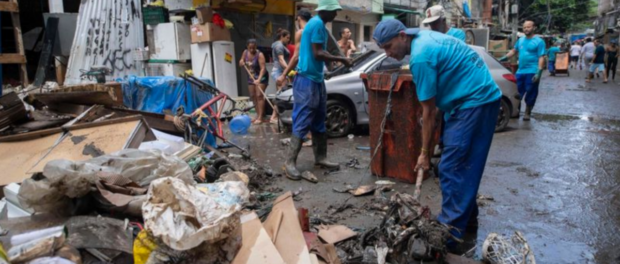 At the end of the hearing, Motta announced that due to lack of disaster relief in Rocinha that CPI members witnessed the week prior, he is requesting an extension of the CPI hearings, originally scheduled to end on July 19. The CPI will also hold a second series of meetings with the Civil Defense in an effort to speak with Silva and Paulo Cesar Amêndola de Souza, appointed head of the Secretariat of Public Order by Rio de Janeiro Mayor Marcelo Crivella. Following the hearing with the Civil Defense, subsequent sessions were held on June 6 and June 10 with representatives from municipal garbage collection utility COMLURB and the Rio Operations Center (COR), respectively.