This article is part of a series of profiles of initiatives in Rio's Sustainable Favela Network.
Initiative: Muda Maré ("Maré Seeds of Change")
Contact: Blog | Facebook | Email
Year Founded: 2011
Community: Complexo da Maré
Mission: To "promote, through the knowledge accumulated by the Federal University of Rio de Janeiro in the areas of Environmental Education and Agroecology, a transforming interaction with the Complexo da Maré community, while aiming to unite different segments of society, promote the exchange of information as well as the elaboration of collective action, and contribute to the sustainable development of Maré."
Public Events: Public classes, workshops, film screenings, and collaborative work projects
How to contribute: Participate in a workshop or volunteer to help out at a collaborative project
For Ruth Osório de Lima, Complexo da Maré has always been home. Born and raised in this complex of sixteen favelas in Rio de Janeiro's North Zone, Osório calls Maré a "complete city", where residents can find everything they need, from schools to supermarkets.
While Osório's earliest memories involve spending time with family and playing in the streets of Maré, she also remembers grim periods of gunfire and violence, and says that residents can become accustomed to such a reality. Likewise, says Osório, sanitation issues in Maré become accepted as normal. Since trash in the streets, open sewers, flooding of sewers due to a lack of proper drainage, and houses' proximity to trash disposal sites afflict all community residents, they often go accepted as part of the status quo.
Osório also notes that due to Maré's proximity to Rio's downtown, the area lacks green spaces. "It's a type of concrete jungle. There's only construction." Growing up, she says, "There were no trees or recreational areas." While favelas often serve as a solution for those in need of housing, Osório feels that many residents have been forced to give up green and natural spaces in order to find homes. "It's as if the people did not even have a right to a tree. People want to have trees. If you ask any person who lives in Maré, they will say that they want green spaces, prettier spaces."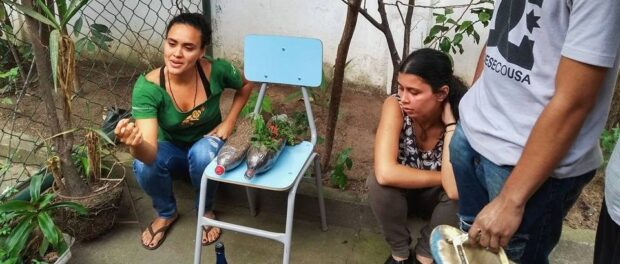 In the face of these challenges, Maré residents often support each other, working to improve their community. This spirit of solidarity inspired the creation of Muda Maré, a project based out of the Federal University of Rio de Janeiro (UFRJ) focusing on environmental education and urban agriculture in the favelas of Maré.
In 2010, the Maré-based community NGO Redes da Maré (Maré Development Networks) formed the initiative Maré Que Queremos (the Maré We Want), resulting in the creation of the Resident Associations Forum (FAM), which meets monthly, gathering the presidents of Maré's 16 residents' associations to plan projects aimed at improving local quality of life. In 2011,  looking to aid the FAM in addressing environmental and health-based issues, three UFRJ students decided to start Muda Maré as a university extension project. For their first activity, Rua da Muda (Seedling Street), Muda Maré collaborated with community members to plant seedlings along Sargento Silva Nunes Street in the community of Nova Holanda. It was then that a teenage Osório first became involved with Muda Maré, formally joining the organization in 2015. Now, as an engineering student at UFRJ herself, Osório is Muda Maré's most senior member, managing projects and integrating new members into the organization's framework.
Muda Maré launched with the goal of strengthening the spirit of exchange between the university—located just across the marsh on Ilha do Fundão—and Maré. The seven student members of the initiative, including Osório, as well as their supervising UFRJ professor, all strive to build the partnership between UFRJ and Maré. "The knowledge that is being produced within the university has to be exchanged with the people who live outside of it," says Osório. "The extension project is for everyone to have access to what is being produced within [the university]."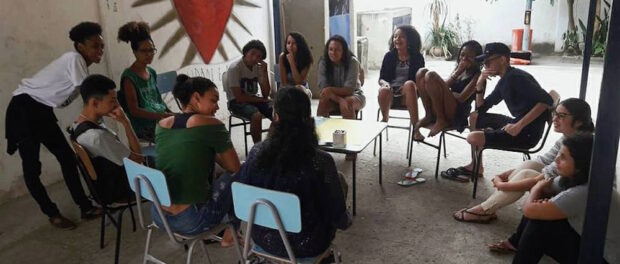 Muda Maré often works in collaboration with Redes da Maré, especially in the field of education. This collaboration includes teaching environmental education classes for children and youth enrolled in university preparatory courses at the Redes da Maré headquarters, as well as field courses designed to take students out of the classroom. These courses, which cover everything from biomes and waste management to water and energy, are catered to helping students better understand their classroom instruction as well as the relationship between humans and the environment.
Muda Maré strives to approach these subjects through the perspective of residents, paying attention to specific issues currently facing the community and how residents are implementing solutions. Both in the classroom and in the field, members of Muda Maré emphasize that the environment is not simply an object to be examined. Osório believes she and her colleagues function more in the role of facilitators because the students in their classes already possess extensive knowledge of environmental topics.
Besides leading environmental education courses and field classes, Muda Maré also collaborates with Redes da Maré on the Maré de Sabores (Maré of Flavors) initiative, a semester-long gastronomy and gender course designed to allow local women to become certified as chefs and achieve financial autonomy. Since 2013, students from Muda Maré have taught workshops for Maré de Sabores dealing with food security, nutritional sovereignty, pesticides, and unconventional food plants (UFP, or PANC in Portuguese). The workshops also include a theoretical section focused on issues regarding the environment and nourishing the human body, as well as "demystifying eating habits" such as vegetarianism, veganism, and entomophagy (consuming insects). Members of Muda Maré also lead women from Maré de Sabores on tours of the UFRJ campus, visiting university projects and spaces dedicated to agroecology.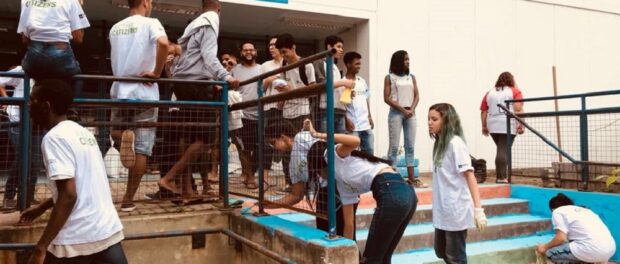 Outside the Redes da Maré, Muda Maré has begun teaching environmental education classes at João Borges State High School. Located in a formerly abandoned building, the school was created by teachers and students who occupied the structure with a vision of fostering an environment dedicated to participatory education and collective knowledge. As at Redes, Muda Maré members teach classes and lead projects at João Borges High School, focusing on environmental education and environmental issues.
Outside of Maré, Osório and other members of Muda Maré are always involved in activities at UFRJ. At the university, Muda Maré is a member of the Agroecology Network along with 17 other extension projects. As a network member, Muda Maré helped organize the Regional Conference of Agroecology Groups (ERGA) last year in Rio de Janeiro. Moreover, each year Osório and her colleagues host welcome receptions for incoming agroecology students.
Reflecting on all of Muda Maré's activities, Osório affirms that the initiative strives to maintain a complete vision of and critical approach to environmental issues in Maré. Underlying the initiative's activities is a view of sustainability as living in harmony with the place where you reside. "You identify with the territory. You recognize yourself as a part of that space, and automatically that comes with respect [for your territory] and harmonious coexistence," remarks Osório.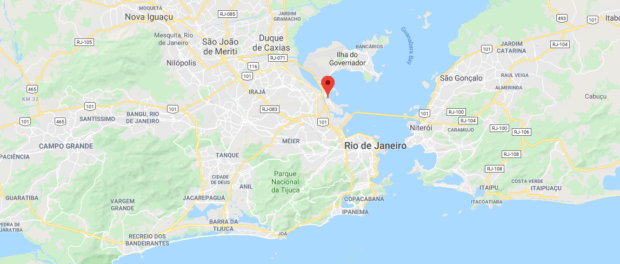 *Muda Maré is one of over 100 community projects mapped by Catalytic Communities (CatComm), the organization that publishes RioOnWatch, as part of our parallel 'Sustainable Favela Network' program launched in 2017 to recognize, support, strengthen, and expand on the sustainable qualities and community movements inherent to Rio de Janeiro's favela communities. Check out all the profiles of mapped projects here.