For the original article in Portuguese by Leonardo Coelho published in Ponte Jornalismo click here. 
The teen João Pedro Matos Pinto, 14 years old, was killed with a shot to the stomach during a joint operation by the Brazilian Federal Police and Rio de Janeiro Civil Police in the favelas of Complexo do Salgueiro, in the Rio State city of São Gonçalo. After a rescue attempt by a police helicopter, the youth disappeared for hours and was only found by his family on Tuesday morning (May 19) at São Gonçalo's Tribobó Legal Medical Institute (IML) [police morgue].
In an interview with Ponte, a family friend said, under condition of anonymity, that the action took place around 3pm in the area known as Praia da Luz, in the neighborhood of Ilha de Itaóca. "João was at a relative's house with several family members playing pool and all we know is that the police entered the house firing," recalls the friend, adding that one of Pinto's cousins, who had his car with him, was the first to administer aid.
A video sent to Ponte shows bullet holes in the inside walls of the house and several pieces of furniture, as well as blood marks on the floor:
"He brought [João] to a nearby field, and from there he was taken by the agents in the helicopter. He said that João was looking really bad," the family friend said.
According to the Rio de Janeiro Civil Police (PCERJ), the action's objective was to fulfill two search and arrest warrants against leaders of a criminal faction. During the action, drug traffickers attempted to escape by hopping the wall of a house and had fired at the police and thrown grenades. Testimonies heard by this report noted that the only grenades thrown came from law enforcement agents.
Following the operation's end, Pinto's family members began visiting countless hospitals in the region, including in the state capital, Rio de Janeiro, to no end.
"We knew nothing about him for hours. We went everywhere. Nobody had news about him," said the victim's aunt, who promised justice for her nephew. "He will not come out of this story looking like a drug trafficker. Not if it's the last thing I do." Pinto was seen as an exemplary son and model student.
Speaking to G1, Neilton Pinto, João Pedro's father, said the police action was cruel. "They fired, they threw grenades, without asking who he was. If they knew my son's nature, who my son was, they wouldn't have done that. My son was a servant of God. His life was about home, church, school, and games on his cell phone," he declared.
Around 9:30pm on Monday (May 18), one of Pinto's cousins asked for help on Twitter. "The traffickers entered the house and the police came out firing and hit him in the stomach," reads the post.
GENTE PELO AMOR DE DEUS ME AJUDEM
ESSE É O MEU PRIMO JOÃO PEDRO MATOS PINTO TEM 14 ANOS E ESTAVA HOJE POR VOLTA DAS 16h EM CASA NA (PRAIA DA LUZ) SÃO GONÇALO RJ EM UMA OPERAÇÃO DA POLÍCIA OS TRAFICANTES ENTRARAM NA CASA E OS POLÍCIAS SAÍRAM ATIRANDO E ATINGIU ELE NA BARRIGA pic.twitter.com/qklRuGFGSa

— JOAO PEDRO PRESENTE (@_danblaz) May 19, 2020
FOR THE LOVE OF GOD HELP ME. THIS IS MY COUSIN JOÃO PEDRO MATOS PINTO. HE IS 14 YEARS OLD AND AROUND 4PM TODAY HE WAS AT HOME IN (PRAIA DA LUZ) SÃO GONÇALO RJ. IN A POLICE OPERATION THE TRAFFICKERS ENTERED THE HOUSE AND THE POLICE STARTED FIRING AND HIT HIM IN THE STOMACH
Just after midnight, activist and communicator Raull Santiago of the human rights media collective Coletivo Papo Reto also called attention to the case, highlighting that Pinto had disappeared after being shot.
POLÍCIA ATIRA EM ADOLESCENTE DE 14 ANOS EM CASA, O LEVAM E ELE ESTÁ DESAPARECIDO.

A coisa séria, aconteceu de novo e o silêncio não pode prevalecer diante da covardia do estado genocida. Um jovem negro levou um tiro e desapareceu!

ONDE ESTÁ O JOÃO PEDRO?#procurasejoaopedro

— Santiago, Raull (de 🏠)🏴 (@raullsantiago) May 19, 2020
THE POLICE FIRE AT A 14-YEAR-OLD ADOLESCENT IN HIS HOUSE, THEY TAKE HIM, AND HE DISAPPEARS.

This is serious. It happened again and silence cannot prevail in the face of the cowardice of the genocidal State. A black youth was shot and disappeared!

WHERE IS JOÃO PEDRO? #joaopedroismissing
The newspaper O Dia reported that the youth was dropped off, dead, at the Lagoa Rodrigo de Freitas heliport, a departure point for helicopters used in this type of police operation. From there, he had been brought to the São Gonçaõ IML.
The Itaóca area of São Gonçalo is known as an escape point for traffickers from the favelas of Complexo do Salgueiro, dominated by the Red Command drug gang, who use the area to escape from police operations in São Gonçalo. According to the Fogo Cruzado monitoring app, Pinto is the 24th adolescent to be shot in Rio de Janeiro in 2020. Of these 24, 12 were shot in situations involving the presence of State security officers and 5 died.
The Rio de Janeiro Civil Police (PCERJ) said in a note that the Homicide Department of Niterói, São Gonçalo, and Itaboraí (DHNSGI) had launched an inquiry to verify information on the death of the adolescent during the operation, which was undertaken by the Federal Police with support from the Rio de Janeiro Civil Police special resource team (Core), in Complexo do Salgueiro, in São Gonçalo.
According to the DHNSGI, forensics have been carried out and two witnesses have given testimony at the police department. Police testimony was also heard and weapons seized for ballistic analysis. Other due diligence is being conducted to clarify the event's circumstances.
The Federal Police was asked for comment, by email, about the operation. In a note, the Federal Police Superintendent Office for Rio de Janeiro confirmed Civil Police information stating that the operation was undertaken to fulfill search and arrest warrants against criminal faction leaders in the region.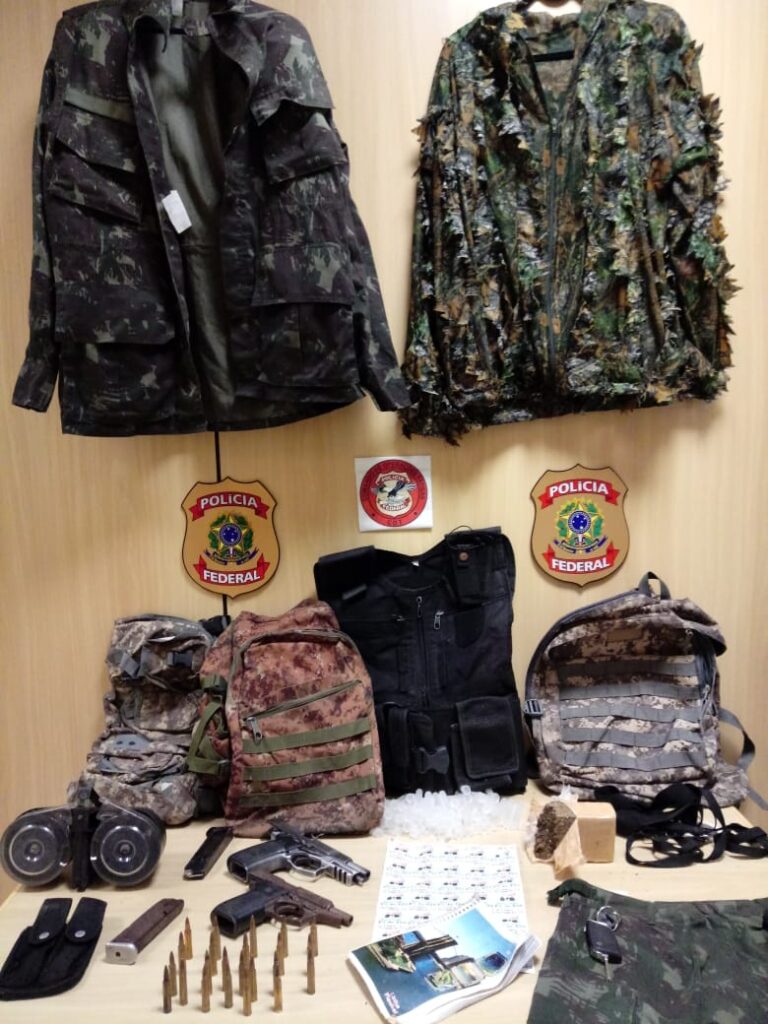 "Trafficker's security attempted to escape, jumping over the wall of a house. They fired at police and threw grenades in the direction of the agents. In the area, grenades and a pistol were found." The Federal Police sent images of the seized material.
As to the care given to Pinto, the Federal Police informed that "he was rescued by helicopter" and that "doctors from the Firefighter Corps gave care, but [Pinto] did not survive his wounds," and that he was brought, later, to the IML. The Federal Police also noted that it "will accompany and furnish all information and support necessary for the elucidation of the facts."
---
Support our efforts to provide strategic assistance to Rio's favelas during the Covid-19 pandemic, including RioOnWatch's tireless, critical and cutting-edge hyperlocal journalism, online community organizing meetings, and direct support to favelas by clicking here.