On Saturday April 6, Rio's newly launched Livraria Cultura bookstore opened its doors to celebrate the release of the Guia Gastronômico das Favelas do Rio ("Gastronomical Guide to Rio's Favelas") and meet those who made it all possible including Sérgio Bloch (concept and editing), Ines Garçoni (text), and Marcos Pinto (photography). The guide, bursting with eye-catching photos and a multitude of interesting facts on some of Rio's favelas, highlights outstanding restaurants, bars, and other unique businesses typically unheard of in the favelas.
Twenty-two businesses are featured from eight communities, these include: Morro da Providênica, Santa Marta, Tabajaras, Chapéu Mangueira/Babilônia, Vidigal, Rocinha, Morro dos Prazeres, and Complexo do Alemão. Each community has between one and five destinations profiled, each with its own unique story.
The guide is broken up by neighborhood, and before the restaurant profiles is a brief summary of each community's history, with a particular focus on its origins. These help paint a more detailed and complete picture of the favelas in which the businesses operate. Furthermore, readers are exposed explicitly to the various cultural influences unique to favelas. While pacification and the UPP are mentioned, the subject of drugs and violence was left out of the project—a positive indicator of both the neighborhoods' safety and potential.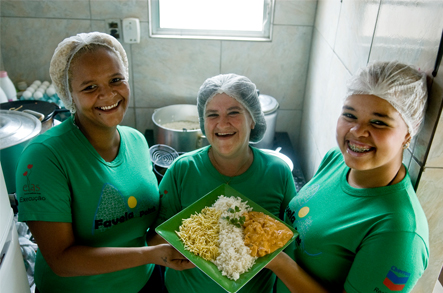 Each profile examines the main attractions of each restaurant, with stories of how it was started and some of the key characteristics. For example, Favela Point was founded by a group of female community members in Providência with the help of Fundo Social Elas (an NGO grant-maker for women's initiatives). The profile highlights the groups' inspiring story and recommends various drinks and dishes. The writing does well to entice readers, following up by including the restaurants' information, including telephone numbers and fairly specific directions.
Overall, the guide helps to contribute to an increasingly positive image of Rio's favelas, demonstrating both their cultural richness and livability. Readers are nonetheless exposed to a world they would otherwise not be "brave" enough to enter.
The book signing at the Livraria Cultura was packed and with good reason: the featured restaurants had samples of various dishes. Hopefully, the publicity generated at the event will encourage more visitors into the favelas to support community-run businesses; given the turnout at the opening, it likely will.