This is Part 2 in a five-part series documenting Pacifying Police Unit (UPP) Installations.
If the first six implementations can be described as the honeymoon period of the Pacifying Police Unit (UPP), the next phase was when the first cracks in the program began to emerge. From April 2010 until November 2011 the focus moved to the Central and near-North Zone to favelas in the region nearby and surrounding the Maracanã Stadium, host venue of six World Cup games including the final and the opening ceremony for the Olympic Games. As Rio State Security Secretary José Mariano Beltrame targeted areas around Centro, Santa Teresa, Tijuca and the Maracanã, there were increasing local reports of authoritarian behavior and torture from certain UPP units, though these did not become widely known. With homicide levels within and around these communities falling drastically, and drug trafficking leaders largely abandoning pacified favelas, UPP implementation continued to be seen as a broad success. Later in this period criminal gangs began to return to their old strongholds. Since 2012 in these areas, they have exerted more and more pressure on the police.
7. Providência – Central Rio
Date of installation: April 26, 2010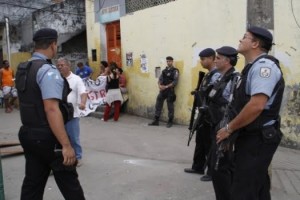 The pacification of Providência was strategically timed to coincide with Rio's hosting of the World Urban Forum just blocks away in Rio's Port Region. It was also seen as imperative in ensuring security and guaranteeing the long-term viability of the Porto Maravilha Port revitalization project. After reluctantly welcoming the UPP (the president of the Neighborhood Association did not attend the inauguration ceremony), Providência gradually accepted the unit and levels of violence dropped, though in recent months crossfire has returned as tensions have risen with drug dealers resuming operations in the area. Providência's first commander, Glauco Schorcht, appeared to be proactive in organizing community projects, and this no doubt had a positive impact early on. One controversy to hit Providência was the sacking in 2012 of Schorcht, for police involvement in the jogo do bicho illegal lottery in the community; however, after he helped to identify the offending officers, he was reinstated. A telling incident from last year, which displayed the sometimes contradictory faces of the UPP, perhaps shows why he was reinstated: in a video in which her son is involved in a heated argument with UPP officers, a mother shouts, "Call Glauco." This type of personal trust in the police would have been almost unheard of five years earlier.
Resident Perspectives
"I am in favor of having the police here in the favela, when they act correctly. We have to behave in a legal manner. But there are very problematic elements in this project. On the street, there is this air of suspicion of what is going to happen in 10 minutes. We are not allowed, for example, to have birthday parties past 10:00 at night. And we are afraid to leave our kids alone. When the hill was run by the drug traffic, we knew what to do and where to go. With these men here in uniform, we don't know how to act." – Eron César dos Santos, Providência resident.

"It's a bad necessity. The UPP is a bad necessity. It had to happen. I say to everyone that I think the UPP came to protect us from our own police. Since the UPP entered, you don't have any more shootings. But why?… [Because the police were the ones shooting here, when they'd raid the community.] If the UPP leaves and in comes a new group of police to kill the traffickers, it's all going to start again." – Providência resident
8. Borel – North Zone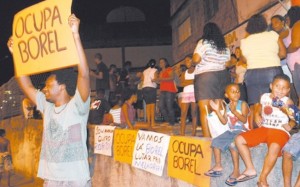 Date of installation: June 7, 2010
Seven years prior to the arrival of a UPP, in 2003, Borel was the scene of a crime symbolic of police action within the favela at the time. On April 16, police executed four young Borel residents, claiming later that day that the men were part of a drug gang and had been apprehended with drugs and guns. In reality the four were innocent civilians, yet the officers involved were among many who escaped punishment for so-called autos de resistência, the term for deaths caused when suspects "resist arrest." Thus, Borel had a fragile relationship with the police, and it was perhaps unsurprising that the UPP was not initially well received, particularly when reports of extortion by officers began to surface. To further strain relations, in late November 2012, residents began to complain of certain UPP officers effecting an illegal curfew. This gave rise to Ocupa Borel, a one-night movement in which residents and members of the wider community (including the Unidos da Tijuca samba school group) joined together to parade in the favela late at night, challenging the repressive measures.
Resident Perspectives
"I was in my sister's house with a group of friends, talking and listening to music. Suddenly a group of police arrived, they told everyone to go home, that this was not the time for workers to be in anyone's house." – Borel resident

"The pacification completely influenced the idea of the newspaper. When it happened, we thought it was time to bring communities together to interact, to communicate. We want the public to exchange information and participate." – Adalto Afonso, Borel resident and co-founder of the A Vez do Morro community newspaper
9. Formiga – North Zone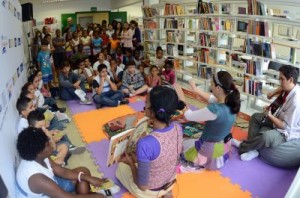 Date of installation: July 1, 2010
One of the smallest–and as a result potentially easily controlled–favelas to be pacified, Morro da Formiga in Tijuca has been one of the more successful UPP implementations. A study carried out by ICOS found safety to be the fourth largest concern of residents, and community policing has been apparently more smoothly implemented than elsewhere. The construction of a community library offering free access to books, CDs, Internet and other media, among other local projects such as a community garden, show the potential of the UPP given the right circumstances.
Resident Perspectives
"I've lived in Formiga for 19 years and opened my own business before the arrival of the police, but with the peace my little shop began to make more money because of the visiting tourists and even locals." – Antônia Rocha, Formiga resident

"[The implementation of the UPP] was a mixture of relief and tension. No one knew how the operation would be done and the project of these guys was more or less based on trust and hoping that nothing bad would happen." – Fábio Araújo, Formiga resident
10. Andaraí – North Zone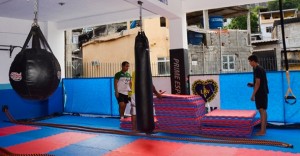 Date of installation: July 28, 2010
Andaraí has seen sporadic violence since the installation of the UPP. The influence of drug trafficking remains a problem, but police made a significant breakthrough when they captured local chief AP in early 2014. Many residents will say life is better in the community and success stories such as the UPP Fight tournament run by a local officer in 2014 are positive signs. However, in the same year reports surfaced of a group of UPP officers who had drawn up a list of young men from the community who they promised to kill. These growing rogue elements, which the police institution has such difficulty in controlling or removing, jeopardize the UPPs. Because of the history of the Military Police, and the very public promises made by UPP policymakers, incidences of corruption or abuse of power are a huge blow to the program's legitimacy.
Resident Perspective
"There still exists a feud between residents of certain areas which were dominated by different drug trafficking factions. There are people from the upper part of the favela who will not come and buy from my store. The UPP closed the Neighborhood Association because it was controlled by drug traffickers. Only one month ago public services started coming into the favela, nearly a year after the entry of the police. Because of this delay, the UPP has lost a lot of credibility with the residents." – Jorge Mathias de Souza, Andaraí resident
11. Salgueiro – North Zone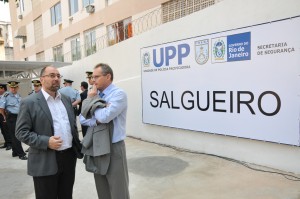 Date of installation: September 17, 2010
The implementation of the UPP in Salgueiro, Tijuca has been a relative success, with crime dropping drastically: official statistics (which can be manipulated) showed only four cases of robbery and 19 of theft in 2012. Baile funks have been permitted in the community, a move which shows a flexibility and pragmatism within the program that is essential to its potential success. And the increased comfort of outsiders to enter the community is also seen as a plus in a traditionally isolated neighborhood. However, as residents below point out, pacification has not been properly consolidated with sufficient social services. Furthermore, proof of the difficulty of ridding criminal elements came with recent news that the president of the Salgueiro Neighborhood Association was arrested carrying a kilogram of cocaine. Though the UPPs never purported to eliminate drug trafficking—their focus is on ridding communities of arms and armed conflict—the presence of drug traders in positions of local political authority clearly complicates community policing.
Resident Perspectives
"What's improved [most] is the ability to come and go. This is the number one improvement. The movement of people, those who come down but especially those who come up (the hill), makes the creation of bridges between the hill (informal city, or favela) and the asphalt (formal city) possible… What needs to change is the arrival of social services. We're missing the State's presence in social development, and this hampers the consolidation of the program." – Emerson Menezes, Salgueiro resident and cultural activist

"Salgueiro is much safer. Besides this, the streets are paved and there are more services for residents. I like it here, I do not intend to move anytime soon. Even so, a lot of other things need to improve. The community needs more cultural spaces and courses for residents." – Luan Fontes, Salgueiro resident
12.  Turano – North Zone
Date of installation: September 30, 2010
Something the statistics never show is the extent to which the UPP imposes on the lives of residents. Reports from Turano in Tijuca summarize the delicate nature of a situation in which a police force is charged with taking control of a territory without infringing on residents' rights. In the first year of pacification, residents regularly complained of abuse of power by the police and the feeling of suffocation at being under 24 hour surveillance. In this video from 2011, residents describe how a Father's Day party was violently interrupted by the police before the agreed cut-off time, and one man complains of the stresses of working Monday to Saturday to then be prohibited from listening to certain music or attending certain events on his day off. Such tensions have not disappeared: last year three UPP officers were injured when they tried to break up an unauthorized party. This type of social imposition, particularly the prohibition of funk parties, has been one of the biggest controversies in UPP communities. Proximity policing should involve dialogue, mediation, and community involvement on the part of the police, but many that the UPPs overstep this line, abusing their authority in an attempt to impose a new, or re-ordered, cultural framework.
Resident Perspectives
"Outside the community events can go on after 10pm, but here in the community we can't." – Turano resident

"When the UPP arrived in 2010, we began to see enrollment increasing. This win and change is great. We now have approximately two thousand students." – Rui de Souza Xavier, Director of Herbert de Souza State School in Turano
13.  Morro dos Macacos – North Zone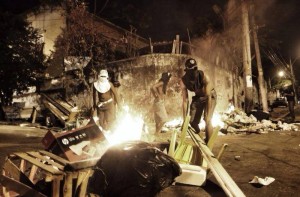 Date of installation: October 30, 2010
In October 2009, just one year before the implementation of the UPP there and two weeks after Rio was selected to host the 2016 Olympic Games, drug traffickers from São João invaded Morro dos Macacos in Vila Isabel and shot down a police helicopter in the ensuing confrontation, in scenes that shocked Rio and the world. Trafficking has strong links in the community, with bosses such as Scooby and Bebezão violently enforcing their control despite the presence of the UPP. In 2011, the ex-president of the neighborhood association was executed by an assassin linked to Scooby, and the following year the president of the commerce association within the favela was murdered by the same powers. Thus, the UPP in Morro dos Macacos has not been particularly well-received or successful. UPP officers have been attacked numerous times, in what seems to be a concerted effort by drug gangs to destabilize the program. Most recently, in May 2014, 8 year-old Vítor Gomes Bento was shot in the head during a shootout between UPP police and traffickers, causing fierce protests within the community. Although Bebezão is now dead, and Scooby in hiding outside of Macacos, it has proven a struggle for the UPP to remove the influence of criminal groups.
Resident Perspectives
"Everything was much more difficult before the UPP because suppliers did not enter the community because of fear. We've made partnerships that would've been impossible before, such as the installation of the electronic ATM. I've been the owner of a bakery for eight years and always dreamed of the permit, which is now my greatest victory." – Flávio Duarte, Macacos resident and business owner

"I came here 50 years ago when the community didn't even have a main street. I've seen many things change over the years. We couldn't walk down the street for fear of a shooting. Now, we are more comfortable. I have 12 nieces and nephews and today I see that they can play and grow without fear, with more freedom." – Zilma Roque, Macacos resident
14. São João/Matriz/Quieto – North Zone
Date of installation: January 28, 2011
The São João complex of favelas in Engenho Novo is a pertinent example of how the UPPs have failed to bring peace to many favelas, even those smaller ones, particularly in the northern parts of the city. On January 12, 2014, 19 year old José Carlos Lopes Júnior was shot and killed by UPP officers, in what his family described as a summary execution. Police refuted this claim, yet as is unfortunately standard in these cases, nothing has since been reported in the media regarding forensic evidence. 2014 saw numerous confrontations between the police and criminals within São João, with tensions rising markedly in the last three months. In October 2014 one of several shootouts resulted in a UPP officer being shot in the head, and on November 8 and 14 more officers were hospitalized, one only saved by his bulletproof jacket.
The Matriz favela has also experienced problems, with residents protesting about a shortage of water and electricity in the community in 2014. The lack of such basic human rights undermines any positive work the police might be doing in pacified favelas.
Resident Perspectives
"Before the UPP, I thought of selling my apartment because of the violence. It was very complicated, the street closed because of gunfire. Now, if the situation changes, I don't want to leave here." – Johen Eine da Silva Pinto,Visconde de Santa de Isabel Resident, 30 years old

"Hopefully the police come to stay, but I still will not remove my steel window. I want to see how it goes from here on. Many drug traffickers have left the favela." – Matriz Resident, 84 years old
15. Morro da Coroa/Fallet/Fogueteiro – Central Rio
Date of installation: February 25, 2011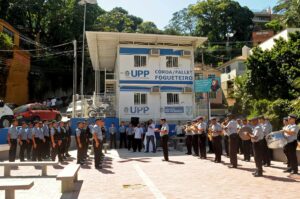 Whereas in many pacified favelas there was a honeymoon period in which the new dynamic had a certain period to be digested and cracks only appeared a bit later, in these three favelas in the central neighborhood of Santa Teresa there was no such process. Just four months after its installation, a UPP officer had his leg amputated after being wounded by a grenade. Immediately after the attack, UPP officers from Coroa complained of poor organization, equipment and training in what was a typical evaluation early in the program's existence. Community policing requires months of training, yet because of the rush with which the program unfolded across Rio, new recruits were being sent into delicate territories without the requisite experience. Since the aforementioned incident, problems have escalated, with constant attacks on the UPP amid various reports of police brutality. In August 2011, residents accused police of kidnapping and torturing five teenagers before trying to sell them to other favelas. In June 2012 Jackson Lessa dos Santos, 20, was killed by police as he returned home from work, and three weeks later Thales Pereira Ribeiro, 15, was shot dead, both in Fogueteiro. In August 2014, Vitor Luiz Rodrigues, a moto-taxi driver, was murdered as he held his two children in his arms and Rafael de Souza Azerbinato, 23, was killed in his home. Six UPP officers were arrested and accused of murder.
There have also been police casualties: in September 2011 an officer was seriously injured in a shootout, and in August 2014 Weslley dos Santos da Silva Lucas became the second UPP officer to be killed in Coroa, after Paulo César de Lima Junior was fatally shot in 2012.
Resident Perspectives
"I believe the majority of people support the implementation of the UPP, not the way in which the police work but rather for the change. Now we have less exposure to weapons. Today children don't see as many firearms as they did before, when they had this view of the guerrilla. Nowadays there isn't this view, despite everything. Children know that everything continues more or less as before. The goal of the UPP is not a bad project, the idea was really good, but over time I believe they are losing strength, losing credibility, there has been lots of talk of this. I believe the government does not want to have rogue police but there are many rogue police. This undermines the successful functioning of any police program. So there you go, I think that the UPP has its pros and many cons." – Cíntia Luna, President of the Fogueteiro Resident's Association

"When the hill was dominated by the drug traffic, they would not let that happen [the high piling up of trash]. Now there is no one to monitor the situation." – Coroa Resident
16. Morro dos Prazeres/Escondidinho – Central Rio
Date of installation: February 25, 2011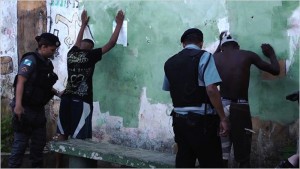 The UPP experience in Morro dos Prazeres, high in the hills above Santa Teresa, perhaps best summarizes the difficult adaptation to the new dynamic in which, without the control of drug gangs, often neither residents nor police quite know how to deal with each other. In her 2013 film named for the favela, Maria Augusto Ramos explores both sides of the UPP implementation. Whilst there has been little violence in the community since the installation, the problems dealt with in the film highlight the day-to-day tensions, which though small and sometimes seemingly insignificant in themselves, carry the weight of decades of conflict. There are the random stop-and-searches by the police, accusations of authoritarian and arrogant behavior, and complaints about feeling under constant vigilance. However, the film also demonstrates the severe limitations faced by officers working with residents who in some cases will never accept their presence. Add this to the flagrancy with which drug dealers in the favela go about business and one can imagine the frustrations of the police. Community policing demands compromise from both sides, otherwise it is bound to have limited success.
Resident Perspectives
"With the UPP coming in it was expected there might be improvements. Unfortunately, so far there has been nothing at all. We used to have two people working with the water supply here, but with the 'pacification' they took away one of those guys. Now how are we supposed to all have water here if one guy on minimum wage and working eight hours a day has to take care of everything? Sometimes there is only good water really early in the morning." – Eliza Rosa, President of Residents' Association

"We can't permit that the UPP says how our life is going to be and that the Resident's Association doesn't have a say. I've been here for years, working hard, sometimes 12 hours a day. We care about Morro dos Prazeres. And does the UPP commander that came here care about the community? Of course not. He lives elsewhere. We're not going to let the UPP end our residents' organization." – Dona Elisa, Prazeres Resident
Complexo de São Carlos – North Zone
Date of installation: May 17, 2011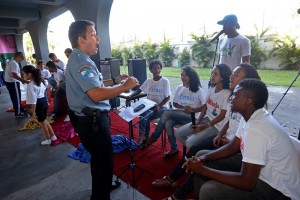 The implementation in São Carlos, in Tijuca, was immediately undermined with the news that the UPP commander of the community was, from its very beginning, receiving R$15,000 a week from Peixe, a well known drug dealer, to ensure trafficking was not impeded in the area. This level of corruption jeopardizes the entire program: how can anybody—police, resident or wider society—take this new, expensive, supposedly game-changing method of policing seriously when senior officials are so clearly embedded in the criminal network? It seems that in São Carlos much of the old Military Police dynamic remains: residents complain of officers abusing power, enforcing curfews and threatening locals. In December 2013, two UPP officials were filmed robbing a woman. Meanwhile, the continued presence of drug trafficking gang Amigos dos Amigos is unquestionable; in 2012 Spanish newspaper El Pais published a graphic video of a shootout in which an officer was seriously injured and in December 2013 when the Special Operations Battalion (BOPE) was sent in to combat armed dealers after a heavy attack on the UPP base. More recently, on October 19, 2014, two officers were shot and one run over in an attack by the criminal group. Further difficulties facing São Carlos were highlighted in 2014 when officers were ordered to remain on duty in the UPP container even when on sick leave due to staff shortages. Poor working conditions make a police force already struggling to identify with a program even less likely to carry out effective work. This also shows how stretched resources are, despite the huge increase in police numbers since the launch of the UPPs. A higher note, however, came in late 2013 when the UPP led community youth in a modern performance of Romeo and Juliet.
Resident Perspectives
"They shoot in the sky when it goes dark, saying now they are the bosses and that if we don't respect the laws we will end up in the dirt. Sargent Gilson, for example, walks round the alleys late at night announcing this by megaphone." – Aldir, São Carlos resident

"With this situation of the UPP in the favela, commerce diminished a lot. Now there's a curfew. Last weekend, on Friday, Saturday and Sunday I had to take all my paintings out of my van because the BOPE ordered me to. I sell my paintings in Copacabana, and they told me that it will be like this for 40 days. So every day I go out to sell, I'm going to arrive late at night, tired, and go through these searches. That's why residents are out and about less. They're scared. And businesses suffer because of the lack of movement." – São Carlos Resident
Morro da Mangueira – North Zone
Date of installation: November 3, 2011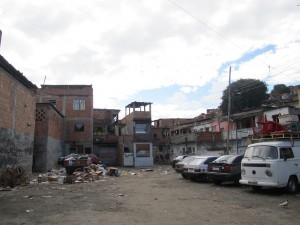 Researcher Vinicius Miranda Gentil spent the first year and a half of the UPP implementation doing fieldwork in Mangueira, and concluded that there was a tense acceptance of the program, with police carrying out their duties but complaining of a lack of structure, and residents going about their daily lives generally distrusting the police, not feeling the potentially positive results of proximity policing. However, others claimed the UPP never gained control over drug gangs, which have deep family links in the community. Certainly it is clear that since the publication of Gentil's report in January 2013, criminal gangs have intensified the fight for control of the territory. In August, ex-leader Tuchinha was brutally assassinated in the community, and since then three different factions have been disputing power. Last month, Thiago Rosa Coelho was shot dead and his colleague injured, as residents reported regular shootouts within the community.
And just two months ago, after 5 mutilated bodies were found at the foot of the community, Meia Hora ran with the front page headline, "Mangueira, teu cenário é uma tristeza" (Mangueira, your scenario is a tragedy), lamenting what has happened to the famous samba neighborhood known for its tune "Mangueira, your scenario is a beauty."
Resident Perspective
"If you come up here you will see all the streets closed. The situation is complicated here." – Mangueira resident
This is Part 2 in a five-part series documenting Pacifying Police Unit (UPP) Installations. For other articles in the series click here.
Thanks to Rachael Hilderbrand for supporting research.