Original article by Laura Bonilla, associate director of AFP Brazil, in French, also available in Spanish.
Another sunny morning in Flamengo Park, an oasis of exuberant palm trees and chatty parrots facing the Guanabara Bay, where in a year's time the Olympic sailing competitions will take place.
Two friends cross paths, chat for a moment. When they separate, I hear one say to the other: "muito amor, muita saúde, muita paz" ("lots of love, lots of health, lots of peace").
"Lots of peace"? Brazil isn't at war… Or is it?
Since I moved to Rio four years ago, I am surprised at how cariocas constantly wish each other peace. On New Year's Eve, they dress in white and flock to Copacabana beach to ask for peace for the coming year. The city has many non-governmental organizations with names including the word "peace." One of them is Rio da Paz, which organizes events in public places to bring attention to violence.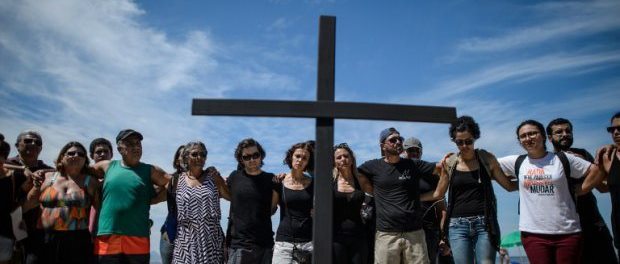 In January, when stray bullets claimed their 12th victim in nine days–a 12 year-old girl–the organization installed a cross and toys on the beach. And a few days ago, it laid a black bicycle in a puddle of red ink on the cycle path that encircles the Rodrigo de Freitas lagoon, where a 52 year-old cardiologist was stabbed to death by teenagers who wanted to steal his bike. It was the eighth knife attack that week.
Latent racism and logic of war
For decades, a wide gulf has separated the rich and poor of Brazil. Even if things improved these past few years thanks to [the Bolsa Família] social program put in place by the [Worker's Party] government, the richest 10% still control 41.7% of the country's wealth. In addition to this, there is latent racism towards the predominantly black and mixed-race population–ethnic groups where the largest number of poor and victims of violence are found–and a logic of war between policemen and drug traffickers, in which the underprivileged have always been taken hostage.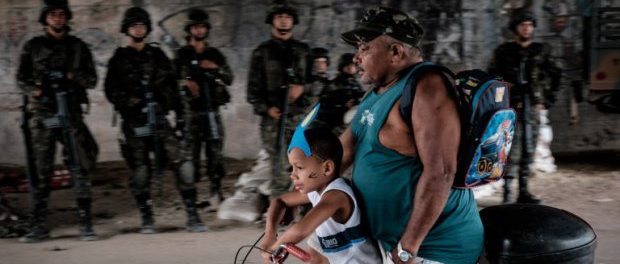 Almost two million cariocas live in around 1,000 favelas, without access to [quality] basic public services. For [many], violence is a daily reality. The number of homicides has gone slightly down since 2008, when the police started to "occupy" several dozen favelas, and spotting drug traffickers walking around with their weapons in all impunity has become a rarer occurrence. That has not stopped Madeleine Pradel, our video reporter, from arriving face to face with a heavily armed group in the Rocinha favela, while she was reporting on a landfill a few days ago. They only let her go on her way after a long discussion, and because she was accompanied by a local resident.
Six deaths per day by police bullets 
The drug traffic continues to prosper. Pitched battles between the different drug gangs are unrelenting. And the police continue to kill civilians, at a rhythm of six per day on average in the whole country. In five years, from 2009 to 2013, Brazilian policemen killed more civilians than American policemen in three decades.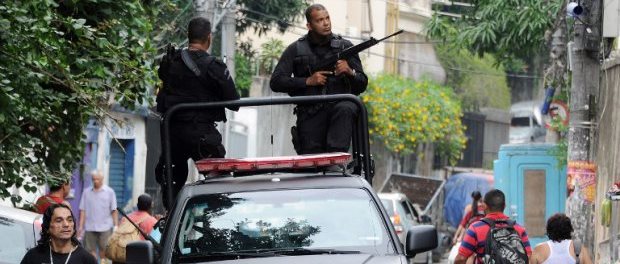 Many of my Brazilian friends are as scared of the police as they are of criminals. Personally, even though it is a common sight, I remain impressed when I see the agents of the dreaded Special Operations Battalion (BOPE) patrol through the city with their rifles protruding from the windows of their vehicles, their fingers on the trigger. Their logo, which adorns cars, uniforms and business cards, is a skull penetrated by a dagger, with two crossed guns behind it.
Wave of knife attacks
Between 2007 and last April, 50,181 people died violently in the state of Rio. That is an average of fifteen per day. These past few weeks, a surge of knife attacks hit the center and wealthy neighborhoods of Rio. It gives the wealthier classes a glimpse of the terror in which favela residents have been living for decades: in their neighborhoods, nobody is safe from a stray bullet, even in one's own home.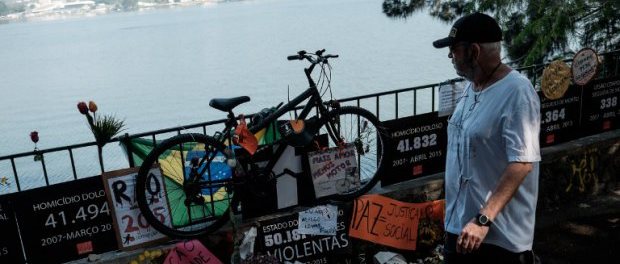 I have thankfully never been a victim of an attack in Rio. When I go out, I only take with me what is strictly necessary. In the street, I try not to use my smartphone, which in Brazil represents the equivalent of three months' minimum wage. But like many cariocas, I recently stopped using my bike. Sometimes, robbers push cyclists violently to make them fall and take their belongings. And now there are also knife attacks.
Paranoia and self-defense
A year away from the Olympic Games, it feels like no one is safe here, whether in the favelas or not.
On social media, middle and upper class cariocas don't hide their fear anymore, and sometimes tip over into paranoia, glorifying self-defense. From the balcony of my apartment and from the windows of the AFP office, I often see neighbors yelling and running after young people who stole a wallet or a mobile phone. Sometimes they catch them and beat them up before the police get there. Videos of these beatings are then shared on Facebook and YouTube.
"The mythical image of the friendly Brazilian only exists in samba. Relations between people have always been violent. Brazilian society is not friendly, it is a society that kills itself. It is this Brazil that we see today on the Internet", sums up Manuel Castells, the Spanish sociologist, in an interview with the daily newspaper Folha de São Paulo.
A violent society that marginalizes
A law to lower the age of criminal responsibility from 18 to 16 years is in discussion in Congress. A while ago, 32 minors were arrested in Flamengo Park, some armed with knives. 31 were freed the following day. Eduardo Paes, the mayor of Rio, deflects responsibility towards the State [government] of Rio–who is in control of the police–that in turn points its finger at the judicial system. NGOs and education experts consider that juvenile delinquents should receive some punishment, but they are also the victims of a violent society that marginalizes them. Most are not in school and do not have a family.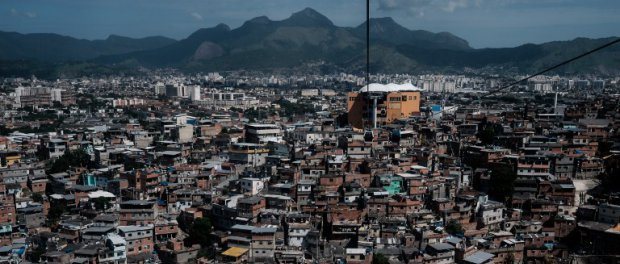 I often wander through the very popular park, alone or with my young children, but never after nightfall. I had never faced any problems. But one day, during my run, I stumbled across a furious man pointing a revolver at another man's neck, yelling and insulting him. Maybe it was a plain clothes police officer. Or maybe not. I will never know, because like all the other spectators, I fled the scene as fast as possible.
A city in a state of shock
Anthropologist Alba Zaluar has been visiting favelas for 35 years to study them. She describes a city "in a state of shock." "This violence is totally linked to the drug trade," she says. But there are also "poor quality public schools, social inequalities, police violence…"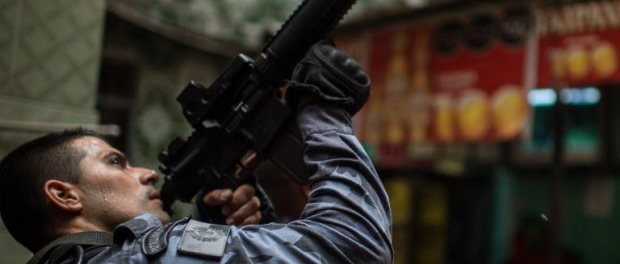 Even though Christine Lagarde, the director of the International Monetary Fund, declared that the cable car in the Complexo do Alemão reminded her of "a ski station," those who live in the neighborhood do not feel like they live at Courchevel or Gstaad. Despite the "pacification" of the Complexo, made up of around fifteen favelas, and all the publicity it involved in [2012], "violence is the same as before, many innocent people keep dying," complains a 30 year-old unemployed single mother, Madalena Alves de Assis, during our conversation by the door of the social assistance center in the neighborhood.
She fears that her three children, aged six, eight and ten years, will end up like Eduardo de Jesus, a ten year-old boy killed by a bullet in the head, shot by a policeman in the daytime while he was playing in front of his house. "Fear and terror are constant here," says Zaquel Nunes, a resident of the neighborhood where a series of clashes claimed four lives in two days. "Every day there are shootings. We live in the territory of cats and dogs and we are in the middle. Anyone can become a target, at any moment, without warning."
For more than six million Cariocas, rich or poor, there is no peace in Rio yet.