This post is the second of four RioOnWatch contributions to Blog Action Day 2015 in which bloggers around the world reflect on this year's theme: Raise Your Voice. Check out our full series here.
This is the first in a three-part series on the Imagens do Povo photography collective. 
The right to communicate is recognized among the third generation of human rights, which are commonly framed in the context of the collective rights of peoples or communities. While Article 19 of the Universal Declaration of Human Rights guarantees the individual's freedom of expression, the right to communicate responds to increasingly globalized and homogenous media structures in asserting that holders of minority opinions and marginalized communities have the right to access information and to be heard.
In a video interview last year, famous Brazilian photo-documentarist João Roberto Ripper said: "It is emblematic and dangerous in communication when you end up creating a one-sided story—about people, about places, about communities, about countries, even." Concerned with an increasingly homogenized media, threats against minority rights, and dissenting and local voices not being heard, Ripper founded the favela-based photography collective and school for popular photographers, Imagens do Povo (Images of the People), in 2004. Ripper praises the "citizens who use images to shout out how beautiful they are, how different they are from how they're being portrayed." The use of image to tell stories can be transformative when guided by the respect for people's dignity.
Ten years of empathetic photography against stereotypes
Imagens do Povo is based in Maré, a complex of favelas in Rio's North Zone, and hosted at the Favelas Observatory, a center that coordinates research, capacity-building, consulting work and public action around favela-related issues and urban phenomena. The project's School for Popular Photographers combines instruction on photographic technique with discussion of social issues and the democratization of communication. So far the school has trained more than 200 photographers, 70 of whom have returned to the school as teachers.
"It is an excellent photography course: ten months, 540 hours, with access to photographic language, photojournalism, human rights, the history of arts and philosophy," explains Imagens do Povo coordinator Rovena Rosa. "Above all, people learn how to think about photography, not only how to photograph."
Widely recognized and award-winning, the Imagens do Povo collective, made up of photographers who participated in the course, boasts an online archive of over 10,000 images and its first published book is also available online. In 2014 the project proudly celebrated its 10th anniversary with an exhibition and corresponding book titled 'Nós' (Us).
The collective's photographs are notable for the visible empathy between photographers and the photographed subjects. The beauty present in everyday life is the core focus. Rosa says: "We often work in the field of symbolism, precisely in the resistance to stereotypes and the single story, giving people the chance to see other gazes and perspectives in relation to [the favelas]."

In my research on the work of Imagens do Povo, I developed two distinct, albeit often overlapping, categories to group the photographers according to their approach to photography. This article will look at the 'activist-reporter' photographers whose work denounces social issues and asserts rights, while the next article will feature 'archivist-documentarian' photographers who focus on memory and everyday life.
The Activist-Reporters:

Luiz Baltar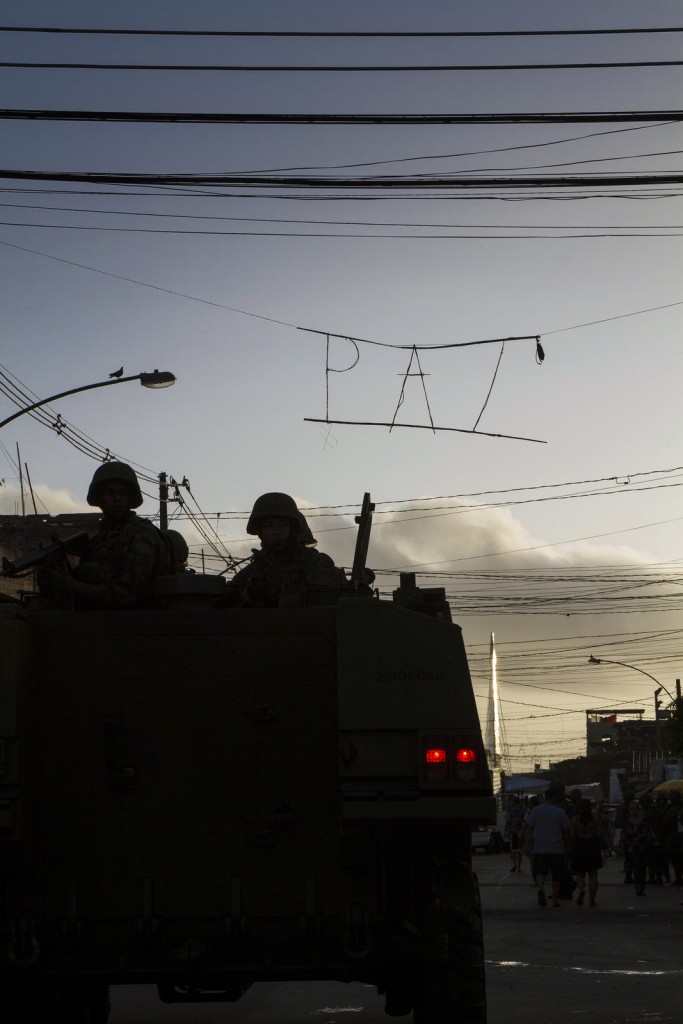 Social documentarian photographer Luiz Baltar was trained at the School for Popular Photographers in Maré. Since 2009, he has worked to record the experiences of eviction in several communities, resulting in a collective work entitled 'Tem Morador' (There's a Resident) which aims to denounce human rights violations and provide support and solidarity to people's struggles.
In his bio, Baltar explains that he "[believes] in photography as a form of activist and critical expression, pursuing the establishment of a dialogue between photography and social issues, above all regarding views on the city." Among other projects, Baltar is also part of the Favela em Foco (Favela in Focus) photography collective which documents struggles and daily life while giving visibility and support: the key to this approach, he told RioOnWatch, "is to do this with, not for, [communities]."
He provided the photos for the book SMH 2016—named after the eviction code painted on houses before demolition—which documented Rio's evictions from 2009 until 2013, a period that saw more forced removals than in the Pereira Passos and Carlos Lacerda administrations combined. Baltar has also documented military occupations of favelas and the pacification process, participating in the network of communicators and tracking task forces coordinated by the Network of Communities and Movements against Violence.
Check out Luiz Baltar's work on Flickr.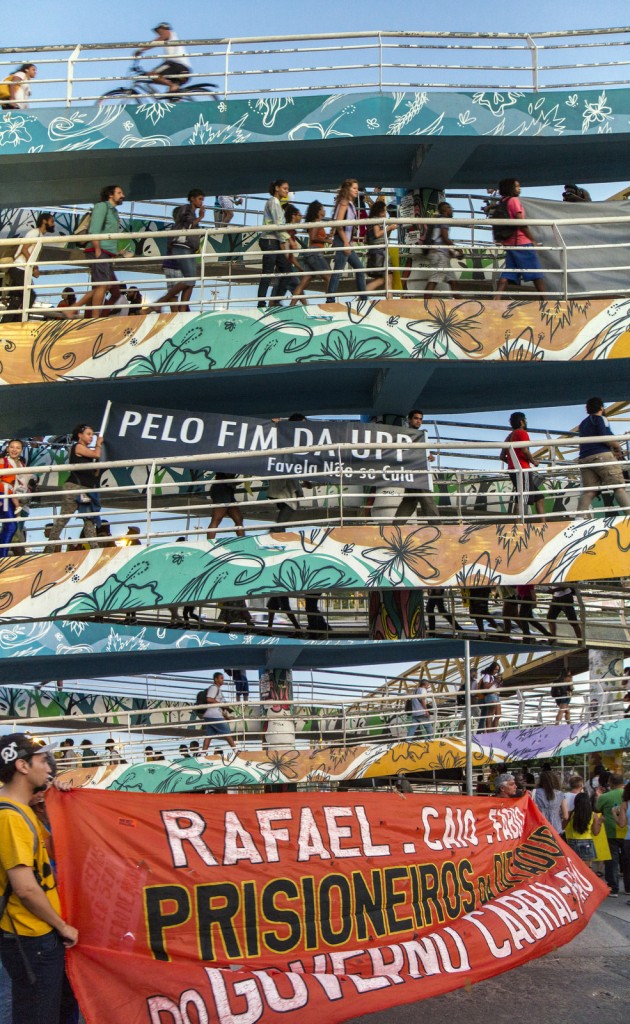 Naldinho Lourenço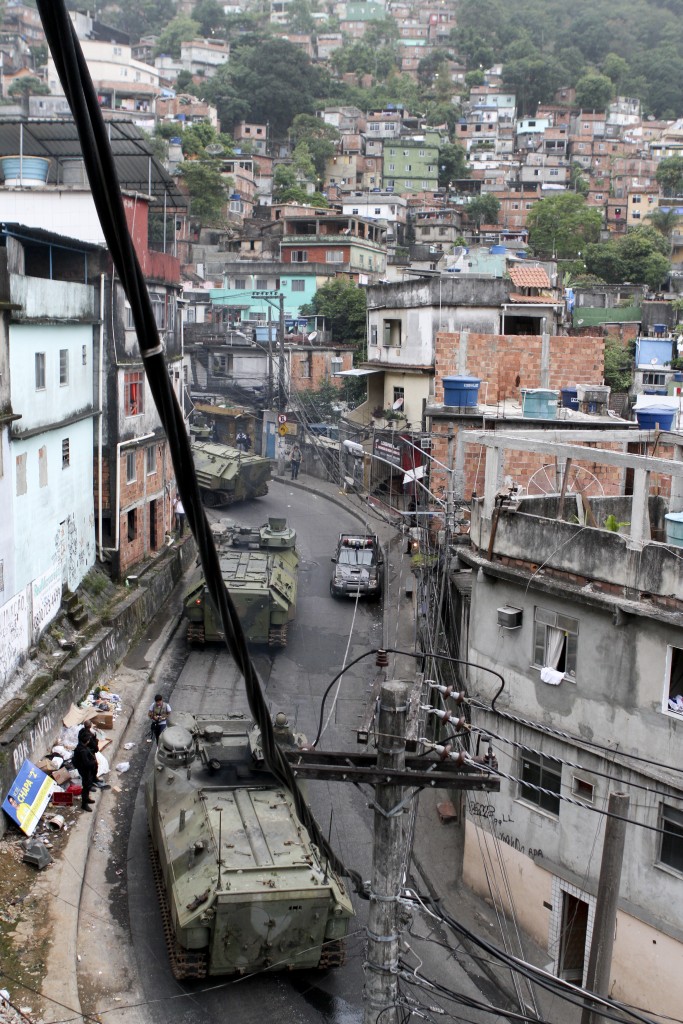 Naldinho Lourenço is a resident of Maré who studied at the School for Popular Photographers in 2006. He served from 2006 to 2009 as the coordinator of the Maré Center for Studies and Solidarity Actions' 'Work, Communication & Art' project to link art and language with employment opportunities. He participated in Imagens do Povo's collective exhibitions Olhar Cúmplice (The Complicit Gaze) on paralympic sports and Esporte na Favela (Sport in the Favela), among many others. Lourenço's focus shifted in 2008 when an 8-year-old child called Matheus was killed by the police near his place of work and he documented the scene.
Following that incident, Lourenço continued to document issues of police violence. He criticizes the mainstream media's portrayal of favelas, distorted by "the view of the photographer who doesn't live in the favela and goes accompanied by the police, already planning for violence." In his opinion, the lack of dialogue with residents and the abuse of police and army authority are main sources of conflicts, but so is the mainstream media's criminalization of favelas as primarily producing drug traffickers. Beyond the fact that criminality does exist "to a certain extent," Lourenço's endeavors aim to "demystify what [conventional] media do" and keep "state oppression" in check.
Lourenço criticizes the mainstream media's portrayal of favelas, distorted by "the view of the photographer who doesn't live in the favela and goes accompanied by the police, already planning for violence."
Check out Naldinho Lourenço's work on Flickr.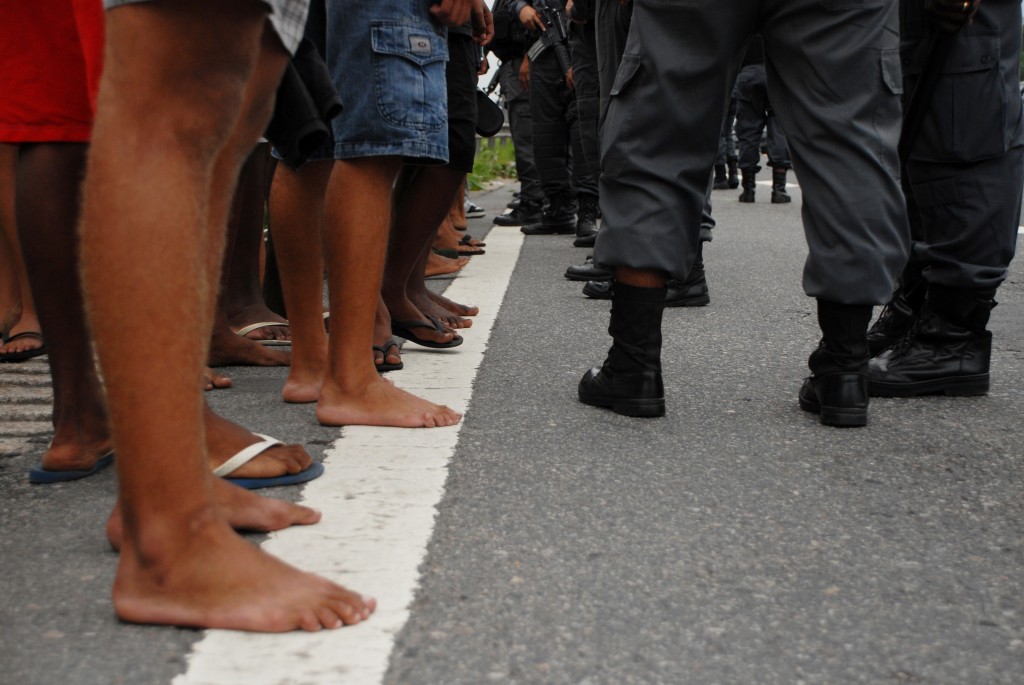 Adriano "AF" Rodrigues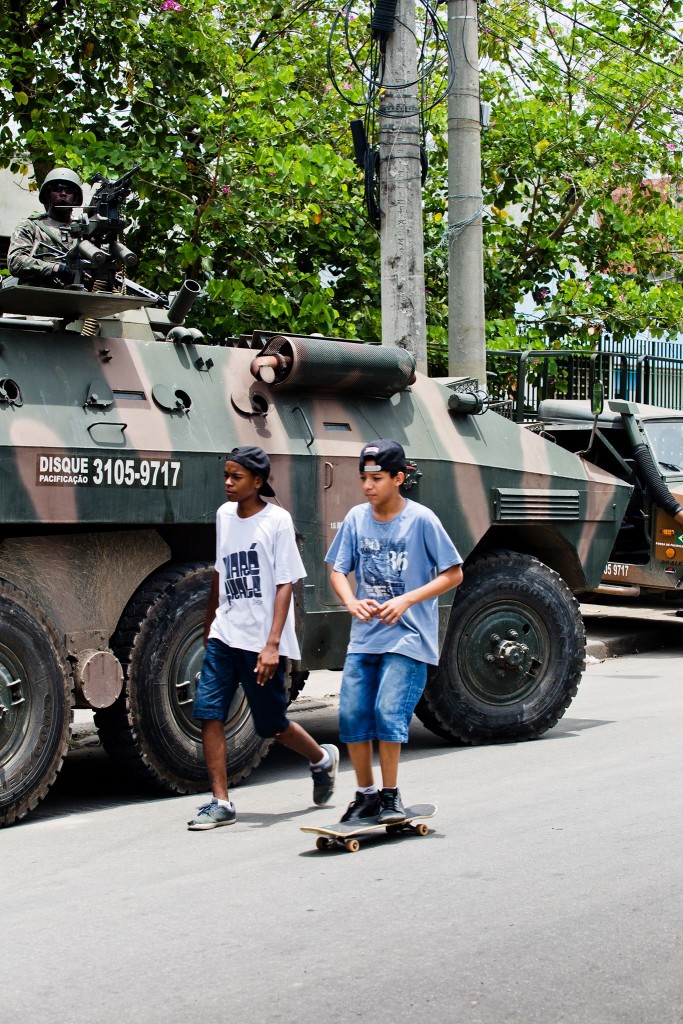 Previously educated in Agricultural Sciences and Geography, AF Rodrigues graduated from both the School for Popular Photographers and Popular School of Critical Communication (Espocc) in 2006. His work accompanies Lourenço's photos in the Olhar Cúmplice and Esporte na Favela among other Imagens do Povo exhibitions. His work was featured in the 2007 exhibition Belonging: An inside story from Rio's favelas at London's Canning House, and The Becontree Hundred, also in London, earlier this year.
"Geography is necessarily a part of the discussion of space in the photography I'm developing, together with my colleagues from Imagens do Povo," explains Rodrigues. "[It's about] everything that encompasses this dynamic: residents, workers, students, those who live in popular spaces and those who live in the formal city." He sees his photography as "a provocation for those who don't usually have access to the information that permeates these popular spaces," and his photos as "dialoguing, interacting with spaces, with the people who inhabit and build them." Rodrigues aims "to provide information that counters historical understandings of what a favela is, imposed by people who do not live there."
Through his Flickr album Revelando Favelas (Revealing Favelas), Rodrigues aims to "reveal untold stories," untold "not because they're omitted by the characters [living them], but because they go unheard." Rodrigues writes that through his collection he "reveals, for others, a different version of favelas: a place of daily labor, of continuing study, of struggle, of fraternity, affection, art and leisure."
Check out more of AF Rodrigues' work on Flickr.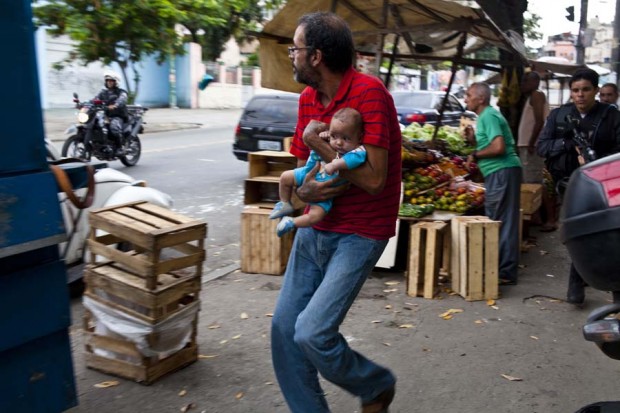 Andrea Cangialosi holds an International Masters in Sociology from the universities of Freiburg, Buenos Aires and Bangkok. This series is based on his research as a reporter for RioOnWatch and fieldwork for his thesis Vida Pulsante: Rio's Mega-Events Footprints, Oppressions and Resistances in Maré Favelas as Pictured by Imagens do Povo Photographers.