For the original article in Portuguese by Matias Maxx published on VICE click here.
VICE spoke to black activists and communicators, women, and transgender people from the favelas of Rio de Janeiro who knew Marielle Franco and are continuing her fight for human rights.
They say that the new year really begins after Carnival, and in 2018 the glitter had barely been cleaned from the streets when President Michel Temer announced a federal military intervention in the state of Rio de Janeiro. Despite causing great concern among human rights activists, the announcement did not cause much surprise: the city has already passed through similar episodes. But the brutal murder of Marielle Franco a month later was a harsh blow to activism for the rights of black people, women from the city's periphery, and the LGBT community. On Tuesday, March 20, during an interfaith demonstration in honor of Franco in Cinelândia, VICE spoke with four young leaders involved with the social causes that Franco fought for. All of them had had the opportunity to meet the councilwoman and affirmed that her assassination would not stop the fight for human rights in favelas. In fact, quite the contrary. To them.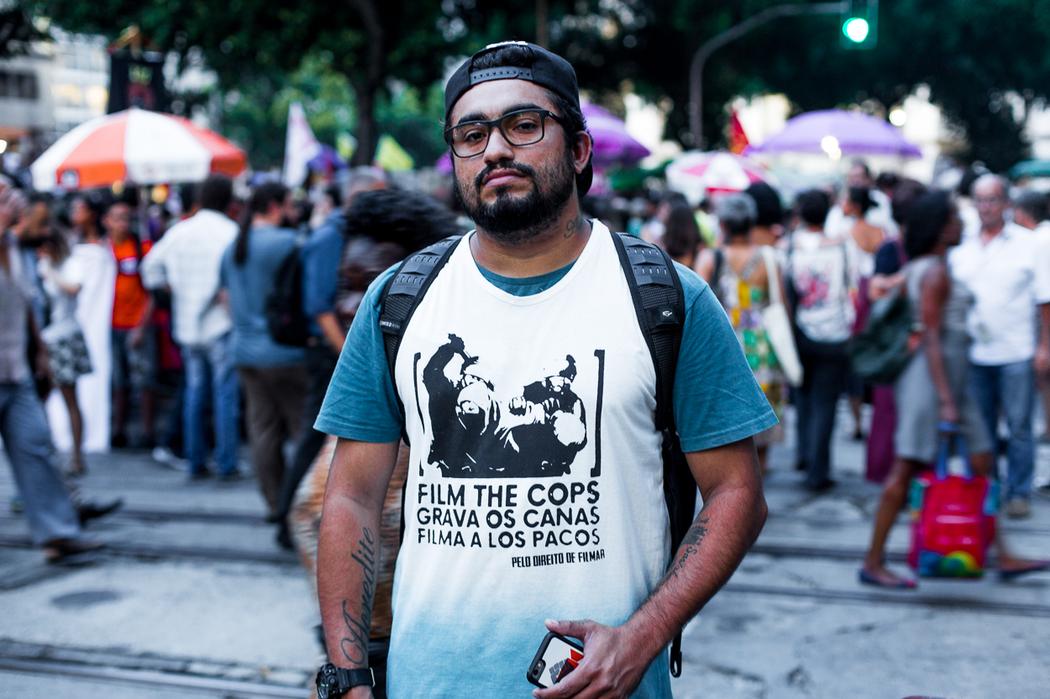 Raull Santiago
Raull Santiago, 28, participates in various social projects, among them the Coletivo Papo Reto (Straight Talk Collective), which produces independent communication in Complexo do Alemão. He is also part of Movimentos, a group created in 2016 to discuss drug policies in relation to the racial debate and violence against the favela population.
Police raids are recurrent in Complexo do Alemão. Two days after the brutal murders of Franco and her driver Anderson Gomes, a Military Police operation in the community led to the death of three innocent residents. "They are executing generations of the favela, they were two elderly people and a child who died in a violent way," Santiago said. In practice the federal intervention is "the militarization of daily life in the favela, which was always happening. Only now it's been declared, using the federal forces to control our bodies, or rather, an invasion of the national army against its own population. Once again Brazil has found a novel way to be bizarre, our authorities have managed to innovate being racists, being cowards, and being jerks.
"What happened to Marielle is very serious. It has to do with the influence she was having within party politics, which is very complicated within the reality of Brazil, where we see very serious scandals especially related to the drug market. We see politicians with their name linked to a helicopter of cocaine, military officers and various powerful people involved in this business that are not feeling the violent impact of this war, because the violence is aimed at us. And Marielle, she was in this field fighting for minorities. Denouncing, on a public platform, the violations that were happening inside favelas. From this murder I can draw two potential takeaways. The first, an attempt to silence the power of and occupation by a black woman from a favela of spaces of power historically reserved for whites, sexists, and elitists. At the same time it is a very clear message that in this same power structure, the people who die, who are executed, continue to be us, favela residents, the indigenous, people from the northeast, black men and women. What happened to Marielle only reinforces this idea of how favelas and peripheral communities of this country, rich as they are in culture, creativity, and collectiveness, increasingly need to strengthen ourselves and find ways to stand together, uniting to build resistance against what tries to subjugate and violate us.
"We are not the problem, we are the solution." – Raull Santiago
"We are in an election year where you have no idea who's a real political force in this crazy democratic arena that never reaches the favela. At the same time, there are growing disputes and advances by people from favelas occupying spaces, occupying the media, creating their own media, and pointing the finger in the face of those who have historically violated us. What happened with Marielle is one more reason for us to be united, to get organized and to rethink our security and continue with the work we've been doing. Because [due to her assassination we see] that we've really ruffled feathers, that the favela is no longer that place they have historically labeled as impoverished. We have started to stand up against this and to say no, we are not the problem, we are the solution."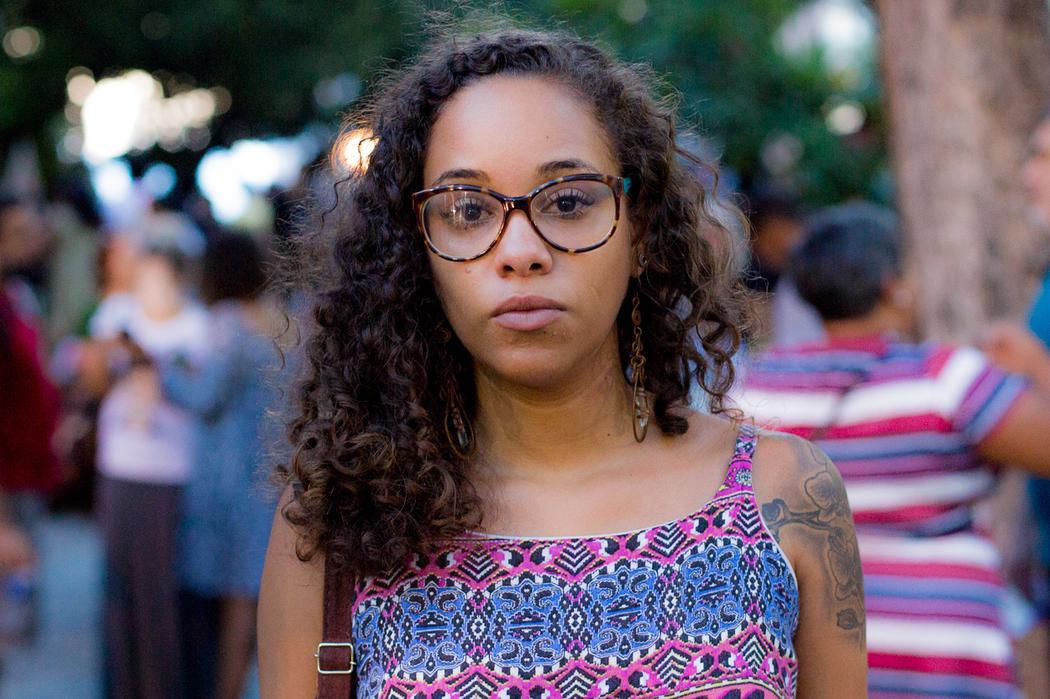 Buba Aguiar
The social sciences student Buba Aguiar, 25, is a resident of Acari and a member of the Fala Akari collective. For Aguiar, "we are in a scenario in which the [military] intervenor uses the execution of Marielle to reaffirm the importance of the intervention: 'you see, Rio de Janeiro is so violent that we have to toughen our intervention.' In the favela we don't want intervention, we know the consequences it's going to have, we know the number of bodies on the ground, fallen, dead."
Acari is situated in the jurisdiction of the Military Police's 41st Battalion, the most lethal in Rio, which in 2015 was denounced for torture and extrajudicial execution practices in the Amnesty International report "You killed my son". The atrocities by the battalion were also denounced by Franco days before her execution. "Today the 41st Battalion is known as the 'Battalion of Death,' because it is a group of institutional extermination, a state extermination group. The collective had already been denouncing this battalion in our favela for a long time, and our unrest was such that Marielle helped us to publicize it. We can't affirm in any way that the Battalion is involved with Marielle's execution, we are not investigators, we don't publish speculations, it would be as irresponsible as the people spreading false and negative information about Marielle. We know what this Battalion is capable of, but if we are not certain, then we do not make claims. What's true is that she was not lying at any point: they are committing atrocities, executions. There are various violations, thefts, damages to the homes of residents, and we were able to publicize this with help from Marielle, and soon after she was murdered."
"There are various violations, thefts, damages to the homes of residents, and we were able to publicize this with help from Marielle, and soon after she was murdered." – Buba Aguiar
What happened immediately was negative exposure and speculation surrounding the work of Coletivo Fala Akari. "My face was splashed across various newspapers without me having given a single interview. They are using two video interviews where I am speaking about the behavior of the 41st Battalion days before Marielle was executed. This doesn't reach the point of damaging my image, but is an irresponsible exposure, a dangerous exposure. Public opinion is something that is worrying us. If there are Internet discussions saying that Marielle defended drug dealers and deserved to die, imagine what people are not saying. I have already had people confronting me in a restaurant bathroom, saying that I should have died instead of Marielle. I have already had a journalist from corporate media who followed me to my therapist's door. My home telephone is being called and they're disturbing family members that live with me, to the point that they had to unplug the phone for some peace. It's disrespectful not only to me but also to the struggle as a whole. We aren't people who have just left Big Brother, we are serious activists. In no moment have they shown respect for the struggle that we are dealing with."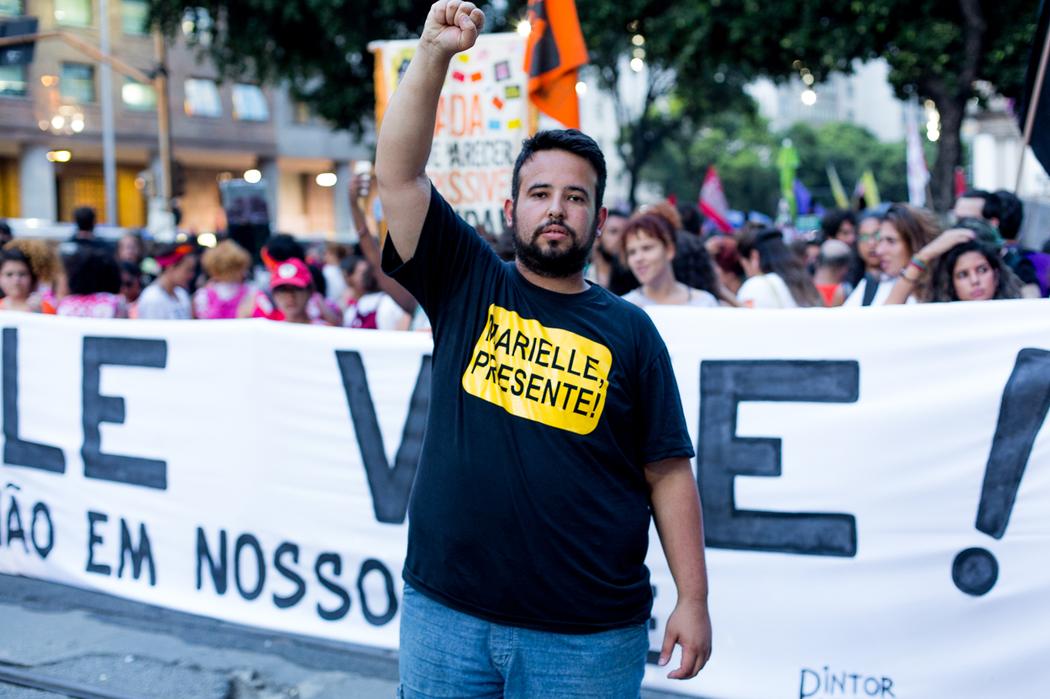 Josinaldo Medeiros
Complexo da Maré, where Marielle Franco was born and raised, is between Rio de Janeiro's three biggest expressways: the Yellow Line, the Red Line, and Brazil Avenue. In 2014, on the eve of the military occupation that lasted for a little over a year and cost billions of reais, a group involved with art, culture, and cinema united to form the communication collective Maré Vive. That group included Josinaldo Medeiros, 28. A little after its launch, the collective's Facebook page was cloned by the police, with the clone reproducing the original's contents as well as photos of drug traffickers and militia members. "Maré has a uniquely serious feature, which is the presence of all the criminal factions, so we suffered in general. It was a very difficult period, but we relied on the help of media, including VICE, which were very important to remove this dark cloud from us, but we remained very vulnerable, we received loads of threats. It was a big loss—of the 18 collaborators we began with, only five stayed," he recounted.
"Since her murder, people seem more united, they are knocking down walls and building bridges where people can talk and reach a point of convergence." – Josinaldo Medeiros
According to the activist, the death of Franco was really felt in the community, but instead of fear, it brought unity. "The death of Marielle was a massive shock, for Maré, for everyone. I think the penny dropped that Marielle represented not only the favela but also black people, the poor, the streets, she was an accessible person, she was in all the spaces. You arrived at an event that you thought nobody was going to attend and Marielle was there. She was not like a myth, she was Marielle, she was for the people, she called people by name. People may not believe me because I've known her since the beginning, but people that met her recently say the same thing, that she always treated people the same way, she was about action, she would give her personal telephone number if she was interested in the cause. In my opinion, it was a moment of desire for change, because in Maré there is a lot of conflict between the institutions and collectives that exist there. I felt that since her murder, people seem more united, they are knocking down walls and building bridges where people can talk and reach a point of convergence. We have to change this system that oppresses us and was built to ensure we lose. The police have a fundamental role in this oppression. They are not inefficient, they are efficient in what they do, they do not misfire, they aim directly, they don't care at all. So we as the conscious media have to speak about what Marielle came to do, because she did not just come for the ride, no. It is a narrative dispute, because Marielle's narrative is being disputed by various parts of society, including the reactionaries that are using the death of Marielle and Anderson to legitimize this intervention, and we need to counter this."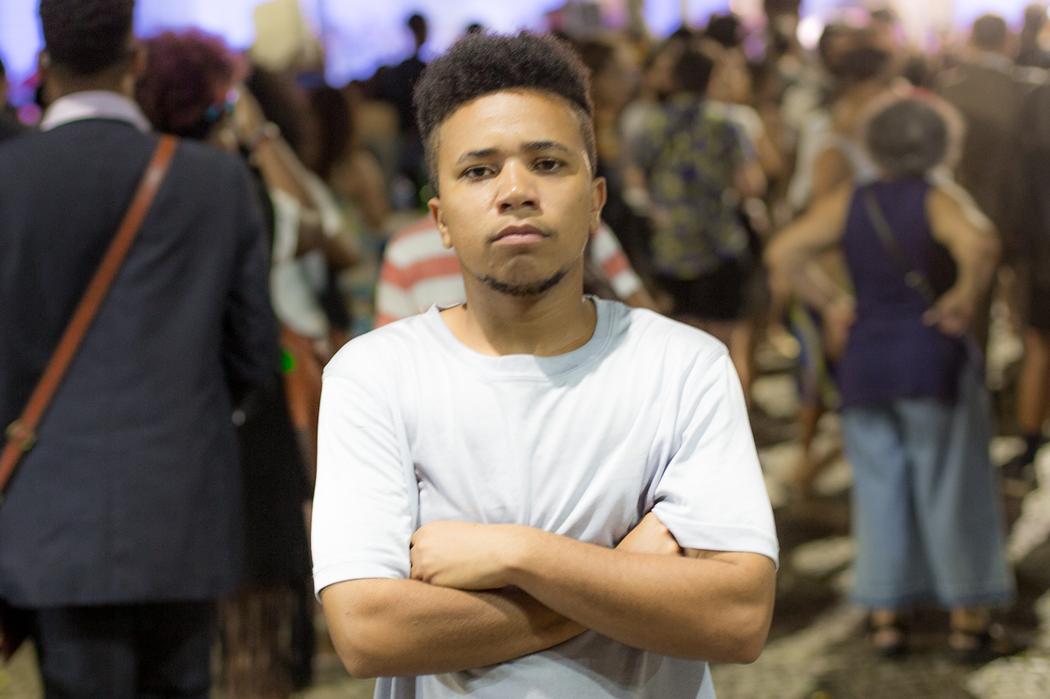 Rodrigo Luther King
At 28, Rodrigo Luther King is a trans man and resident of the São Carlos favela, in the center of Rio. He began his activism in the LGBT movement two years ago, when he started taking hormones and got to know Casa Nem, where he also got to know Marielle Franco: "It was a space where I felt like I belonged. It is a shelter for people in vulnerable situations and living on the street. I lived there for a month, I learned, I grew, because inside the favela we do not get as much information. There I learned to stand up for myself and to fight for my rights, and now I have and I can pass this on in a clear way to my brothers, in a way that means people from my surroundings in São Carlos can understand me, embark forward from these ideas, and learn to stand up for themselves as well, seeing what their rights are and fighting for them.
"What happened to my sister Marielle can happen to any of us, even more because we are black. When we talk about minorities, we talk about people who are excluded from society, this circus that they have built. So it is very important for us to have a representative like Marielle was. She was not only having an impact by being a city councillor, but by representing exactly this excluded minority. She is not the first person to try to do good for the people who has ended up this way. It was very clear that it was an execution, that it was to show who gives the orders and who takes them. Who she was and what she represented shocked a lot of people, someone who confronted the powerful in favor of the people, in a Brazil that we had already lost hope of being. But Marielle lit up and continues to light up this hope even today, that we can have a true democracy with freedom for people to be what they want to be."
"What happened to her only makes us stronger. She was a warrior, a woman who went until the end with her ideas, who was not corrupted… [Her death] triggered something. Enough is enough, either we keep quiet and stay in the same position or we fight like she fought." – Rodrigo Luther King
"I am a trans man, I know the struggle I went through to be here today. People from São Carlos had already heard of Marielle and her proposals, she was a woman that was well-liked, someone in whom we could really see hope and today that still continues. What happened to her only makes us stronger. She was a warrior, a woman who went until the end with her ideas, who was not corrupted, so in the favela we heard what she had to say and her proposals, her campaign. On Thursday there was a demonstration and the favela descended the hill to join: it triggered something, enough is enough, either we keep quiet and stay in the same position or we fight like she fought. Because if today the favela is united here in Cinelândia claiming our rights it's because she was and we are now too. The gunshots did not only hit her, they hit us as well, because she was a black woman, from a favela, who fought and stood up for her ideas. What she suffered on her skin, we also suffer. It is the question of being held hostage in your own home, in the case of the favela, and being held hostage in the street by those who should be protecting you. It's difficult, so at some point in time the favela needs to descend from the hill and this is our time. Because they think they killed our hope but they didn't. Marielle is still alive and left a legacy, as well as many other people. It's difficult to say this, but now we can't go back, because keeping quiet is not an alternative, it's onwards forever. The illusion is over."