Initiative: CocôZap
Contact: Website | Blog |Facebook | Twitter
Year Founded: 2017
Community: Complexo da Maré
Mission: To make the debate over basic sanitation in favelas more accessible through direct citizen action in data production, monitoring of public policies, the generation of counter-hegemonic narratives, public debates, and mutirões (collective action).
Public Events: CocôZap organizes community mutirões in Maré and hosts public forums on sanitation issues.
How to Contribute: Donate, collaborate with data collection, and help to increase the project's visibility.
Within the favelas of Complexo da Maré in the North Zone of Rio de Janeiro, the organization data_labe is using data to disseminate new narratives about favela residents and urban peripheries. Born out of the Maré-based Favelas Observatory in 2016, the data_labe team was originally composed of five youth savvy about quantitative data. Aside from generating reports based on public data, the group also held youth training programs and mapped out favela communication initiatives.
Data_labe became an independent entity in 2017, and the organization now employs ten staff members from diverse backgrounds. Work is centered on three distinct fronts: journalism, education, and the production of citizen-generated data (CGD), which according to data_labe coordinator Gilberto Vieira, refers to "how people can produce data by themselves and be engaged in the production of data without being a formal research institute." For Vieira and the whole data_labe team, public data and CGD constitute powerful tools for defining the narratives regarding the city of Rio and its inhabitants.
One of data_labe's key CGD areas is basic sanitation. Motivated by the idea of "building a channel for denunciation, debates, and proposals regarding basic sanitation," Vieira and his colleagues drew up plans for a new initiative in 2016: CocôZap. CocôZap—a portmanteau of the Portuguese word for poop and the social media platform WhatsApp, commonly referred to as "Zap" in Brazil—gives residents the opportunity to issue complaints on sanitation violations in Maré. Residents that encounter raw sewage leaks, uncollected garbage, or a lack of access to clean water, can message a report and photo to a WhatsApp account managed by data_labe. Vieira and other CocôZap team members then upload the report to an online database, which includes a date of observation, description of the sanitation issue, issue category, frequency with which the issue occurs, and location. In addition to uploading the information to the database, the CocôZap team maps each reported issue. Once the data are organized and mapped, Vieira and his colleagues use the information to create reports and presentations on sanitation issues and their effects on Maré residents.
Ultimately, the CocôZap team hopes these data-informed reports will assist residents in engaging with public officials. Historically, it was residents of Maré and other favelas across the city that won access to sanitation for themselves, mobilizing to pressure the government to provide basic public services. CocôZap hopes to provide a technological upgrade to that deep-rooted mobilization. "CocôZap helps to maintain the residents of Maré in a leading political role," explains Vieira. By promoting the collection of CGD and producing reports based on local data, CocôZap is bringing the sanitation debate back to the people.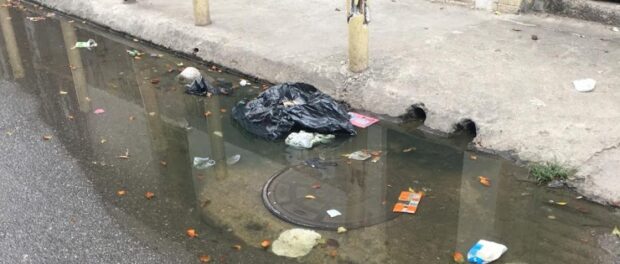 Following CocôZap's initial planning, Vieira and his colleagues decided to enter their CGD concept into the DataShift Community Seed Funding Challenge, sponsored by the international NGO CIVICUS. CocôZap won the competition, and the prize money allowed the data_labe team to put their plans into action. First, data_labe team members began mobilizing Maré residents with the purpose of providing data for CocôZap, training interested participants on how to report their findings. The data_labe team also instructed collaborators to disseminate the CocôZap WhatsApp number and recruit more participants.
Once the mobilization for data collection was underway, data_labe hosted events focusing on basic sanitation and environmental issues in Maré, including two tree-planting and trash-collecting mutirões. Later, the CocôZap team organized a public forum for residents to discuss public sanitation issues with civil authorities, featuring local activists, members from collectives and other community-based organizations, public health officials, as well as representatives from the municipal waste collection utility Comlurb and the state-run water and sewerage utility CEDAE. The forum succeeded in creating a list of demands and solutions for four major areas of concern for residents of Maré, including trash and public security, health and well-being, water supply and conservation, and sewerage and rehabilitation of Guanabara Bay.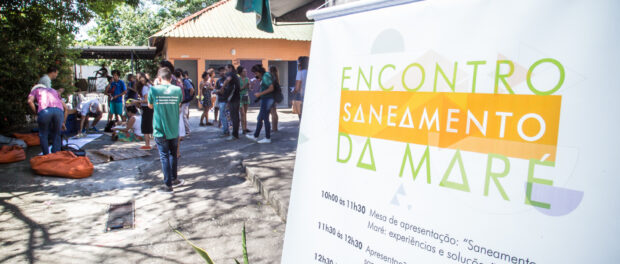 Aside from initial funding from CIVICUS, CocôZap has received financial support from the Fundo Socioambiental Caixa and the Heinrich Böll Foundation. Along the way, CocôZap has also benefited from close partnerships with other not-for-profit organizations, such as Redes da Maré and Casa Fluminense. Finally, CocôZap maintains research partnerships with the Pontifical Catholic University of Paraná (PUCPR) and the Engineering Department at the Federal University of Rio de Janeiro (UFRJ). Through their work with these partnerships, CocôZap aims to foster diversity in knowledge production, including in the fields of journalism, research, and political monitoring.
To date, over 65 residents have provided basic sanitation data to CocôZap, with the majority residing in the favelas of Nova Holanda, Rubens Vaz, and Parque União. Data_labe has also been able to hire local youth to work as "mobilizers," helping recruit project collaborators and collect data. One of these mobilizers, Maykon Sardinha, witnessed firsthand the conflict between public authorities in regard to waste and sewage management in Maré. "What is done with our trash and our feces by the government says a lot about how we favela residents are viewed by society," says Sardinha.
Another mobilizer, Gabrielle from Nova Holanda, participated in a three-month internship program with CocôZap. For the first month, she received instruction on politics and public policy in the favelas. In the following two months, Gabrielle took to the streets and interacted with residents and local organizations in an effort to increase involvement with the CocôZap initiative. Over the course of her time as a mobilizer, she became more aware of the difficulties her community faces with regards to basic sanitation, but also how often the community's achievements go unrecognized. "The most striking [aspect] of my experience in the street was realizing that the residents are aware of the trash and sewage, and little by little they do little actions with their neighbors, keeping the streets clean so that the children can play," says Gabrielle.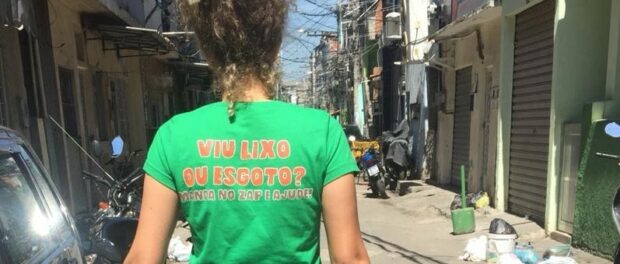 Vieira believes that one of the most serious challenges that residents of Maré—and favelas in general—must overcome is environmental racism, or how politics regarding access to public sanitation change based on where one lives. "In the richer areas of the city, the politics of trash collection, water distribution, and sewage treatment are handled differently than in the peripheral areas of the city," explains Vieira, who attributes the disparity in treatment to a public security policy that segregates the favela from the rest of the city. Through a systematic and organized approach to data collection and narrative production, Vieira and the CocôZap team hope to assist Maré and other communities in overcoming these racist stereotypes. By harnessing the resilience of residents and continuing their legacy of community mobilization, CocôZap fights to close the rich-poor gap in basic sanitation services.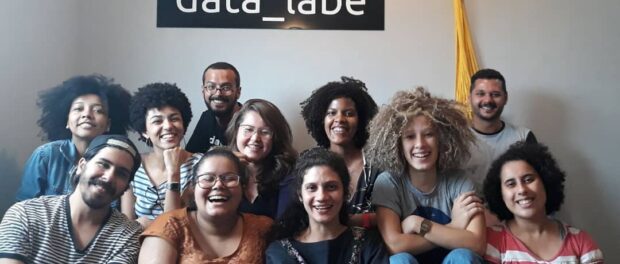 Moving forward, Vieira and the rest of the data_labe team hope to involve a greater number of Maré residents in the CocôZap initiative. Vieira believes that, with more data, CocôZap will generate more significant benefits for the Maré community. Once CocôZap achieves a higher degree of community participation in Maré, Vieira hopes to expand the project's scope even further. "I believe that from the moment [CocôZap] has community importance and relevance [in Maré], we will succeed in taking the project to other places, to other favelas, and to a definitive space in public policy [debates]."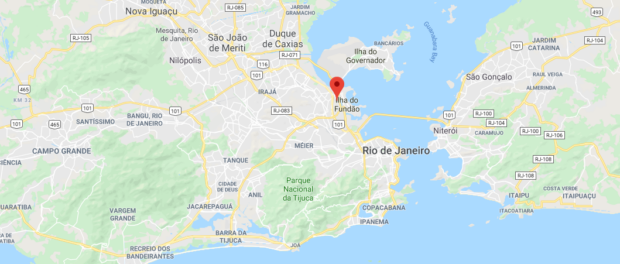 *CocôZap is one of over 100 community projects mapped by Catalytic Communities (CatComm), the organization that publishes RioOnWatch, as part of our parallel 'Sustainable Favela Network' program launched in 2017 to recognize, support, strengthen, and expand on the sustainable qualities and community movements inherent to Rio de Janeiro's favela communities. Check out all the profiles of mapped projects here.