This is our most recent article on Covid-19 and its impact on the favelas. 
On July 16, the Sustainable Favela Network's (SFN)* Environmental Education Working Group held the online teach-in "How has Socio-Environmental Mobilization in the Favelas Been Transformed During the Pandemic?" The Zoom event facilitated an interactive exchange between seven particularly impactful Rio de Janeiro-based community leaders and 82 audience members, as well as several hundred live on Facebook. Speakers shared their success stories and innovative approaches to socio-environmental activism, all of which model resilience through community organization.
The roundtable featured Ana Santos, co-founder of the Center for Multicultural Education (CEM) in Complexo da Penha in Rio's North Zone; Ana Félix, founder of the Alternative and Organized Liberation Movement for Citizenship and Social Support (MALOCA) in Duque de Caxias in Greater Rio de Janeiro's Baixada Fluminense region; Léu Oliveira, founder of the Cine & Rock Cultural Movement in Rio das Pedras in Rio's West Zone; Verônica Gomes, director of the Kennedy Brothers Community Center (CCIK) in Vila Kennedy in the West Zone; Nill Santos, founder of the Association of Women with Attitude and Social Commitment (AMAC) in Duque de Caxias; Élida Nascimento, founder of Inclusion Project (Projeto Inclusão) in São João de Meriti in the Baixada Fluminense; and Iara Oliveira, co-founder of Alfazendo and its socio-environmental education project, EcoNetwork, in City of God in the West Zone.
Each of the community leaders recounted that rallying support was a challenge long before the current pandemic. When Covid-19 arrived, presenting its own host of difficulties, the leaders found ways to persevere and grow through the crisis: their organizations have gained visibility and participation while expanding what it means to truly nurture a community.
The conversation was moderated by Verônica Parente, a member of the Environmental Education Working Group and director of the Green School Project (Projeto Escola Verde) in Cidade Alta in the Cordovil neighborhood. Parente commended the activists for their years of work in grassroots socio-environmental education, and pointed out how the leaders have leveraged their energy and dynamism while fighting coronavirus in their communities.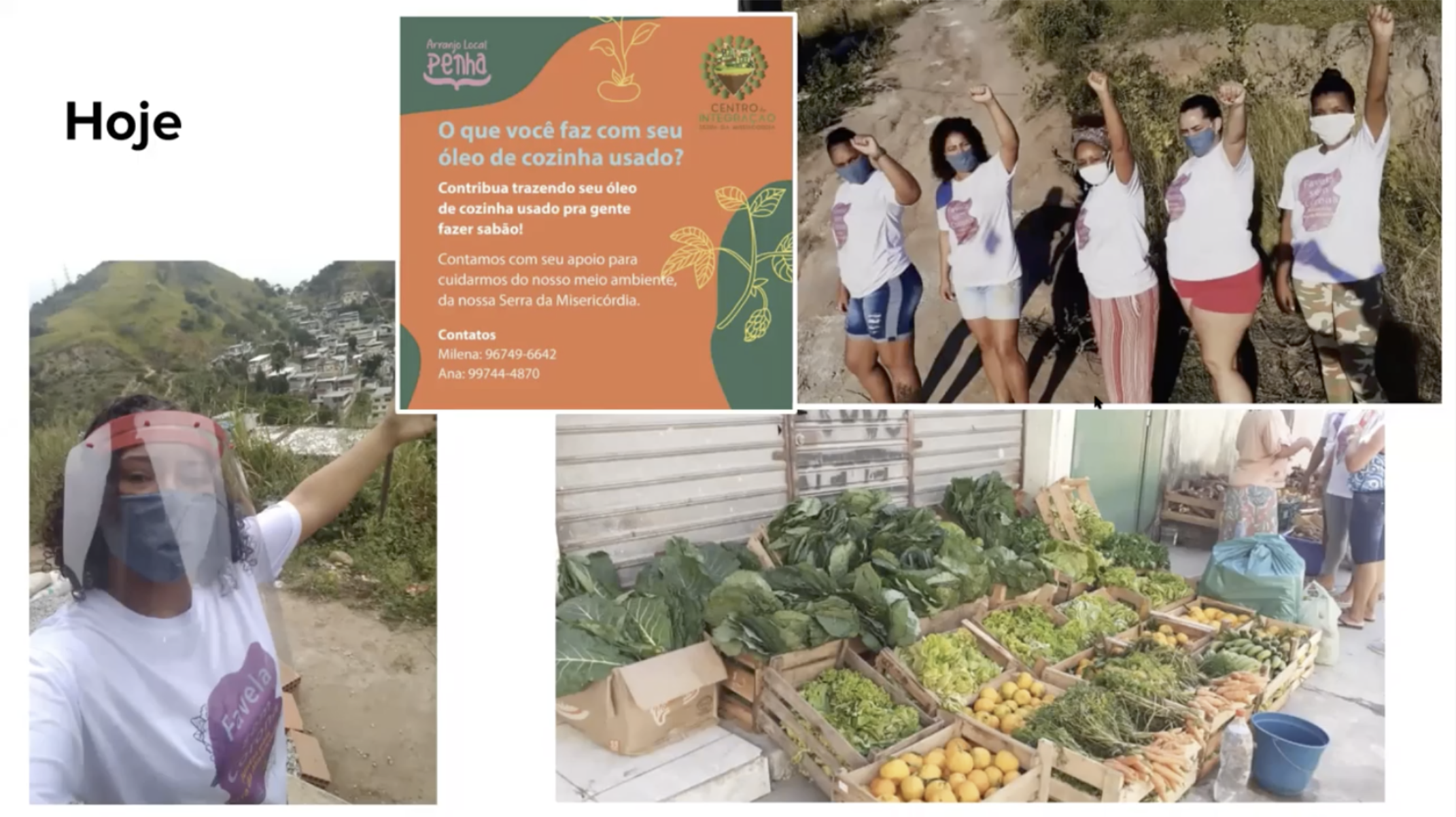 Innovation During the Pandemic
Each leader at the roundtable shared how they have reinvented their organization over the years—a capacity which, they said, has been vital in addressing ever-changing needs during the pandemic. Léu Oliveira, who is dedicated to providing cultural enrichment to youth in Rio das Pedras, expanded his organization's reach to deliver over 6,000 baskets of emergency supplies to residents. Oliveira attributed Cine & Rock's success to its flexibility, saying that its ten years of service have been based on responding to evolving circumstances rather than long-term planning: "Our movement is alive," he said.
Adaptability, however, is only part of the solution to maintaining vibrant community organizations during the pandemic. Gomes stressed the importance of treating community members as individuals with unique needs, explaining that CCIK has "a very diverse membership with many different demands." Nill Santos, an educator on domestic violence, echoed Gomes' sentiment and said that in order to serve a community, one must reach all of its members—especially its caregivers. "Who takes care of women? The woman takes care of everything, but lacks someone to take care of her," she said. Given that Rio, like many places, has faced increasing levels of domestic violence during the pandemic, Santos' NGO AMAC has reinvented its strategies to help women who are trapped with their abusers in quarantine.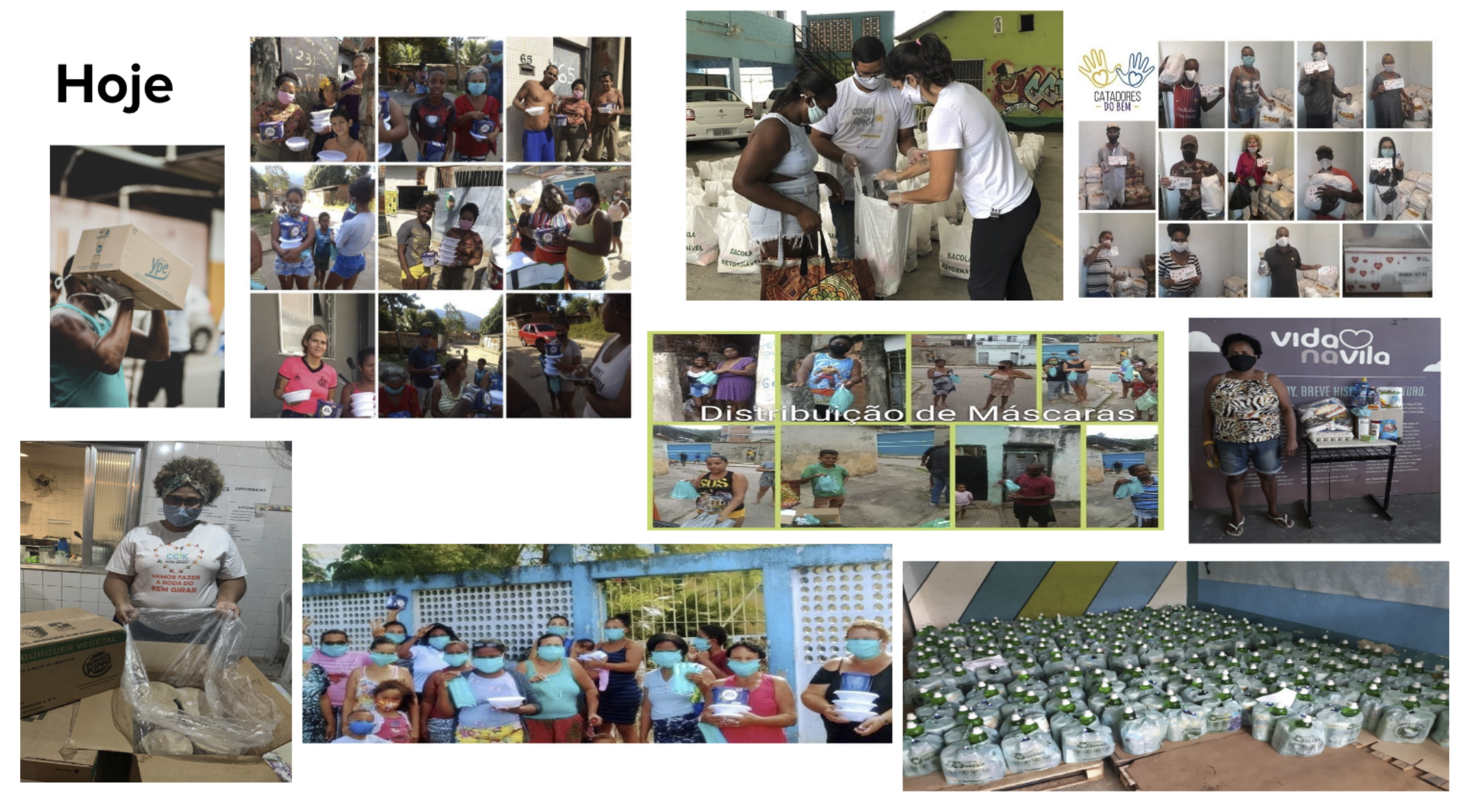 Secrets of Successful Community Mobilization
The activists shared their essential ingredient to gaining volunteers and mobilizing their communities: a strong network of partners and supporters. As Iara Oliveira of Alfazendo said, "we believe that stronger networks are what, in turn, give us strength." Applying this philosophy to her own organization, she explained that "Alfazendo has always supported other institutions."  
Léu Oliveira spoke about the particular importance of connections with like-minded NGOs during the pandemic. "People from the network helped a lot…mobilizing through a network is what we do—it's natural," he said. For Nill Santos, "if it were not for the network, a majority of the projects wouldn't exist anymore."
The speakers discussed a range of guiding principles for their work, such as, in the case of CEM's Ana Santos, the importance of integrating the community into project design at every step. She said it was important for the group to "not develop work plans 'for' but rather 'with.'" Similarly, Iara Oliveira said that as part of Alfazendo, "we go out on the street, and we listen to the people." Nascimento offered another powerful tip: the suggestion that leaders "listen to the past and combine this knowledge with the present to be able to imagine a better future for the community."
View full set of 'before and after' slides from event speakers here:
Impacts
While community leaders reported that Covid-19 has created more obstacles to their work, the less-than-ideal conditions nonetheless increased their organizations' visibility, reach, and positive reception. Gomes said that as a product of CCIK's increased mobilization during the pandemic, "we were able to greatly increase our visibility from the inside out, and we expanded our services a bit more." She said that the state of emergency led CCIK to enter parts of Vila Kennedy that were previously inaccessible to the organization. 
When Nascimento shifted Inclusion Project's focus to delivering basic foodstuffs, she identified the opportunity to educate Éden, her community in São João de Meriti, about the importance of having a balanced diet. Since the beginning of the pandemic, she had observed that emergency food aid was severely lacking in healthy, fresh food. Recognizing the importance of adequate nutrition in protecting against the coronavirus, Nascimento partnered with local produce farmers to deliver organic food to Éden.
Nascimento told the story of a teen named Kauane who worried about her preexisting health conditions—obesity and asthma—as risk factors for contracting the virus. Upon hearing about the organic food that Nascimento and her volunteer team were distributing, Kauane requested a food package. Today, by adding nutritious food to her diet, Kaune has not only lost weight and improved her health but also inspired her mother, Adriana, to do the same. "It was fear of the virus that transformed her, pushing her to become healthier," Nascimento explained. Nascimento is hopeful that Kaune's story reflects a larger shift in attitude in Éden. "We are going to take this [lesson] with us for when the pandemic is over. It is a huge change in the community's mindset," she said.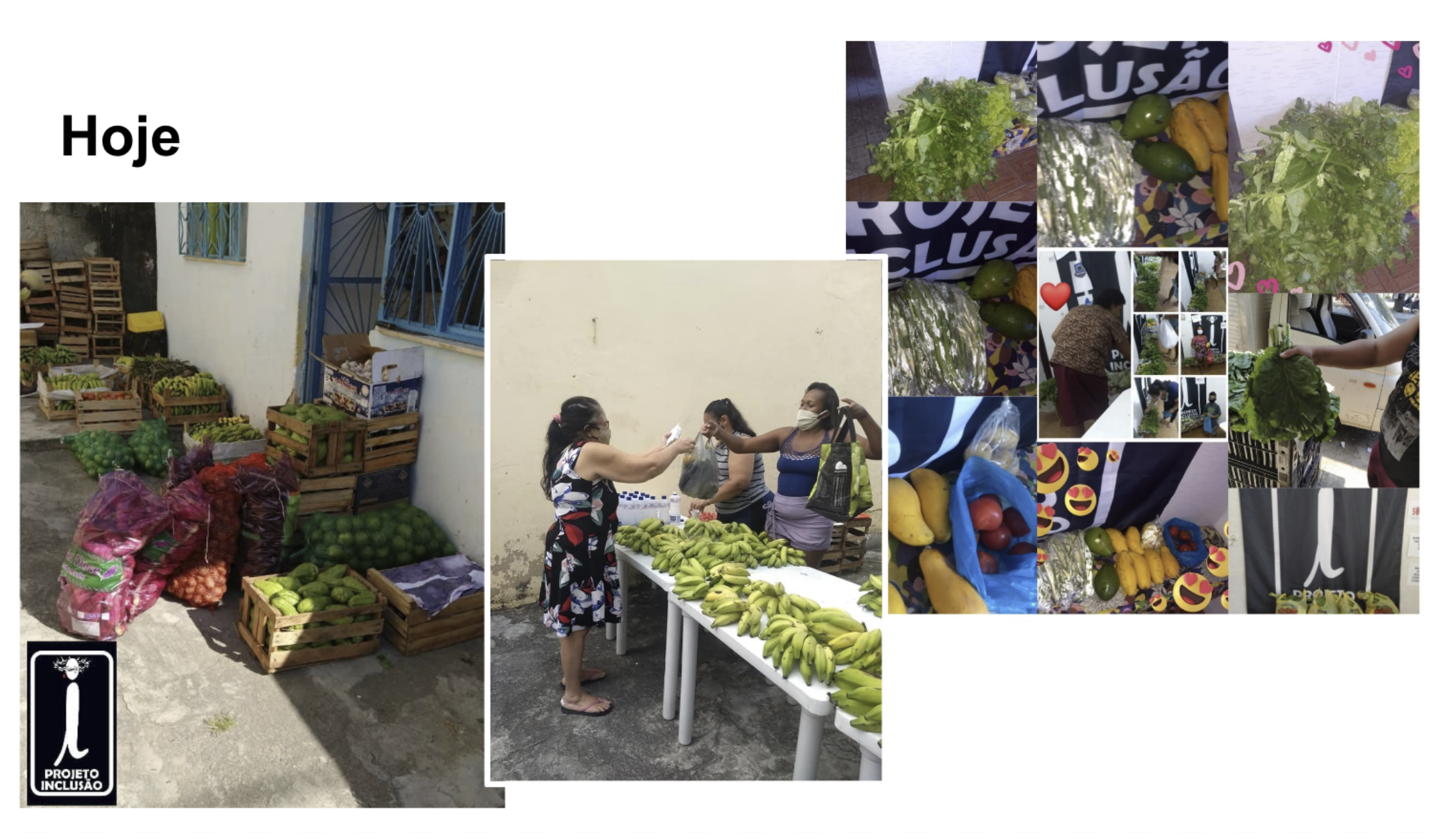 Post-Pandemic Plans
The speakers acknowledged that their efforts must intensify to ameliorate the distress, hunger, and death that Covid-19 continues to inflict on their communities. Consequently, Iara Oliveira felt that "there will still be a lot of struggle ahead." She also reminded the audience that the pandemic has exacerbated Rio's underlying socioeconomic inequality: specifically, "many people will be unemployed after the pandemic," and "there are many cases of people living on the streets—thousands of people live in tents."
To combat such persistent inequality, Oliveira said, "we need to have autonomy so we can continue to be resistant." For Ana Santos, this path to independence requires food sovereignty, that is, popular-controlled food production and distribution as an alternative to industrial agro-corporations. Covid-19 has exposed—among many other injustices—rampant food insecurity in Rio. As Santos sees it, food sovereignty and the incorporation of agroecology are necessary steps toward universal nutrition. "Agrarian reform has been needed for a long time: food sovereignty is a human right," she said.
Regardless of how each community leader proceeds in the months to come, Iara Oliveira reiterated the importance of collective action. "We will have to collectively rethink what we are going to do from now on," she said. Nill Santos affirmed that, no matter what challenges they face, the strong network of inspiring community organizations will remain tightly bound: "when the going gets tough, we will turn to one another and spread our seeds like sunflowers."
Watch the video of the full event in Portuguese here:
*The Sustainable Favela Network and RioOnWatch are both projects of NGO Catalytic Communities (CatComm).
---
Support our efforts to provide strategic assistance to Rio's favelas during the Covid-19 pandemic, including RioOnWatch's tireless, critical and cutting-edge hyperlocal journalism, online community organizing meetings, and direct support to favelas by clicking here.